When Lovers Get Dragged Into Hip Hop Beefs
Rappers who got too personal in their battles.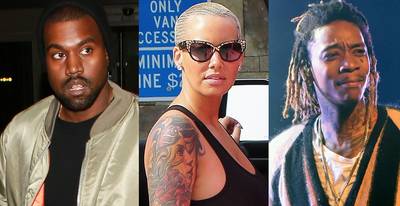 1 / 14
Kanye West / Amber Rose / Wiz Khalifa - All it takes is a smooth misunderstanding to set Kanye West off. Twitter, oh Twitter, you never fail to deliver. "Hit this KK and become yourself," was the Wiz Khalifa tweet that set Mr. West over the edge. Thinking it was about Kim Kardashian, Kanye responded with a now deleted, "Like, oh that's Ye and I can put his wife's initials on my Twitter." Leading to chronological tweets with No. 4 being, "4th you let a stripper trap you." It wasn't long before Muva Amber Rose clapped back with, "Awww @kanyewest are you mad I'm not around to play in you're [sic] a**hole anymore? #FingersInTheBootyA**B****." See where assumptions get you?While Kanye keeps tweeting and deleting, check out a few more occasions when current loves and exes were dragged into hip hop beefs and tensions. —Michael Harris and Naima Moore-Turner(Photos from left: GVK...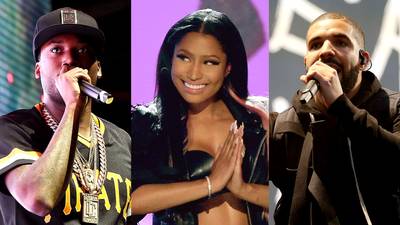 2 / 14
Drake / Nicki Minaj / Meek Mill - "I never f***ed Wayne, I never f***ed Drake," but Nicki Minaj got dragged into Meek Mill and Drake's beef anyway. It all started when the Philadelphia rapper, Meek Mill, called out Drake for failing to write his own lyrics and not promoting his then-released album, Dreams Worth More Than Money. Then Drake decided it was time to drag him through the 6. "You love her then you gotta give the world to her/ Is that a world tour or your girl's tour?" This bar probably got Drake nominated for a Grammy, but that's neither here nor there. It still happened.(Photos from Left: Jason Merritt/Getty Images, Ethan Miller/Getty Images, Tim P. Whitby/Getty Images)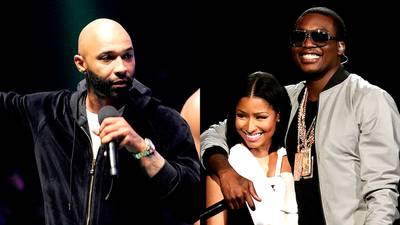 3 / 14
Joe Budden / Nicki Minaj / Meek Mill  - Joe Budden took to his podcast I'll Name This Podcast Later this past Summer and expressed how he felt seeing Meek gush all over Nicki at the BET Awards. He explained, "Part of my problem with that is Meek's music is too hard. Meek's music is too hard for me to look at him with this f*****g sappy f**k s**t.... But I do appreciate them for keeping the hope of love alive."Of course hip hop's Barbie and Ken weren't going to let that slide, and Meek fired back with a few Tweets like, "Rap money slowing up... joking but it ain't dat boy level to b commenting on they way I handle my lady!" Knowing Budden was expressing his thoughts and not really hating on the two, Nicki also checked the Mood Muzik rapper. Welp.(Photos from Left: Craig Barritt/Getty Images for Electus Digital/WatchLOUD, Mark Davis/BET/G...

4 / 14
Tyga / Dollicia Bryan / Drake - Tyga and Drake's beef shows no signs of cooling off because the Cali MC just hired Drake's ex-girlfriend Dollicia Bryan to star in his new video "Make It Work," where he disses his one-time YMCMB comrade. Some of Tyga's bars include, "N***a never was my homie, b*****s know you corny n****."(Photos from left: Neilson Barnard/Getty Images for BMI, Kevin Mazur/BET/Getty Images for BET,Craig Barritt/Getty Images)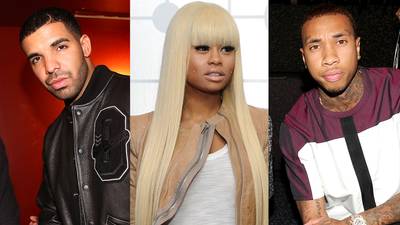 5 / 14
Drake / Blac Chyna / Tyga - After Tyga let it be known in VIBE that his relationship with Drake was forced because of their label ties, Drake took to social media to send a few subliminal shots. One of those sneak disses included liking IG photos of Tyga's estranged baby momma, Black Chyna. Getting back at her former boo, Blac Chyna also went to Instagram and liked a few of Champagne Papi's flicks. When fans let Tyga know of his ex's actions, he responded with, "That ain't my h*e."    (Photos from left: Johnny Nunez/WireImage, John Ricard / BET, Craig Barritt/Getty Images)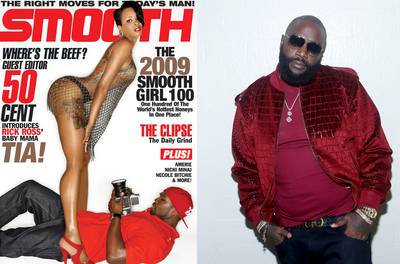 6 / 14
Rick Ross / Tia / Brooke / 50 Cent - 50 took off all the gloves when he went to war with Rozay back in 2009. He brought to light that Ricky's daughter's mother, Brooke, had a porno flick and became real close with the Boss's son's mother, Tia. He and Tia even appeared in a Smooth magazine photo shoot and he flew her out to Las Vegas to chill with him at Floyd Mayweather's house and later took her on shopping spree to get under Ross's skin. (Photo: Smooth Magazine, Bennett Raglin/BET/Getty Images for BET)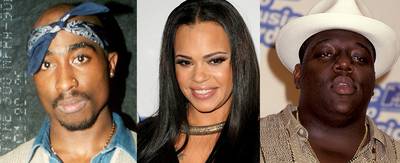 7 / 14
The Notorious B.I.G. / Faith Evans / 2Pac - During Pac and Biggie's feud, the Death Row MC made claims on his Bad Boy diss "Hit 'Em Up" that he slept with B.I.G.'s wife, Faith Evans, which she vehemently denied. B.I.G. even spoke of the alleged affair when he rapped with Jay Z on "Brooklyn's Finest" and spit, "If Fay had twins, she'd probably have two Pacs/Get it? ... Tu-pac's."(Photos from left: Raymond Boyd/Michael Ochs Archives/Getty Images, Jason Merritt/Getty Images, Ron Galella, Ltd./WireImage)
8 / 14
Nas / Carmen Bryan / Jay Z - Jay Z threatened Nas on "Takeover" when he spit, "Because you-know-who did you-know-what with you-know-who/But let's keep that between me and you (for now)."Hov was alluding to the fact that he slept with Nas's daughter's mother, Carmen Bryan. Not living in fear, Nas put the fact out there and Bryan has also spoken about dating the two New York titans.Hov even got more vicious when he detailed the encounters on his diss track, "Supa Ugly," and made reference that Allen Iverson had an intimate session with Bryan as well. Many felt Jay took it too far when he rhymed, "Me and the boy A.I. got more in common than just balling and rhyming/Get it? More in Carmen/I came in your Bentley backseat, skeeted in your Jeep/Left condoms on your baby seat."(Photos from left: Andy Lyons/Getty Images,Gallery Books Publishing, Isaac Brekken/Getty Images)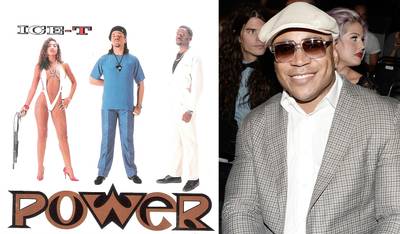 9 / 14
Ice-T / Darlene Ortiz / LL Cool J - Ice-T and LL Cool J didn't see eye-to eye back in the day and LL took their beef to wax when he rapped on the 1990 cut "To Da Break of Dawn," from his album Mama Said Knock You Out. LL took a shot at Ice-T's longtime girlfriend and the mother of his son, Darlene Ortiz, who appeared on his Power album cover. "While I freak on your album cover jocks/You're gonna hear a real ill paragraph soon/I took the cover right home to the bathroom/In the immortal words of L.L., 'hard as hell'/Your broad wears it well/She's the reason that your record sold a few copies."(Photos from left: Sire/Warner Bros. Records, Kevin Winter/Getty Images for VH1)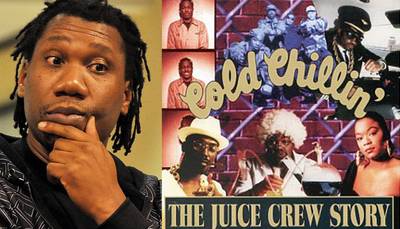 10 / 14
KRS-One / Roxanne Shanté / Juice Crew - While Roxanne Shanté wasn't a girlfriend or dating anyone in her Juice Crew, KRS-One let her have it when he went at Marley Marl and MC Shan's squad on the classic battle record by B.D.P., "The Bridge Is Over." She got tossed in the blender as Kris spit, "I finally figured it out, Magic mouth is used for sucking/Roxanne Shanté is only good for steady f*****g/MC Shan and Marley Marl is really only bluffing."(Photos from left: Steve Eichner/WireImage,Cold Chillin Records)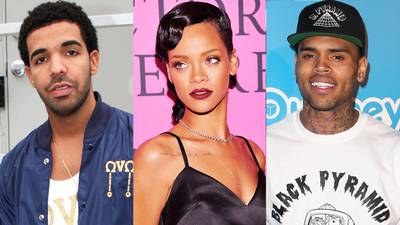 11 / 14
Drake / Rihanna / Chris Brown - Drake seems to have a thing for getting at someone's ex. His former tensions between him Chris Breezy have been considered a feud over Rihanna. Their beef even escalated into a bottle-throwing incident at a New York nightclub in 2012. (Photos from left: Johnny Nunez/WireImage, , Stephen Lovekin/Getty Images, Paul Archuleta/FilmMagic)
12 / 14
Floyd Mayweather / Tiny / T.I. - Boxing champion or not, the King of the South proved he was willing to die behind his when he swung on Floyd Mayweather this summer. Tip didn't take kindly to Money Mayweather implying that he slept with Hustle Man's wife, R&B singer Tiny. (Photos from Left: Joe Scarnici/Getty Images, Araya Diaz/Getty Images for Emmett/Furla/Oasis Films, Jason Merritt/Getty Images for MAXIM)

13 / 14
Gucci Mane / Keyshia Dior / Yo Gotti - Gucci Mane went on one of his infamous Twitter rants back in 2013 and tweeted, "Name your Top 3 P***y a** rappers? Mines? Jeezy Yo gotti & Tip. No brainer. But there are 100s more....Go... #ww3."Gotti originally had no idea why Gucci had a problem with him because he thought they were cool. Later, during an interview with The Breakfast Club, he revealed that Gucci caught feelings because he was dating his ex, video vixen Keyshia Dior, and that he never knew her and Gucci were involved until she told him.(Photos from left: Travis Wade/WENN.com, WireImage,Bennett Raglin/BET/Getty Images for BET)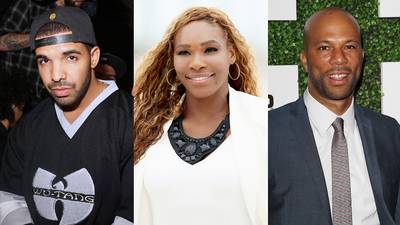 14 / 14
Drake / Serena Williams / Common - Common recently revealed that his beef with Drake was over his ex, Serena Williams. Drake and the tennis star were dating for a second and the Chi-Town MC felt Drizzy was sneak dissing to rub salt into the wounds. It became a lyrical war of words.(Photos from left: Johnny Nunez/Getty Images, Clive Brunskill/Getty Images, FayesVision/WENN.com)