Israel, Iran and Obama
What's at stake if Israel and Iran can't reach a deal.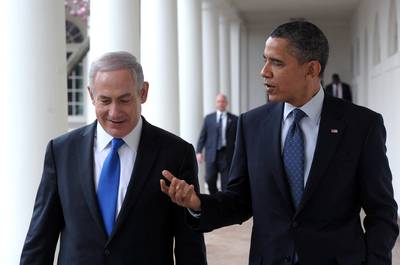 1 / 5
Israel, Iran and Obama - President Obama stepped in to help ease the growing tension between Israel and Iran on Monday, March 5 when he sat down with Israeli Prime Minister Benjamin Netanyahu and assured the leader that the U.S. has Israel's back. BET.com explains what all the fuss is about and what is at stake if Israel and Iran can't come to an agreement. — Naeesa Aziz(Photo: Amos Ben Gershom/GPO via Getty Images)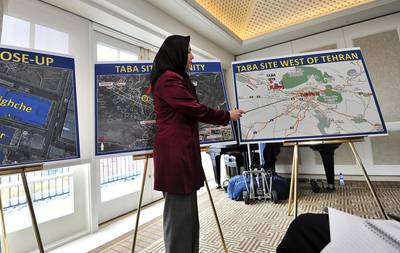 2 / 5
When Will the Conflict Be Over? - Israel is concerned over reports that Iran has begun enriching weapons-grade uranium, which would eventually allow the country to build a nuclear missile. Since Israel and Iran have long harbored tense relations (with Iran's president calling for Israel to be wiped out), Israel has taken these reports to heart and recently announced that it would not warn the U.S. if it chooses to preemptively attack Iran.(Photo: JEWEL SAMAD/AFP/Getty Images)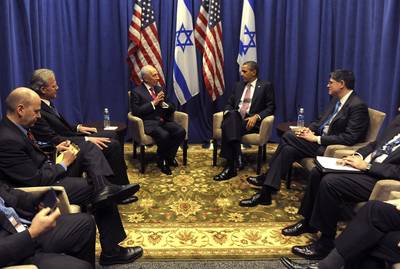 3 / 5
What Did Obama and Netanyahu Discuss? - At Monday's meeting, the two leaders discussed ways to come to an agreement about the best approach going forward given their divergent approaches. President Obama has made clear that although he stands with Israel, he prefers diplomacy and pressure to the preemptive military action that Israel has threatened.  Before the speech, Obama vowed to use sanctions to prohibit Iran from being able to develop nuclear weapons but rules nothing out, assuring Israel that "all options are at the table." Senior Obama administration officials said the talks at the White House left the two sides closer than they were a week ago with both sides remaining resolute in their stance that Iran must not develop a nuclear bomb.(Photo: Moshe Milner/GPO via Getty Images)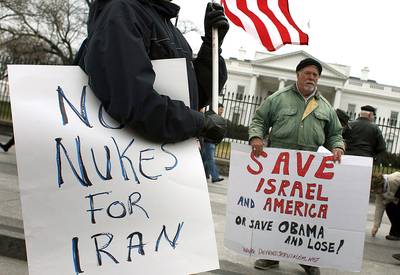 4 / 5
 What Does Israel Want?  - Israel wants Iran to completely suspend its uranium enrichment program before the West resumes negotiations. Analysts say it also wants a clear commitment from Obama about when the U.S. would attack Iran over its nuclear enrichment program. Although Israel has agreed to participate in diplomatic channels of dispute resolution, Netanyahu has said that it still reserves the right to be "the master of its fate" and preemptively protect itself from threats. "My friends, Israel has waited, patiently waited, for the international community to resolve this issue. We've waited for diplomacy to work. We've waited for sanctions to work. None of us can afford to wait much longer," he said to applause. "As prime minister of Israel, I will never let my people live in the shadow of annihilation," Netanyahu told the pro-Israel lobby, ...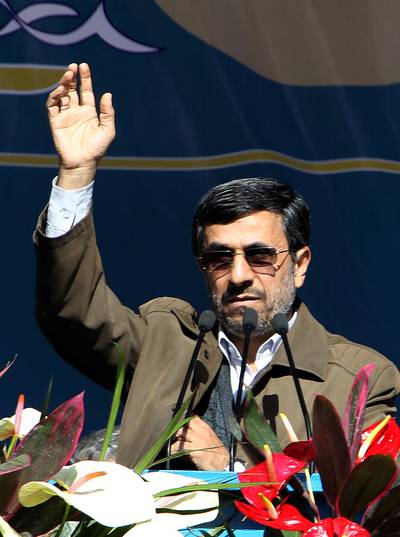 5 / 5
What's at Stake? - Many are concerned that the tension between the two nations will erupt into an all out war with far-reaching effects for the region and the world. Should Israel take preemptive action against Iran with or without the U.S.'s help, the fear is that the attack will spur equally devastating counter attacks and terrorist attacks that could prolong the conflict. If the U.S. is involved, then come concerns over terrorist attacks on U.S. soil and the attack of U.S. troops nearby in Afghanistan, U.S. ships in the Persian Gulf or crippling U.S. oil interests in the Middle East. (Photo: ATTA KENARE/AFP/Getty Images)