Bill Russell 1934-2022: A Legend's Greatest Moments
The 11-time NBA Champion is regarded as one of the greatest, and his off-court life as a human rights advocate was just as significant.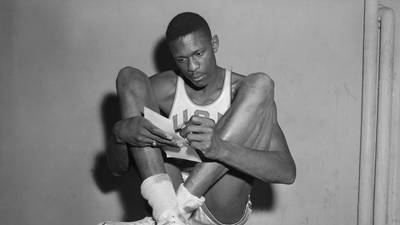 1 / 12
Bill Russell was a two-time All-American playing for the University of San Francisco and led them to two back-to-back NCAA championships in 1955 and 1956. He also won a gold medal with Team USA in the 1956 Olympics.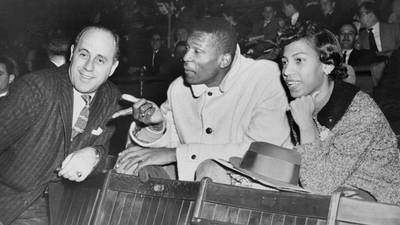 2 / 12
In 1956 Russell signed with the Boston Celtics and began what is widely recognized as a 60-plus-year dynasty in sports. Here he is photographed with legendary Celtics coach Red Auerbach and his wife, Rose.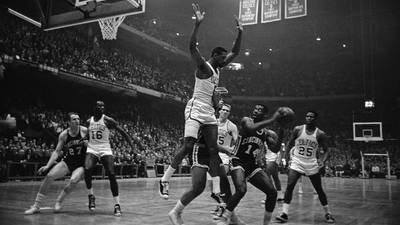 3 / 12
The moment Russell hit the court at the Boston Garden, he was a phenom who led Boston to 11 championships in his 13-year playing career. Here he guards another NBA legend, Oscar Robertson of the then-Cincinnati Royals (now the Sacramento Kings) in 1964.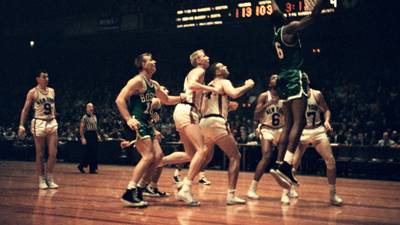 4 / 12
The Boston Celtics were arguably the first NBA team dynasty, and Russell the first Black basketball superstar. In his career, he played 963 games, averaging 15.1 points per game and a 44.0 overall field goal percentage. He was also a five-time Most Valuable Player and a 12-time All-Star.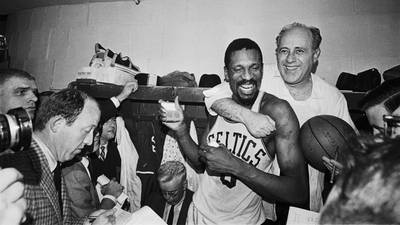 5 / 12
Russell also served as Celtics player coach from 1966 to 1969, taking over the reins from Red Auerbach. He was the NBA's first Black coach and won his 10th and 11th championship rings during his tenure.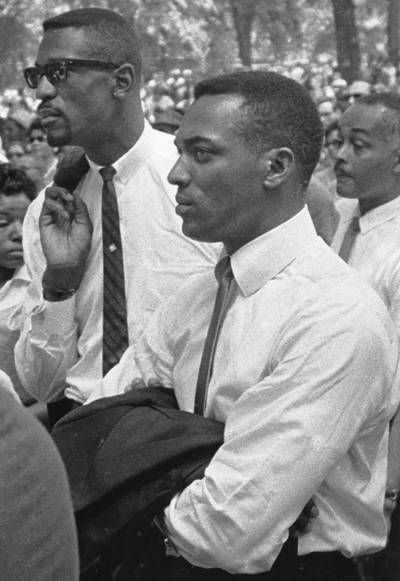 6 / 12
During Russell's career, the Civil Rights Movement was at the forefront of American politics, and he did not shy away from speaking out. Here Russell (left) and pitcher Earl Wilson of the Boston Red Sox listen to speakers at a memorial service for slain NAACP leader Medgar Evers in 1963.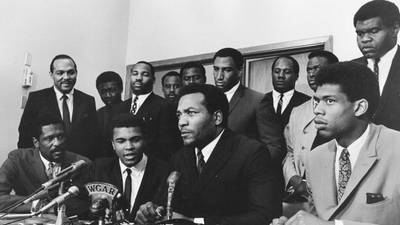 7 / 12
The war in Vietnam was also one of the most critical issues of the time during Russells's career, and a number of pro-athletes were vocal about it. Here he sits far left with other sports luminaries, including Muhammad Ali, Jim Brown, and Kareem Abdul-Jabbar.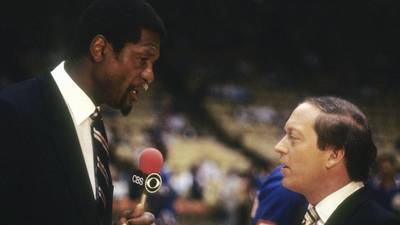 8 / 12
After retiring in 1969, Russell remained in the basketball universe. He coached the Seattle Supersonics in the early 1970s and the Sacramento Kings in the late 1980s. He also served as an on-air basketball analyst for CBS Sports.
9 / 12
The Celtics retired Russell's jersey (No. 6) in 1972, and he was inducted into the Naismith Basketball Hall of Fame in 1975. He has since been regarded as one of Boston's greatest and has had a place of honor in the city. A statue of him was erected in Boston's City Hall Plaza in 2013.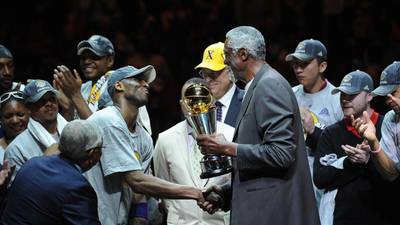 10 / 12
Russell was seen as a role model and advisor for generations of NBA players to come after him. Many modeled their gameplay after his. Here he's seen shaking hands with another legend, the late Kobe Bryant, after a 2009 championship victory over the Orlando Magic.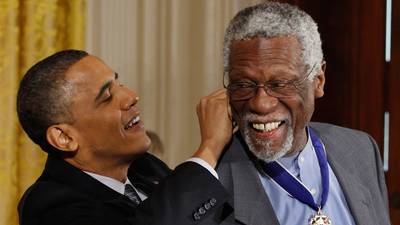 11 / 12
For his efforts on and off the court, Russell was honored with the Presidential Medal of Freedom in 2011 by President Obama.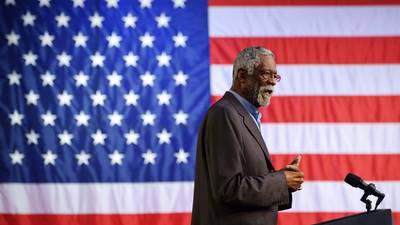 12 / 12
Remaining active in political and civil causes for the rest of his life, he aligned with former NFL quarterback Colin Kaepernick when he took a knee in solidarity. In a Twitter photo, the caption reads: "Proud to take a knee, and to stand tall against social injustice."