Jim Brown (1936-2023): A Legend In Sports, Film and Activism
Few transcended the sports, entertainment and political landscape the way Jim Brown did. These images capture a part of who he was.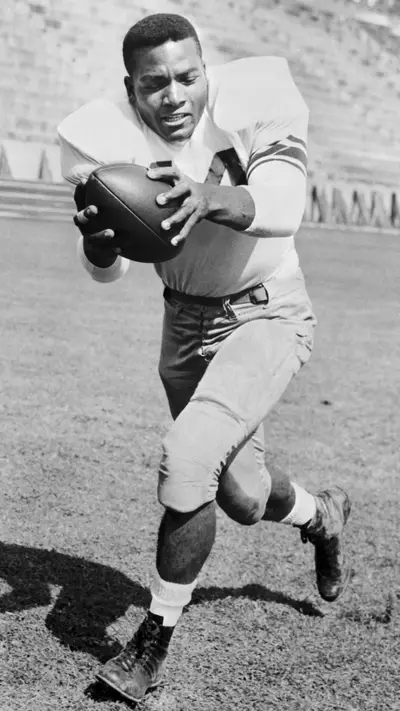 1 / 12
Jim Brown started as a multi-sport athlete. At Syracuse, he played lacrosse, basketball and ran track. But he was an All-American football star rushing for a total 2,091 yards on 361 carries in his three years playing for the Orange.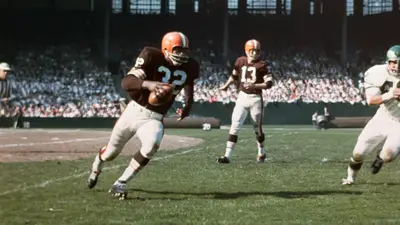 2 / 12
It wasn't long before the pro football world was looking to bring Brown into the fold. He joined the Cleveland Browns in the 1957 draft and rushed for 12,312 yards, a record he held for 22 years (until it was broken by Walter Payton) and 106 touchdowns.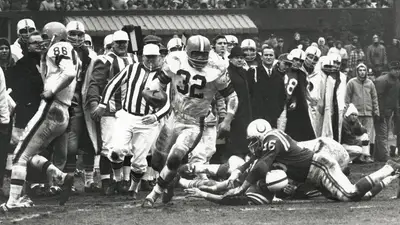 3 / 12
Brown was a unanimous first-team All-NFL pick eight different seasons: 1957 through 1961, 1963-1965. His only championship came in 1964, which was before the Super Bowl existed. Brown rushed for 114 yards as the team trounced the Baltimore Colts 27-0.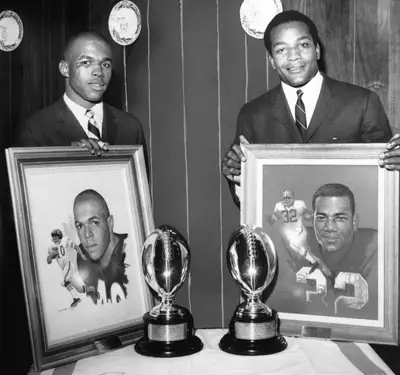 4 / 12
An athlete among athletes, Brown was one of the most well-respected in the NFL. He paved the way for dozens of others during his career, including other legends. Here he's pictured with the then-Chicago Bears rookie Gayle Sayers.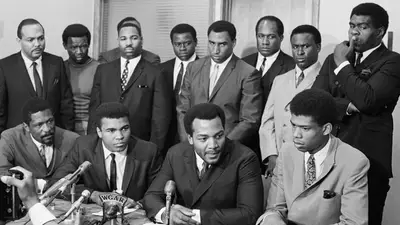 5 / 12
Brown retired in 1965 and decided to focus on Civil Rights, one of the most important issues of the day and other pro athletes including Kareem Abdul Jabbar, Muhammad Ali, Bill Russell and others joined him through the late 60s.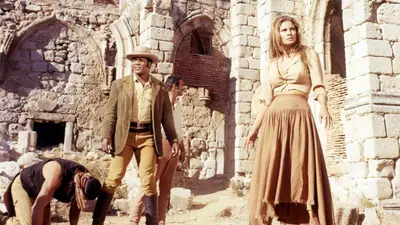 6 / 12
Perhaps as a response to the Civil Rights movement, Hollywood began to look for more Black leading men like Harry Belafonte and Sidney Poitier. Brown was also one of the most sought after and starred in hits like "The Dirty Dozen" (1967), "Ice Station Zebra" (1968) and "100 Rifles" (1969) with Burt Reynolds and Raquel Welch.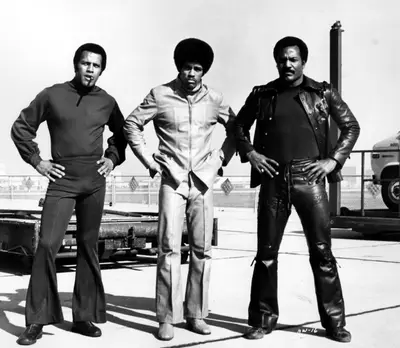 7 / 12
With a reputation as a movie tough guy, Brown found his way into the Blaxploitation genre, too, starring in movies like "Slaughter" (1972) "Black Gunn" (1972), and teamed up with Jim Kelly and Fred Williamson in "Three The Hard Way" (1974)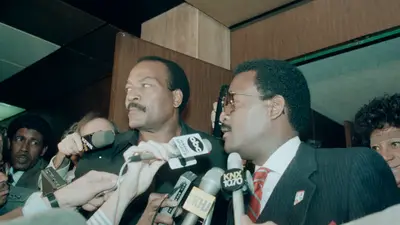 8 / 12
Brown was not without controversy in his life. Several times he was accused of domestic threats (but was never convicted). He was also jailed in 1975 for assaulting golf partner Frank Snow. In 2002 he served three months in jail for making threats against his wife, Monique. The most serious of all was a 1985 allegation of sexual assault, which was dropped. Here he appears with attorney Johnnie Cochran after the trial.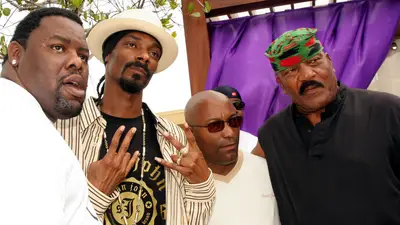 9 / 12
But Brown always had the respect of hip hop and street culture, who found him to be genuine. In fact, in 1992, he brokered a gang truce between Los Angeles' crip and blood factions through his Amer-I-Can Foundation, which also introduced him to a new generation of fans and drew lasting support from the hip hop nation.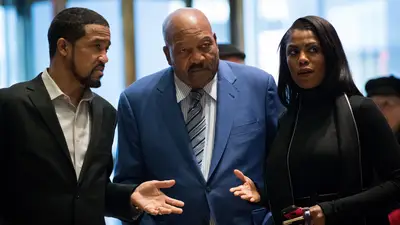 10 / 12
With an unabashed call-them-as-he-sees-them point of view, Brown was not shy about connecting with conservatives if he felt it would help Black people. When former President Donald Trump took office, he met with his allies including Pastor Darell Scott and Omarosa Manigault. Later he met with Trump and Kanye West in the Oval Office.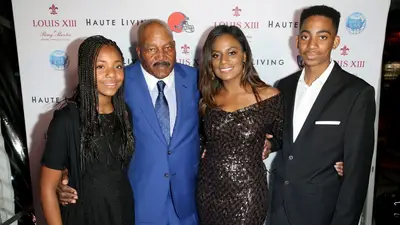 11 / 12
Brown married his wife Monique in 1997 and they had two children, Aris and Kimberly. He also has three children, twins Kim and Kevin, and James Jr., by his first wife, Sue. He also reportedly has three other daughters from other relationships.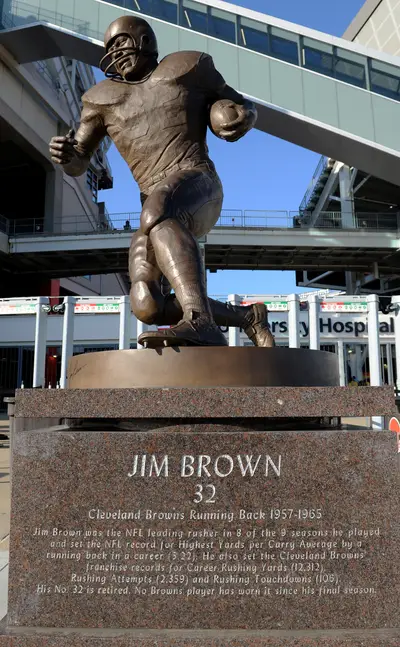 12 / 12
Jim Brown was inducted into the Pro Football Hall of Fame in 1971, his number, 32, was also retired that year, one of only five the Cleveland Brown have given the honor. He was also named to the NFL's 50th,75th and 100th Anniversary All-Time teams and is considered one of the greatest running backs in football history. In addition to his football honor, he is also enshrined in the College Football and Lacrosse Halls of Fame.