Passing the Torch: When Old Meets New
Do or Die and Rozay spit game on "Love in the Sky."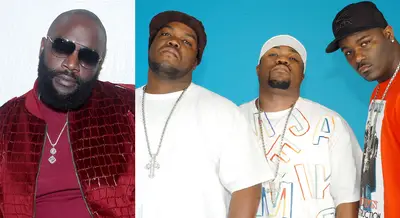 1 / 21
Do or Die Featuring Rick Ross and Scottie P, 'Love in the Sky' - Fresh off the May release of their Withdrawal  EP with longtime collaborator Twista, Do or Die went right back in the lab and are gearing to release Picture This 2, the sequel to their 1996 explosive debut.To help get things in gear, they hooked up with Rick Ross to kick more game to the ladies with the pimped out "Love in the Sky." As Rozay and the Chi-Town spitters get those bottles popping once again, listen to the new single here and check out more occasions where old and new school rocked the mic together. — Michael Harris (@IceBlueVA)(Photos from left: Bennett Raglin/BET/Getty Images for BET, Ray Tamarra/Getty Images)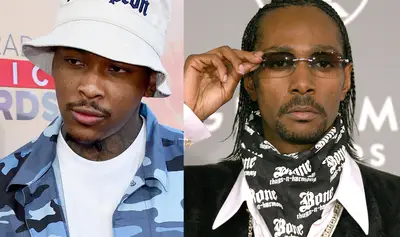 2 / 21
YG Featuring Krayzie Bone, 'Cash Money' - YG seems to be recovering well after getting shot last month. Heating the streets up once again, he just released "Cash Money," the Krayzie Bone-featured lead single from his upcoming album Still Krazy.(Photos from left: Frazer Harrison/Getty Images)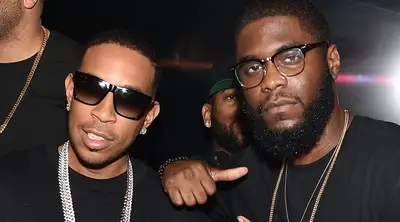 3 / 21
Ludacris Featuring Big K.R.I.T., 'Come and See Me' - Luda traded verses with fellow Southern gent Big K.R.I.T. on Ludaversal's "Come and See Me." Paying tribute to riding good and systems blaring over this Mike WiLL Made It bass-heavy production, the "Country S**t" duo set the standard once again for parking lot pimping..  (Photo: Paras Griffin/Getty Images)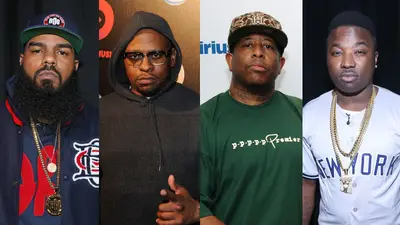 4 / 21
DJ EFN Featuring Scarface, Troy Ave and Stalley, 'Who's Crazy?' (Prod. by DJ Premier) - DJ EFN dropped an all-star collaboration called "Who's Crazy?," which features the legendary DJ Premier behind the boards and southern rap royalty Scarface spitting alongside new jacks Stalley and Troy Ave. Taking it back to the days of the boom-bap production and dope lyricism, the cut is a feature on DJ EFN's compilation, Another Time.  (Photos from left: Bennett Raglin/BET/Getty Images, Amy Graves/WireImage, Ilya S. Savenok/Getty Images, Bennett Raglin/BET/Getty Images for BET)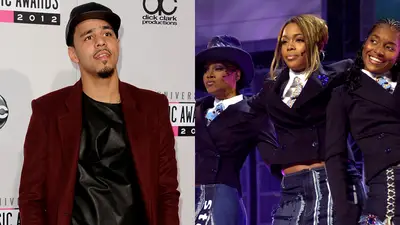 5 / 21
J. Cole Featuring TLC, 'Crooked Smile' - J. Cole called on one of the most iconic girl groups of all time for his introspective second single off Born Sinner. It's the North Carolina version of TLC's fourth Billboard No. 1, "Unpretty." (Photos from left: Jason Merritt/Getty Images; KMazur/WireImage)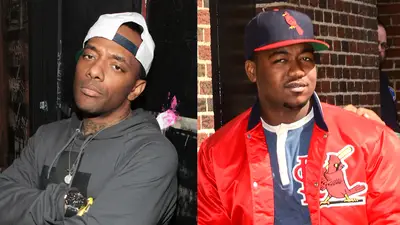 6 / 21
Prodigy Featuring Domo Genesis, 'YNT (Young and Thuggin)' - Mobb Deep's Prodigy went and scooped up Odd Future's Domo Genesis for a single off his collaboration album with The Alchemist, Albert Einstein. Genius pick, indeed.(Photos from left: Terrence Jennings/PictureGroup, Ray Tamarra/FilmMagic)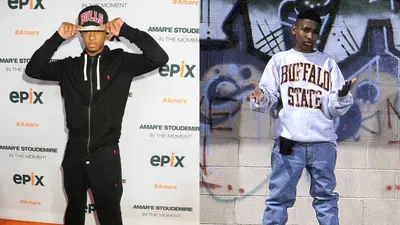 7 / 21
Spenzo and Chi Ali, 'Age Ain't Nothing But a #' - Bronx-bred '90s rap vet and Native Tongues member Chi Ali showed support in the video for Chi-Town's 17-year-old Spenzo, who remade one of Ali's most memorable cuts from his debut, The Fabulous Chi-Ali, which he recorded at age 14. But those are just numbers. Most important, the "Here We Go" hook remains intact for this warning to girls coming of age.(Photos from left: Jennifer Graylock/Getty Images for EPIX; Relativity Records)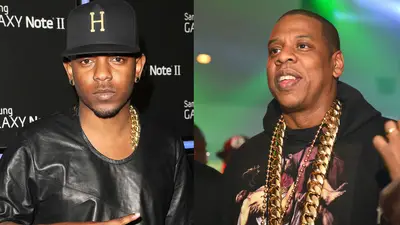 8 / 21
Kendrick Lamar Featuring Jay-Z, 'B***h Don't Kill My Vibe' - Kendrick Lamar's "B---h Don't Kill My Vibe" has gotten so major it received an international remake recently with English-born Scottish singer Emeli Sandé. Before that, though, none other than Hov himself took the song from Lamar's acclaimed debut, good kid, m.A.A.d. city, and gave it new life. (Photos from left: Jason Merritt/Getty Images for Samsung, Prince Williams/FilmMagic)
Photo By
Photos from Left: Jason Merritt/Getty Images for Samsung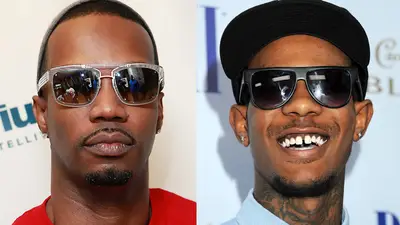 9 / 21
Juicy J and Lex Luger, Rubba Band Business - Three-6 Mafia legend Juicy J linked with the producer most responsible for helping bring back the group's trap sound for this banging 2011 mixtape. (Photos from left: Taylor Hill/Getty Images, Valerie Macon/Getty Images)
10 / 21
Big Boi Featuring A$AP Rocky and Phantogram - This Outkast legend recruited one of rap's biggest new stars to spit on this spacey standout from his last album, Vicious Lies and Dangerous Rumours. (Photos from left: Rick Diamond/Getty Images for Heineken, Christie Goodwin/Redferns via Getty Images)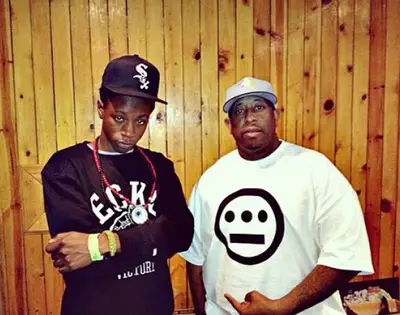 11 / 21
Joey Bada$ and DJ Premier - Earlier this year, upstart BET Cypher alum Joey Bada$ linked up with legendary producer DJ Premier for a new, just-leaked song, "Unorthodox." The song has deeper significance than just being dope, though it brought two generations of Brooklyn rap talents together, and gave Joey an unquestionable stamp of approval from a true great. (Photo: DJ Premier/Instagram)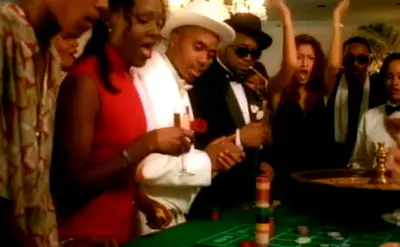 12 / 21
Kool G Rap Featuring Nas, 'Fast Life' - Two generations, two amazing Queens MCs obsessed with crime rhymes and the "Fast Life," one ridiculously dope 1995 track.(Photo: Warner Bros.)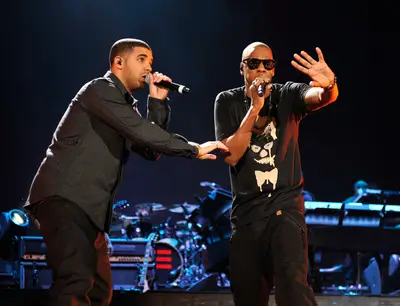 13 / 21
Drake Featuring Jay Z, 'Light Up' - Jay-Z crowned rap's next superstar with some pointed advice when he guested on this 2009 track, rapping, "Drake, here's how they gon' come at you, with silly raps feuds tryin' to distract you, in disguise, in the form of a favor ... watch for the traitors."(Photo: Kevin Mazur/Wire Image)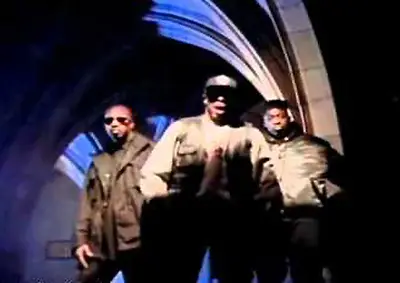 14 / 21
Run DMC and Pete Rock & CL Smooth, 'Down With the King' - More than a decade after they first took rap to the major leagues, Run DMC returned alongside Pete Rock & CL Smooth for a banging track with religious undertones.(Photo: Profile)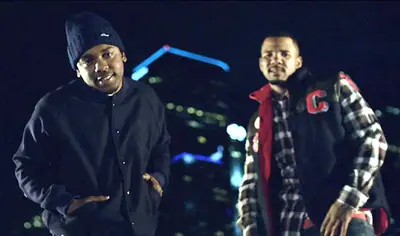 15 / 21
Game Featuring Kendrick Lamar, 'The City' - Compton kings old and new gave each other love and shouted out their hometown on this drama-filled 2010 single. (Photo: Interscope Records)
16 / 21
Kendrick Lamar Featuring Dr. Dre, 'Compton' - The original Compton rap legend officially passed the torch to his hometown's next great-in-the-making on this epic closer to good kid, m.A.A.d city. (Photos from left: Frank Micelotta/PictureGroup, John Sciulli/Getty Images for Clear Channel)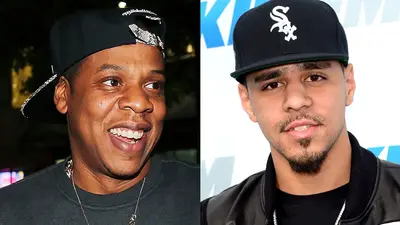 17 / 21
J. Cole Featuring Jay Z, 'Mr. Nice Watch' - Jay gave his Roc Nation artist's chart-topping debut, Cole World: The Sideline Story, a big bump by guesting on this song, inspired by a classic line from Jay himself. (Photos from left: Shareif Ziyadat/FilmMagic, Frazer Harrison/Getty Images)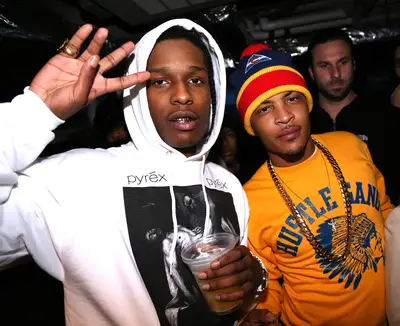 18 / 21
T.I. Featuring A$AP Rocky, 'Wildside' - A$AP Rocky is heavily influenced by rap from below the Mason-Dixon. Getting a co-sign from the King of the South, who tapped him to appear on this hedonistic track from his recent album Trouble Man, was a great look. (Photo: Johnny Nunez/Getty Images)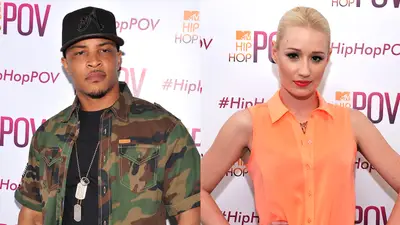 19 / 21
T.I. Featuring Iggy Azalea, 'Murda Business' - Tip welcomed a new generation of Grand Hustle — and made Iggy's homicidal threats sound slightly more believable — on this 2012 duet.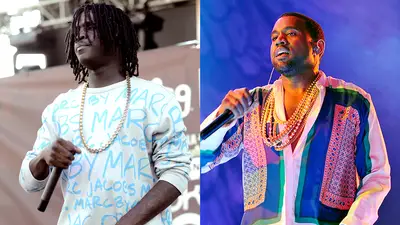 20 / 21
G.O.O.D. Music Featuring Chief Keef and Jadakiss, 'I Don't Like (Remix)' - Kanye, the king of Chicago, co-signed the city's new prince on this ferocious remix. (Photos from left: Tim Mosenfelder/Getty Images, Paul Cush/Picture Media/WENN)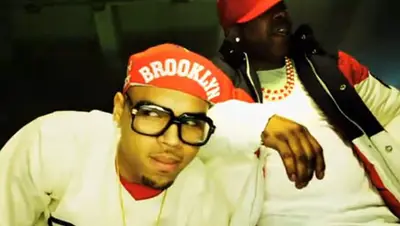 21 / 21
Chris Brown Featuring Lil Wayne and Busta Rhymes, 'Look at Me Now' - Chris Brown had tried his hand at rap before, but not many took him seriously — until two legends co-signed him over a head-turning beat from Diplo and Afrojack on this 2011 smash.  (Photo: Jive Records)