Partners in Crime: An Ode to Breaking Bad
We say goodbye to the series with our favorite crime crews.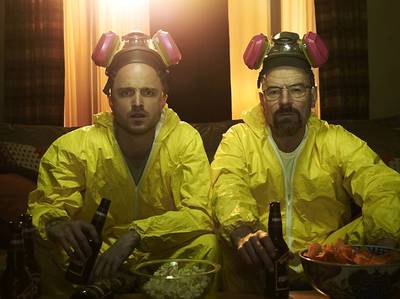 1 / 13
Farewell, Walt and Jesse - After six seasons of amazing acting, cinematography and more, Breaking Bad says goodbye to fans on Sunday, September 29, 2013. In honor of Walt and Jesse, TV's most beloved criminal duo, we acknowledge our favorite partners in crime from both film and television. From The Wire to Dead Presidents, check out this list of bad guys and gals that we not so secretly root for. (Photo: Frank Ockenfels/AMC)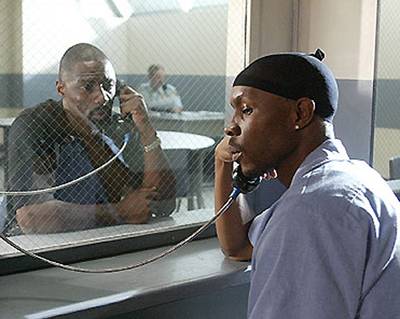 2 / 13
The Wire — Stringer Bell and Avon Barksdale  - Childhood friends Avon Barksdale (Wood Harris) and Stringer Bell (Idris Elba) once ruled the entire West Side of Baltimore. But once Avon is put in the clink, the pair begin to have different views on the future of business. These two end up meeting the inevitable fate of most criminals — dead or in jail. (Photo: HBO)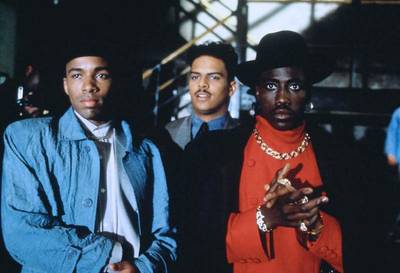 3 / 13
New Jack City — G-Money and Nino Brown  - "Am I my brother's keeper? Yes, I am." The biblical reference of Cane and Abel was the motto of the Cash Money Brothers lead by Nino Brown (Wesley Snipes) and his right-hand man, G-Money (Allen Payne). Friends since boyhood in Harlem, these two built a crack empire. But as the Notorious B.I.G. once said, with more money comes more problems.  (Photo: Warner Bros. Pictures)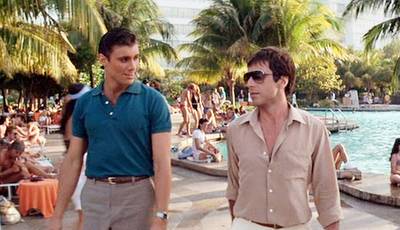 4 / 13
Scarface — Manolo "Manny" and Tony - Cuban refugees and hardened criminals Tony Montana (Al Pacino) and Manolo (Steven Brauer) built an empire in this classic film that has inspired many a rapper (check the MTV Cribs archives). The men were fiercely loyal to one another, until over-protective Tony took his best friend's life when he discovered Manny had married his younger sister. Ultimately, Tony's reign came to an end in a blaze of gunfire when he crossed the wrong bad guy.  (Photo: Universal Pictures)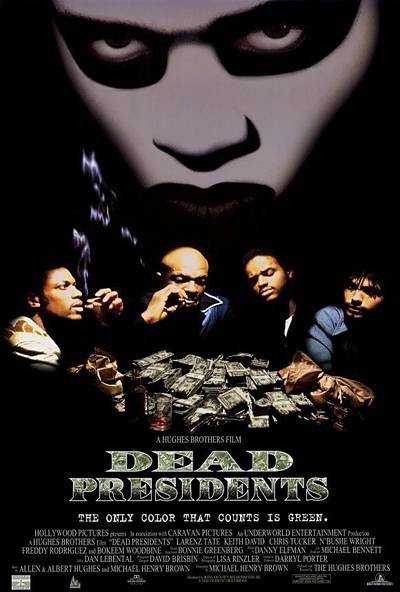 5 / 13
Dead Presidents — Anthony, Kirby, Skip, Jose and Delilah - Returning from the Vietnam war, Anthony (Larenz Tate) finds himself with no job skills, two kids and not many options. He teams up with his old friend Kirby (Keith David), high school friends Skip (Chris Tucker) and Jose (Freddy Rodriguez) and his girlfriend's little sister turned Black Panther, Delilah (N'Bushe Wright), to rob a Federal Reserve truck full of cash. The gang almost gets away with the crime but a sixth accomplice, Cleon, played by Bokeem Woodbine, gives up everybody. (Photo: Hollywood Pictures)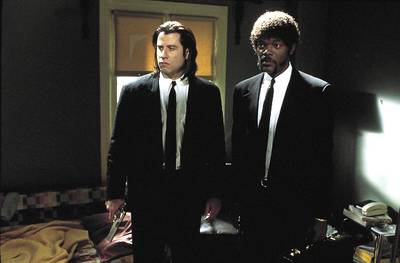 6 / 13
Pulp Fiction — Jules and Vincent - Quentin Tarantino was truly ingenious teaming up an unlikely duo in Sam Jackson and John Travolta as suit-wearing hit men in his classic Pulp Fiction. Jules (Jackson) and Vincent (Travolta) couldn't have been more different but they made for an entertaining and fear-inducing pair.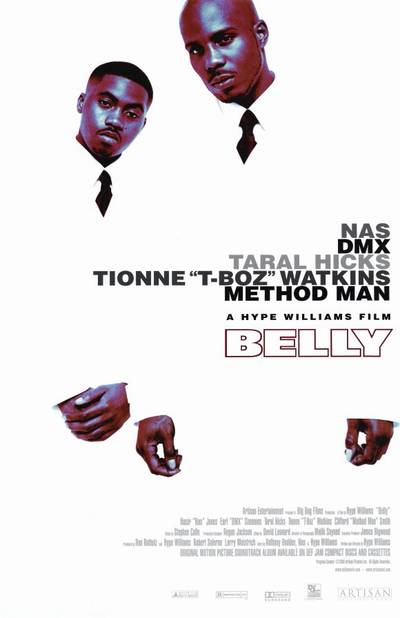 7 / 13
Belly — Tommy "Bunz" and Sincere  - Not much comes close to the awesome blue-drenched slow-mo opening scene of Belly, when Bunz (DMX), Sincere (Nas) and their crew bust up into a New York club guns ablaze to take the night's earnings. Like most film crime duos, these two complement one another as heart and brawn but we see an interesting twist in the end with a cathartic change in the once ruthless Bunz. (Photo: Big Dog Films)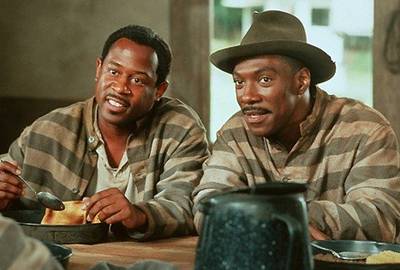 8 / 13
Life — Ray and Claude  - A chance encounter makes Ray (Eddie Murphy) and Claude (Martin Lawrence) partners for life quite literally when the guys are wrongfully sentenced to life in prison for a crime they did not commit. And though Claude seems to never forgive Ray for getting him caught up this unfortunate situation, the two work together and plot multiple escape attempts until one day they achieve success. (Photo: Universal Pictures)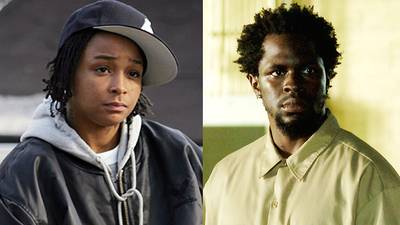 9 / 13
The Wire — Chris and Snoop - This murderous duo had everyone in Baltimore shook. Working as Marlo Stanfield's (Jamie Hector) muscle, Chris (Gbenga Akinagbe) and Snoop (Felicia Pearson) helped him take over the city once Avon Barksdale got locked up. Using abandoned buildings and an electric nail gun to hide their corpses, these two almost got away with a whole lot of murder. (Photo: HBO)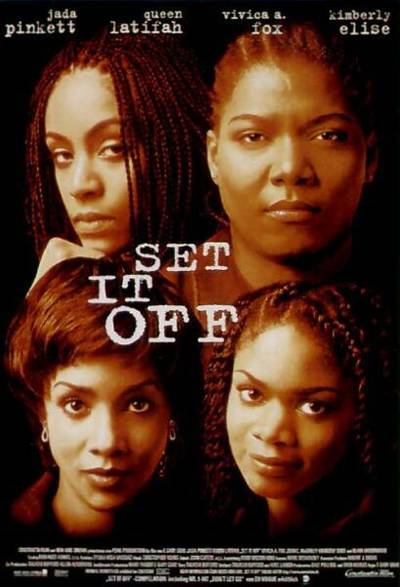 10 / 13
Set It Off — Stony, Cleo, Frankie and T.T. - Four broke friends, played by Jada Pinkett-Smith, Queen Latifah, Vivica A. Fox and Kimberly Elise, risk it all and rob a bank to escape their downtrodden lives in Los Angeles. They get away with it once and then again a second time, but when their greedy boss discovers and spends their stash they attempt one last heist that leaves only one woman standing.  (Photo: New Line Cinema)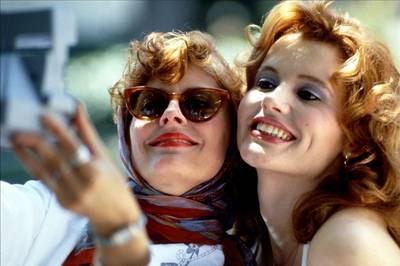 11 / 13
Thelma and Louise — Thelma and Louise  - A girls' getaway goes awry and best friends Thelma (Geena Davis) and Louise (Susan Sarandon) find themselves on the run. Not only are the ladies on the run for a murder they committed in self-defense, but also for robbery after a cute young gigolo played by a baby-faced Brad Pitt swipes all their cash. To survive, the ladies knock off a few stores and gas stations on their way to Mexico. But just when they can taste their freedom, they're surrounded by lawmen and decide to drive off a cliff rather than face the music.(Photo: MGM)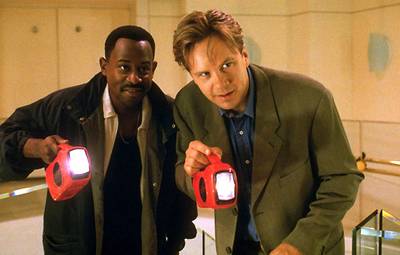 12 / 13
Nothing to Lose — Terrence and Nick   - Tim Robbins' Nick is a guy with nothing to lose while Martin Lawrence's Terrence is simply trying to support his family when he has the bad idea to rob Nick. Terrence is kidnapped by his intended victim and the odd couple eventually become friends plotting to get back at the boss that ruined Nick's life. This is one crime team that leads to a happy ending.  (Photo: Touchstone Pictures)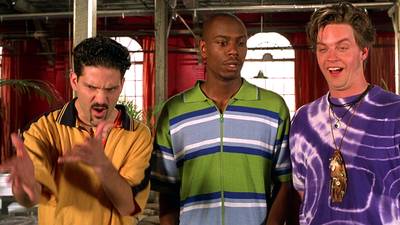 13 / 13
Half Baked — Thurgood, Scarface and Brian - This stoner comedy is a classic. When Kenny (Harland Williams) lands himself in jail, his roommates Thurgood (Dave Chappelle), Brian (Jim Breur) and Scarface (Guillermo Diaz) have no money to bail him out of jail. The trio decides to go into the business they know best and start selling marijuana, but they start poaching clients from a local drug lord and that's when things really get hilarious. (Photo: Universal Pictures)