In-State Rivalry: The Georgia Edition
Things ain't always peachy when it comes to GA hip hop.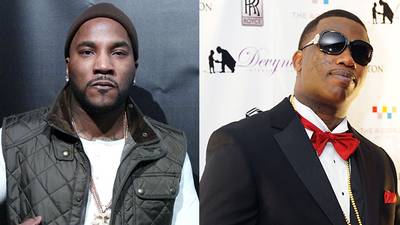 1 / 11
In-State Rivalry: The Georgia Edition - You know the expression: "crabs in a barrel." If there's any place where the adage applies, it's Georgia. The "all-in-it together now" mindset of the state's nascent mid-'90s scene, helmed by Dungeon Family, Jermaine Dupri and others, is long gone; with Atlanta now one of rap's undisputed meccas, the stakes — and rewards — are way higher and the state's last decade has been rife with hometown beef. In the latest skirmish, rivals Young Jeezy and Gucci Mane have reignited their long-simmering beef. Gucci gave an interview earlier this week saying that he has "no respect" for Jeezy, who responded by calling Gooch "retarded." Gucci then released a diss track and video called "Truth" and claimed on Twitter that he "can and will beat Jeezy's a--." He even involved Jeezy's ally T.I. in the...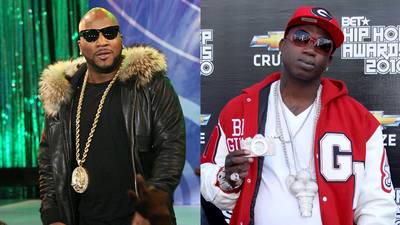 2 / 11
Young Jeezy vs. Gucci Mane (Round 1) - Jeezy and Gucci have been clashing for years. Jeezy was featured on Gucci's breakthrough hit "Icy," but later claimed he was never paid for his work on the song and a war of words on wax and in the press escalated to real-life violence. Five men who were allegedly part of Jeezy's camp stormed a house Gucci was visiting and one was later found dead. Gucci and Jeezy eventually squashed, unsquashed and resquashed the beef with help from DJ Drama and seemed to have settled into a wary truce until the latest uproar.  (Photos: Bennett Raglin/Getty Images; Taylor Hill/Getty Images)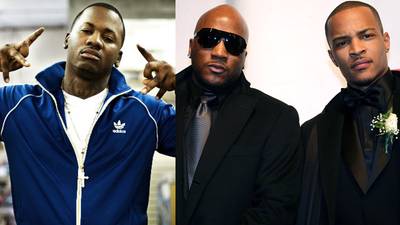 3 / 11
Alley Boy vs. Young Jeezy and T.I. - In January 2012, ATL up-and-comer Alley Boy fired shots at Young Jeezy and T.I. on his mixtape cut "I Want In," rapping, "I want war, I want in." It's unclear if AB ever got what he wanted, but stay tuned.(Photos: Duct Tape Ent.; Nancy Ostertag/Getty Images)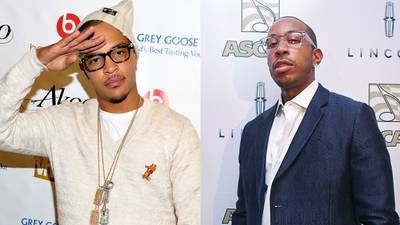 4 / 11
T.I. vs. Ludacris - Two of ATL's GOATs got into it after Tip saw a video by Luda's artist I-20 in which a man wearing a shirt that says "Trap House" is getting beat down. After several sublminal and not-so-subliminal on-wax disses, the beef peaked with a 2007 altercation between T.I. and Ludacris's manager, Chaka Zulu. The two camps have since talked out their differences, and Luda was featured on T.I.'s "On Top of the World" in 2008.(Photos: Michael N. Todaro/Getty Images for AKOO; Ric Douglas/PictureGroup)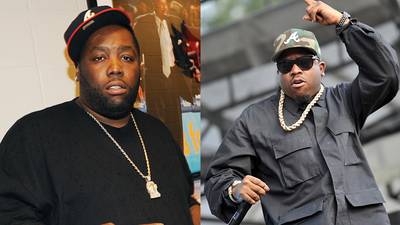 5 / 11
Big Boi vs. Killer Mike - This feud began in 2006 when Mike grew disenchanted with his deal with Big Boi's Purple Ribbon imprint. Legal and contractual scuffling led to on-wax and in-interview shots, which in turn led to an in-the-flesh altercation at an Atlanta nightclub in 2007. The two have since reconciled their differences, and now plan on making music together again. (Photos: Rick Diamond/Getty Images; Mike Coppola/Getty Images)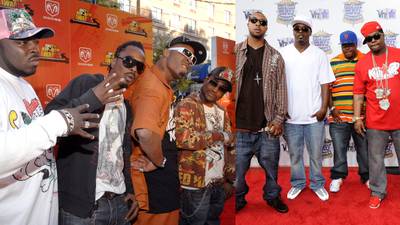 6 / 11
D4L vs. Dem Franchize Boyz - ATL apparently ain't big enough for two hit-making ringtone-rap quartets. Dem Franchize Boyz accused D4L of stealing their swag after the two groups both broke through with "snap music" hits accompanied by dance steps in 2005. (Photos: Rick Diamond/WireImage for BET Network; Jemal Countess/Getty Images)
Photo By
Photos: Rick Diamond/WireImage for BET Network; Jemal Countess/Getty Images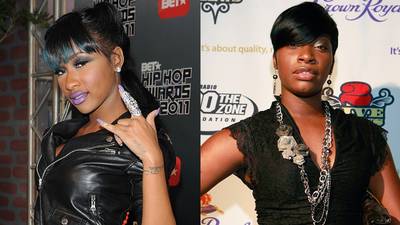 7 / 11
Diamond vs. Princess (Crime Mob) - Diamond and Princess were once the standout members of teen crunk troupe Crime Mob, who hit the charts with "Knuck If You Buck" in 2004. But internal differences tore the group apart and Diamond and Princess exchanged words in person, on Twitter and on wax in the aftermath. The two are reportedly on good terms again now, though it's unclear if we'll ever see another Crime Mob album.(Photos: Jeff Daly/PictureGroup; Ben Rose/PictureGroup)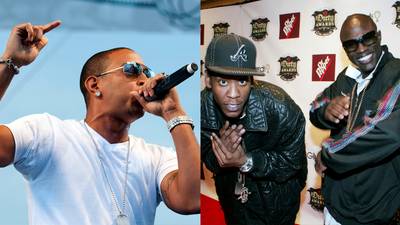 8 / 11
Ludacris vs. Field Mob - Shawn J of ATL duo Field Mob, who were once signed to Luda's Disturbing Tha Peace label, recently claimed that their old boss was firing subliminal shots their way on "Say It to My Face," a track off his 2011 mixtape 1.21 Gigawatts. Shawn fired back in November with a fiery interview and a diss track, "P---y Boy." (Photos: Mitchell Zachs/WENN.com; WENN.com)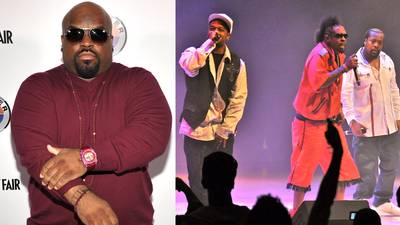 9 / 11
Cee-Lo vs. Goodie Mob - After creative differences and dwindling record sales, Cee-Lo bounced from pioneering Atlanta quartet Goodie Mob to pursue his eclectic solo career around 2000. The title of Goodie's first album as a trio, 2004's One Monkey Don't Stop No Show, appeared to take a swipe at Cee, and it seemed obvious there was no love lost in interviews. The group finally reconciled with Cee-Lo in 2009 and a new album featuring all four members is in the works.(Photos: John Shearer/Getty Images for Vanity Fair; Manny Hernandez/PictureGroup)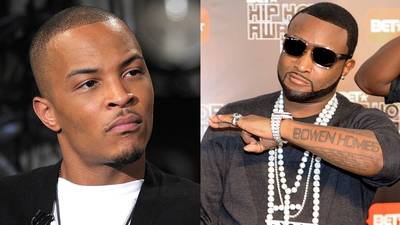 10 / 11
T.I. vs. Shawty Lo - Things got testy between these two Bankhead rappers when Shawty started claiming that T.I. wasn't really from the Atlanta neighborhood, calling him "T-Lie." Diss tracks and salty interviews paved the way for two melees during 2008's Dirty Awards in ATL. The two talked out their differences soon after and officially squashed their beef onstage at a Bankhead club in 2009.(Photos: Michael Loccisano/Getty Images; Chris McKay/Getty Images)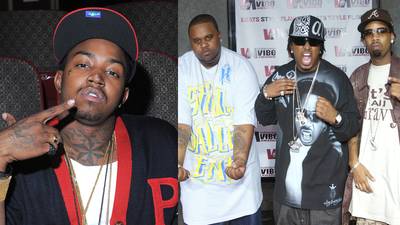 11 / 11
Lil Scrappy vs. Trillville - Scrappy and Trillville both came up under Lil Jon and even had a hit together ("Neva Eva"), but that didn't stop them from bumping heads in 2005. Scrap went at Trillville hard on his mixtape Full Metal Jacket, charging member Don P with homosexuality and pedophilia. Whoa. Don P struck back with his own mixtape Target Practice.(Photos: Adrian Sidney/PictureGroup; Frederick M. Brown/Getty Images)