The House Of Karl Lagerfeld: 8 Black Celebs Who Embodied His Modern Style
Many of Karl Lagerfeld's designs at Chanel and Fendi have become classic works of art.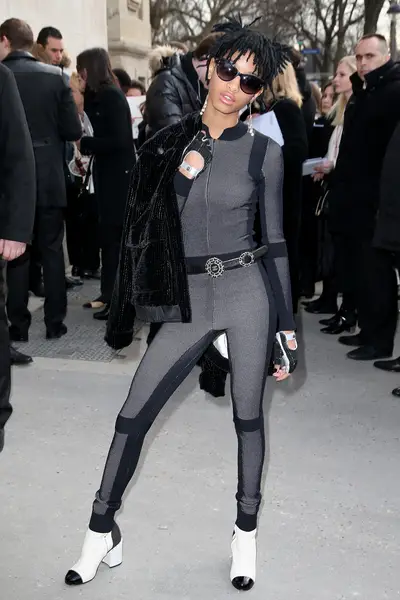 1 / 8
Willow Smith became the brand ambassador and Karl Lagerfeld's muse at only 15! The multi-faceted creative was named the new face of the powerhouse just hours after her appearance at the 2016-2017 Chanel fashion show in Paris. Willow gracefully stepped into her power in black and white Chanel boots. Her all-black style complimented the boots as she wore a jumpsuit that looked straight out of the Matrix.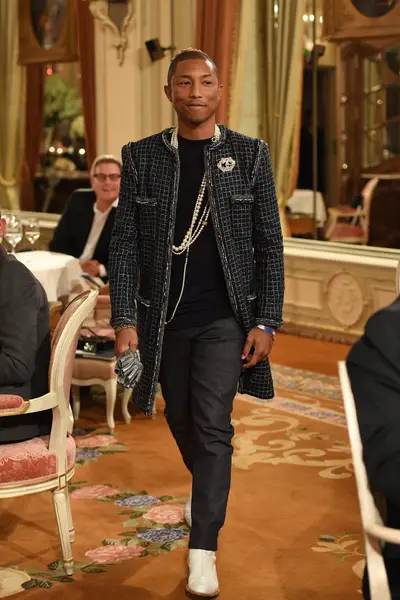 2 / 8
There isn't a better bromance out there than Karl Lagerfeld and Pharrell Willams. The Happy singer's friendship with the once-creative director has led him to many collaborative opportunities with Chanel. He's starred in a short film shot by Karl Lagerfeld, is a brand ambassador, has written a song for the brand, and has even walked the runway. As seen in the photo, the jacket was labeled the Renaissance jacket after it was rumored to be inspired by the short film 'Reincarnation.'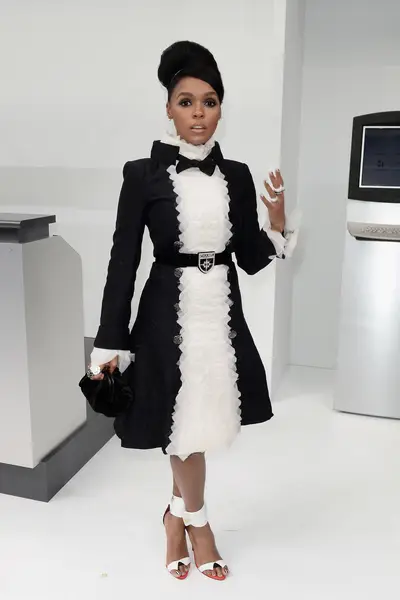 3 / 8
Janelle Monáe 2014 Chanel Fashion Show The multi-facted actress wore this black and white Karl Lagerfeld-inspired dress to the 2014 Chanel Spring fashion show in Pairs. The dress played a graceful balance of masculine and feminine with black sleeves and white ruffles down the middle, complete with a black bow tie. Janelle has always been vocal about how much the Karl Lagerfeld Black and white aesthetic has inspired her own. In a 2017 Vogue interview, she stated, "Karl's aesthetic is so clearly iconic, classic, black and white, and timeless. I am so inspired by him and his incredible eye."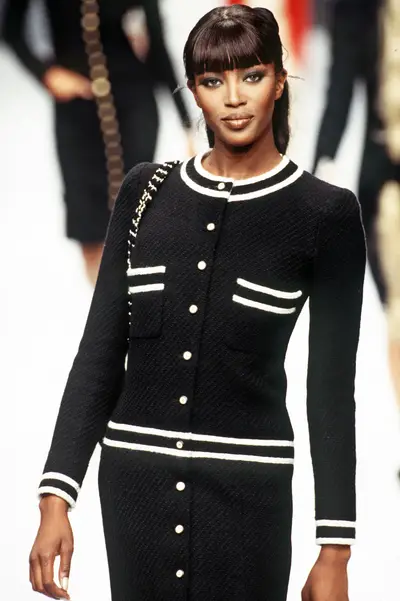 4 / 8
Naomi Campbell 1996-97 Chanel Show This fierce Karl Lagerfeld design was worn by one of the most fierce models on earth. Naomi Campbell wore a semi-sheer long black dress designed by Karl at the 1996-97 fall-winter couture fashion show for Chanel in Paris. Karl Lagerfeld's stunning design also came with elegant pearls as the dress straps. This was one of his early designs, as he had recently become the creative director of Chanel in 1994.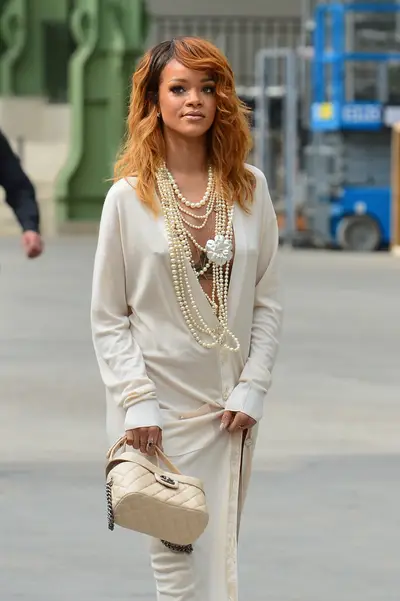 5 / 8
Rihanna 2013 Chanel Fashion Show Rihanna has been a fan of Lagerfeld designs for both Chanel and Fendi for quite some time. She was seen wearing a few Chanel and Karl Lagerfeld inspired staples for this 2013 couture fashion show. The staples include Chanel pointed heels, with layered Chanel pearls, and a nude leather Chanel bag. In true Rihanna fashion, she added her own twist by wearing a sexy long cardigan with a plunging slit and neckline.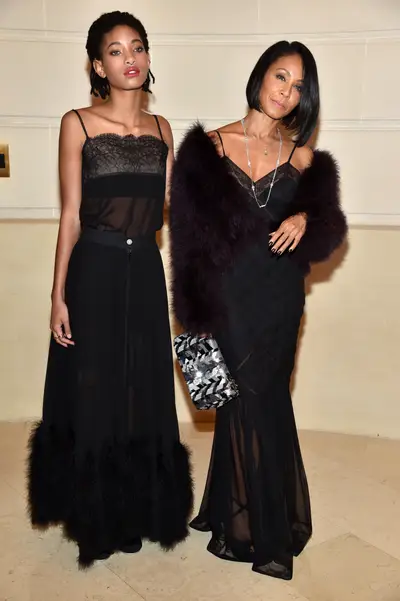 6 / 8
Jada Pinkett Smith and Willow Smith are stunning in matching ' mommy-daughter' Chanel outfits at the 2016 fashion show. Most teenage daughters would cringe at the idea of matching with their mothers, but what if your teenage self could do it in Chanel? The matching duo both are wearing all from head to toe. Jada rocked a long black dress with a slightly sheer lining. Willow's top is a slightly sheer black top with a long black skirt with black feathers at the bottom to compliment her youthful yet unique spirit. These Karl Lagerfeld-inspired looks were clearly a family affair!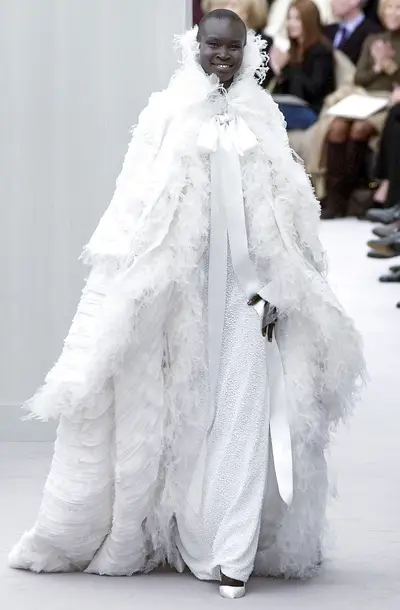 7 / 8
Alex Wek Chanel Couture Fashion Show As The Bride. Alex Wek was the first Black woman to walk in the Chanel Couture Fashion Show as the bride. Karl Lagerfeld designed the bridal couture gown. However, in a 2020 interview with Vogue, Alex revealed that she was the inspiration behind the iconic dress. She says, "During the fitting for the show, Karl told me that I had inspired the dress. He showed me the sketch. He did not want a veil or anything on top of my head." Alex wears the off-white gown with pearl detailing complimented with an off-white ruffled cape.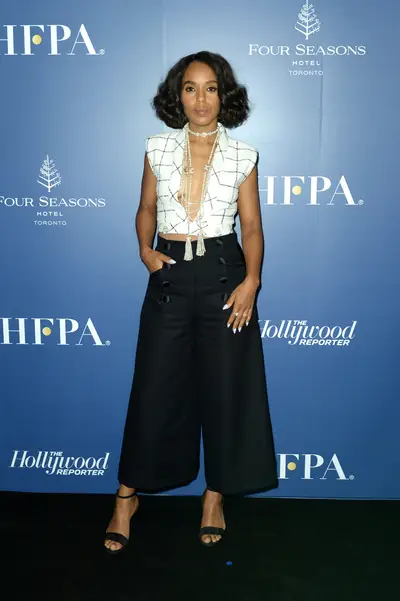 8 / 8
Kerry Washington At The HFPA After Party Kerry Washington tapped into her Olvia Pope era in classic Chanel at the HFPA after-party. She is seen wearing a Karl Lagerfeld-inspired look with a light open suit top, Chanel pearls with the traditional logo, and wide-legged Chanel pants. The Chanel top was seen in the 2019 Chanel Fashion show that celebrated Karl Largerfeld's life and career.