Sports Rewind: Dwyane Wade Reaches Settlement With Ex-Wife
Plus, Andrew Bynum sees a finals in the Cavs' future.
1 / 15
Dwyane Wade Reaches Settlement With Ex-Wife - Tiger Woods misses the mark at 2013 British Open, Andrew Bynum wants to take the Cavs to the Finals, LeBron's honors, plus more sports headlines. — Britt MiddletonThe bitter court battle between Miami Heat star Dwyane Wade and ex-wife Siohvaughn Funches-Wade has been put to rest, but the barbs keep on coming. A statement from Wade's publicist on Monday confirmed that a financial settlement was reached on July 16, three days before Funches-Wade protested outside a Chicago courthouse that she was "forced to live on the street" because of a failed lawsuit seeking a cut from her ex's endorsement deals. The statement rebuked Funches-Wade for "making a mockery of homelessness" and claimed Wade has given her provided her with income over $25,000 each month, paid her home mortgage and covered her attorney fees over the year...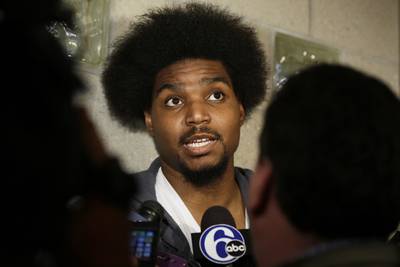 2 / 15
Going All the Way to the Top - Newly minted Cleveland Cavaliers center Andrew Bynum is feeling optimistic with where the team is headed this season: "I want to get this team back into the playoffs and make some noise," he said at a press conference on Friday. The former Philadelphia 76ers star sat out all of last season due to knee issues, leaving some to wonder if he could bounce back. "I want to play a full season, and there is no doubt in my mind I can do that," Bynum said. (Photo: AP Photo/Matt Rourke, File)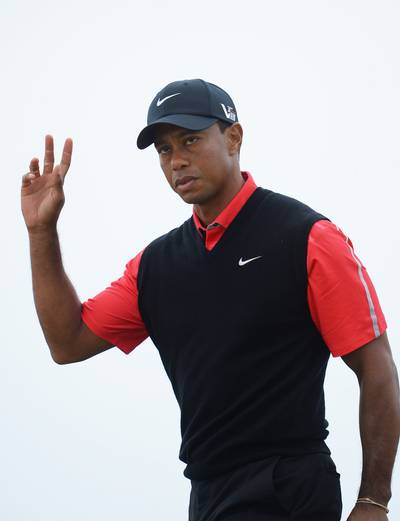 3 / 15
Better Luck Next Time - While his romance with skier Lindsey Vonn appears to be on the up-swing, some say Tiger Woods' golf game could use a tune-up. The golf star tied for sixth place in this weekend's British Open, extending his drought in winning a major tournament. Ultimately, Phil Mickelson took home the top honors. (Photo: Stuart Franklin/Getty Images)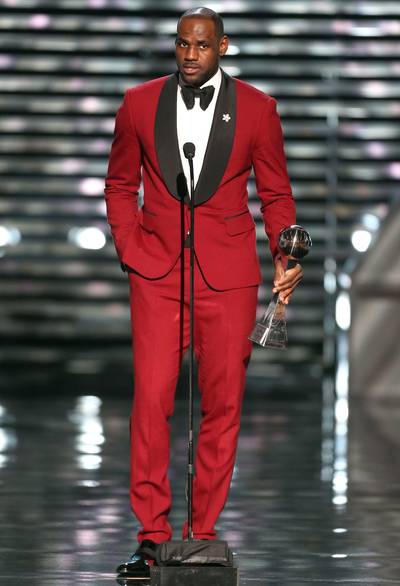 4 / 15
Best of the Best - Miami Heat star LeBron James was the biggest winner at Wednesday's ESPY Awards in Los Angeles. For the second year in a row, he took home the awards for Best Championship Performance, Best NBA Player and Best Male Athlete. Also honored was Serena Williams (Best Female Athlete and Best Female Tennis Player) and Floyd Mayweather Jr. (Best Fighter). Click here for the complete list of winners. (Photo: Frederick M. Brown/Getty Images for ESPY)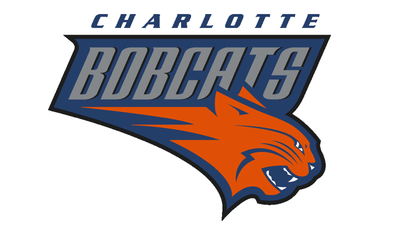 5 / 15
Make Way for the Hornets - According to reports, Charlotte Bobcats owner Michael Jordan is close to getting league approval to re-brand the team as the Charlotte Hornets (the Hornets played in Charlotte from 1988-2002). New Orleans changed their name from the Hornets to the Pelicans earlier this year, freeing up the moniker. A decision is expected as early as Thursday. (Photo: Charlotte Bobcats)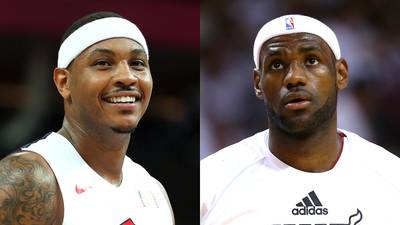 6 / 15
Are the Lakers Getting Two New Stars? - In other LeBron news, sports nuts were whipped into a tizzy after reports surfaced this week that the Los Angeles Lakers are looking to pick-up both James and New York Knicks star Carmelo Anthony when they become free agents in 2014. (Photos from left: Christian Petersen/Getty Images, Mike Ehrmann/Getty Images)
Photo By
Photos from left: Christian Petersen/Getty Images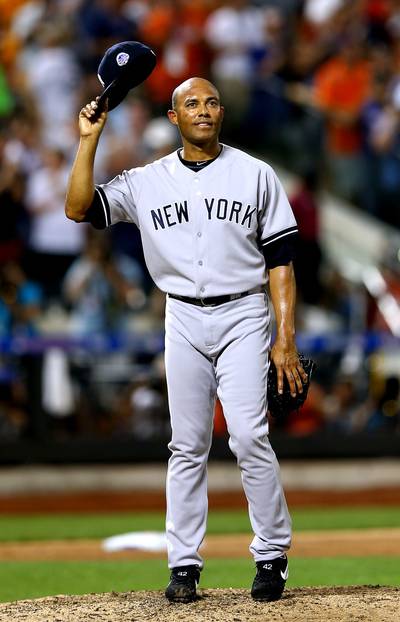 7 / 15
An Emotional Farewell - After being given a two-minute long standing ovation during Tuesday's MLB All-Star Game, retiring New York Yankees relief pitcher Mariano Rivera reflecting on his final All-Star Game (in which he was also named game MVP) and 18 years in the Major League that includes five World Series championships. Speaking about Jackie Robinson's influence on his career, Rivera who, like Robinson, wears the No. 42 jersey, told ESPN, "I represent Jackie Robinson, No. 42. But the legacy continues, and we have to respect that. I thank God for the opportunities I've been given." (Photo: Elsa/Getty Images)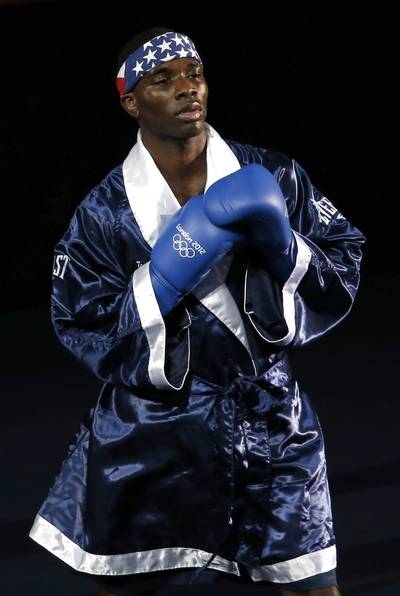 8 / 15
U.S. Olympic Boxer Blasts Zimmerman Verdict - Joining the ranks of professional athletes speaking out against George Zimmerman's not guilty verdict, U.S. Olympic boxer Terrell Gausha called Zimmerman's acquittal "a slap in the face." Gausha, who represented the U.S. at the 2012 London Games, told TMZ he will no longer wear the American flag on his boxing shorts in protest, adding, "How can I wear my stars and stripes proudly in a country where they make a big deal out of Mike Vick fighting dogs; but not a young innocent Black male's life." (Photo: REUTERS /MURAD SEZER /LANDOV)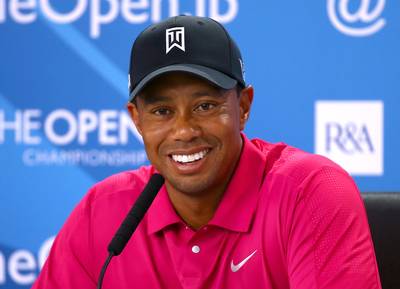 9 / 15
Just Do It - Tiger Woods' camp confirmed Wednesday that the golf star has renewed his contract with Nike, although specific numbers and length of the contract were not released. Woods has been with the sports brand since he went pro in 1996. According to some estimates, he pulls in more than $20 million a year in Nike endorsements alone. (Photo: Matthew Lewis/Getty Images)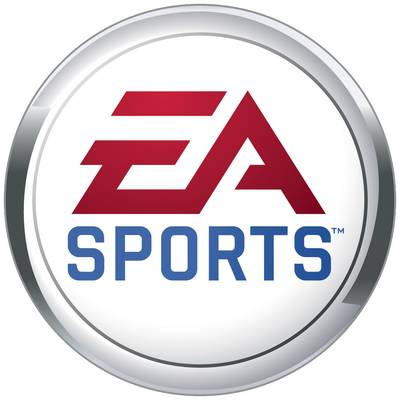 10 / 15
NCAA Cuts Ties with EA Sports - The NCAA said on Wednesday that it will no longer allow Electronic Arts. Inc. to use is logo in the company's video games. The move comes as NCAA fights a billion dollar lawsuit launched by several former college athletes who demand compensation after their likenesses were used in the games for free. (Photo: EA Sports)
Photo By
Photo: EA Sports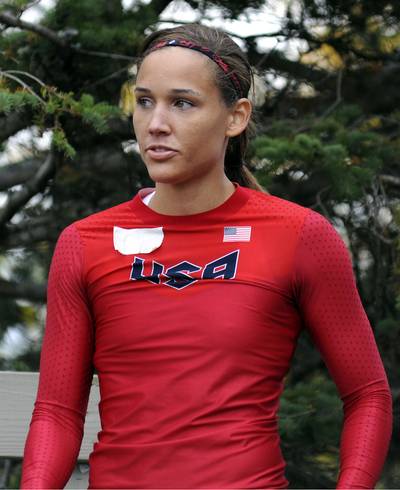 11 / 15
Was Lolo Jones in a Bar Fight? - The U.S. Bobsled and Skeleton Federation said this week that it won't pursue sanctions against Olympic hurdler and up-and-coming bobsled competitor Lolo Jones, who was involved in an altercation at a Lake Placid, New York, nightclub with the stepdaughter of bobsled Hall of Famer Tony Carlino. A federation spokesperson also condemned reports that Jones "knocked out" the woman, whose name was not released. Police said no charges were filed. (Photo: AP Photo/Michael Lynch, File)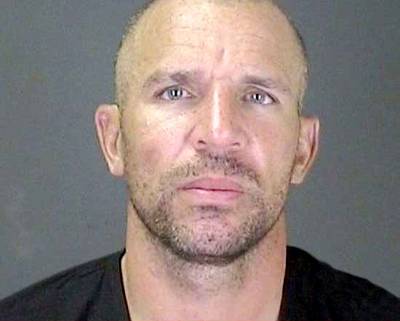 12 / 15
Jason Kidd Pleads Guilty to DWI - Newly minted Brooklyn Nets coach Jason Kidd plead guilty to driving while intoxicated, stemming from his arrest last summer after he slammed his SUV into a telephone pole following a night of partying. In his plea deal, Kidd will visit several Long Island high schools to give talks warning of the dangers of drinking and driving, which will be taped by the District Attorney's office and used in future PSAs. If the court is satisfied by his service by October, the DWI will be reduced to a traffic violation, Deadspin reported. (Photo: Southampton Police Department)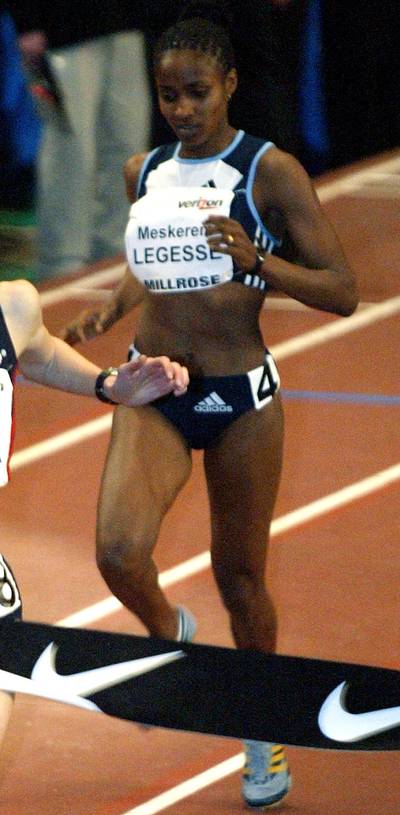 13 / 15
Pregnant Olympic Runner Dies at Connecticut Restaurant - Ethiopian track star Meskerem Legesse, 26, collapsed and died at a restaurant in Hamden, Connecticut, on Monday. Legesse, who was due to give birth in three weeks, was rushed to a hospital, where doctors were able to save her baby, ESPN reported. Legesse ran the 1,500-meter competition at the Athens Olympics in 2004. In addition to her newborn, she leaves behind a 2-year-old son. (Photo: REUTERS/Ray Stubblebine)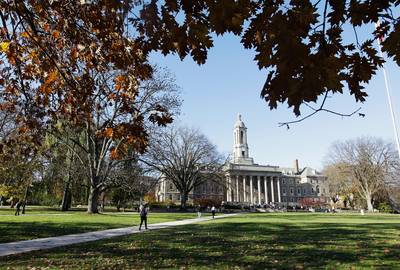 14 / 15
Penn State Reaches Settlement with Sandusky Victims - Last Week, Penn State University's board of trustees voted to approve settlement offers to some of the victims of Jerry Sandusky's child-sex abuse, Deadspin reported. While the settlements were not made public, a local Philadelphia newspaper pegged the offers "in the close proximity of" $60 million. (Photo: Rob Carr/Getty Images)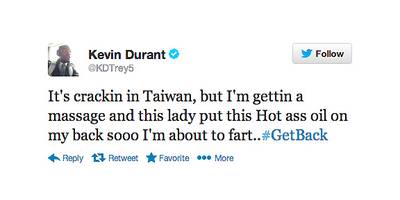 15 / 15
What a Gas! - We get that it's the offseason and NBA stars have some extra time on their hands. But it appears Oklahoma Thunder Star Kevin Durant is a little too comfortable with his relaxed schedule, sharing with the world on Twitter his penchant for "letting it all out" at inappropriate times. (Photo: Kevin Durant via Twitter)