Most Memorable Moments Of The 2020 Democratic National Convention
Take a look back at an action-packed, virtual week.
1 / 7
Barack Obama Delivers Poinant Speech - As anticipated, Barack Obama calmly but sharply let the nation know the stakes in the presidential election. Delivering his Democratic National Convention speech from Philadelphia, he promoted his former vice president, but also warned of the dangers of another four years of Donald Trump in the White House."Trump hasn't grown into the job, because he can't," said Obama during his remarks."Democracy was never meant to be transactional...it requires an active and informed citizenry," he continued. "So I'm also asking you to believe in your own ability, to embrace your own responsibility as citizens, to make sure that the basic tenets of our democracy endure."(Photo: DNCC via Getty Images)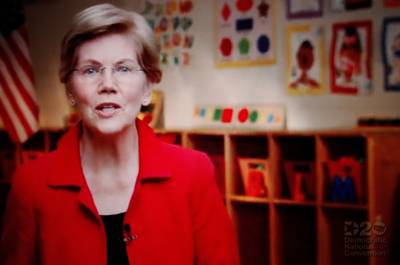 2 / 7
Elizabeth Warren's Subtle Nod To Black Lives Matter - If you watched the third night of the 2020 Democratic National Convention, you might have seen Massachusetts Sen. Elizabeth Warren promoting Black Lives Matter in the most subtle way without even uttering the phrase.As Warren spoke from an early childhood education center in Springfield, Mass., viewers saw children's red, yellow and blue block letters in the background atop three cubbies. Those letters spelled out "BLM," a nod of support to the Black Lives Matter movement, according to several media reports.(Photo: DNCC via Getty Images)
Photo By
Photo by DNCC via Getty Images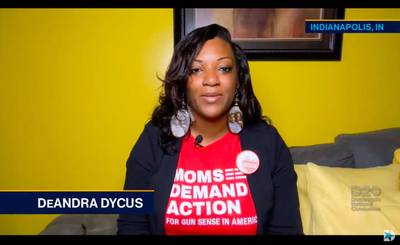 3 / 7
Black Mom Speaks Out Against Gun Violence: 'One Shot Changed Our Lives' - One story on Wednesday night that stood out is that of DeAndra Dycus, who spoke about her son, DeAndrea Knox, who was a victim of gun violence. Dycus, who is also a volunteer for Moms Demand Action, spoke poignantly about her son's current condition and the state of his life, which  was irreversibly changed after he was shot. An otherwise healthy and happy young Black man's life has now been silenced as her son is now unable to walk or speak. "Since March, I've only been able to see my son three times, but I can't touch or hug him due to COVID-19. People tell me that I'm lucky. I tell them that we are blessed. I remind them that my son is in a wheelchair and unable to feed himself. I don't think DeAndre feels lucky that he has to be bathed from head to toe or get injections...
Photo By
DNCC Screengrab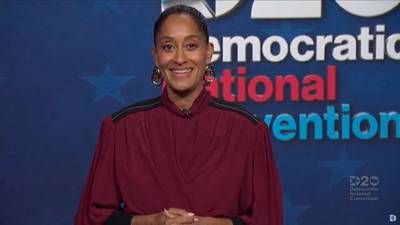 4 / 7
Tracee Ellis Ross Goes Off Script To Celebrate Kamala Harris - Tuesday night DNC host Tracee Ellis Ross who took the opportunity to point out what this moment meant to her, noting that Black women typically are the unyielding strength behind-the-scenes but rarely ever acknowledged, valued or given the credit to be the true leaders of the Party. Biden's running-mate choice last week means that is about to change."But, we are turning the tide.... HELLO, KAMALA. Her nomination is historic for anyone who believes in We the People," she said.Ellis Ross also took the opportunity to mention the unsung women of the Democratic Party like Shirley Chisholm, whose 1972 presidential bid challenged Democrats to stand for social, economic and racial justice, perhaps before the world was truly ready to do so.(Photo: Handout/DNCC via Getty Images)
Photo By
Photo by Handout/DNCC via Getty Images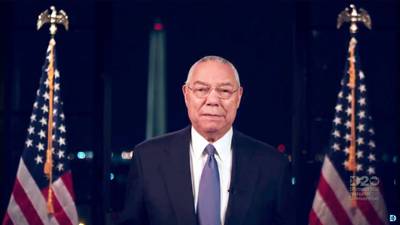 5 / 7
Retired Republican Gen. Colin Powell Publicly Endorses Joe Biden - Former Secretary of State Colin Powell became the second high profile Republican party member to address the Democratic National Convention in support of Joe Biden."Our country needs a commander in chief who takes care of our troops in the same way he would his own family," said Powell, who is also a retired four-star U.S. Army general. "For Joe Biden, that doesn't need teaching. It comes from the experience he shares with millions of military families—sending his beloved son off to war and praying to God he would come home safe."Powell, who also served as chairman of the Joint Chiefs of Staff under President George H.W. Bush and National Security Advisor under President Ronald Reagan, has been critical of President Trump in the past. He told CNN in June that Trump ...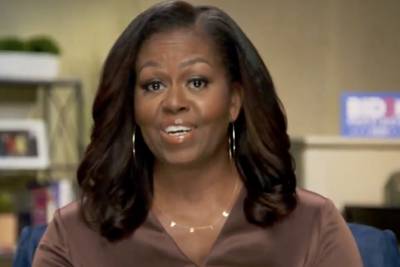 6 / 7
Michelle Obama's Scortching DNC Speech - During her prepared remarks, the former First Lady sounded more directly political than she has in prior public appearances and took shots (and some say threw epic shade) at what she called the president's failures."More than 150,000 people have died, and our economy is in shambles because of a virus that this president downplayed for too long," she said. "It has left millions of people jobless. Too many have lost their health care; too many are struggling to take care of basic necessities like food and rent; too many communities have been left in the lurch to grapple with whether and how to open our schools safely. Internationally, we've turned our back, not just on agreements forged by my husband, but on alliances championed by presidents like Reagan and Eisenhower."Obama continued her address by invoking the names of George Floyd&nb...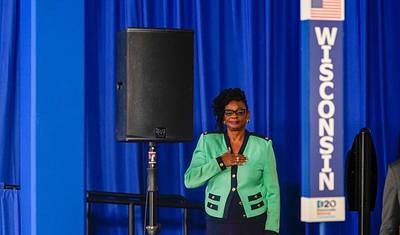 7 / 7
Rep. Gwen Moore Says Black Women Thrilled About Political Moment Around Kamala Harris - A day after Wisconsin Rep. Gwen Moore kicked off the 2020 Democratic National Convention with a one-minute, energetic and passionate speech encouraging everyone to get behind her "beloved friend" Joe Biden for president, Moore told BET.com that she is also thrilled about this historic moment for his running mate Sen. Kamala Harris, and for Black women."The day Kamala was named VP [candidate], it was so thrilling. My son ran for state representative and was nominated on the same day. They announced Kamala in the day and he won later that night. And I don't think anything could have brought me down. I was floating on cloud nine," Moore said."[Black women] are just giddy. I get in the Uber and the Uber driver is happy. My hairdresser is happy. I get in the store and people are happy...
Photo By
Photo Credit: Morry Gash-Pool/Getty Images