Sports Buzz: LeBron James Passes Patrick Ewing as 20th on NBA Scoring List
Plus, Frank Kaminsky named AP Player of the Year.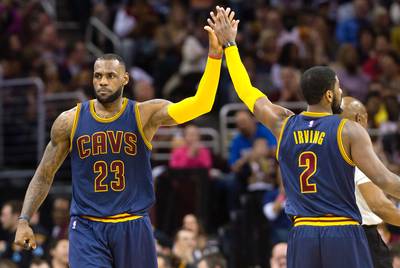 1 / 34
LeBron James Passes Patrick Ewing as 20th on NBA Scoring List - LeBron James just keeps making history. With a first-quarter hook shot against the Miami Heat on Thursday night, King James passed Hall of Famer Patrick Ewing for 20th on the NBA's all-time scoring list. "It's an honor," James told ESPN after accomplishing the feat and leading his Cleveland Cavaliers to a 114-88 home win. "When I was growing up, you see these guys playing and you just hope that one day you can [too]. I always had dreams about being able to play in the NBA, and seeing what Pat and those guys were doing in the '90s with that New York Knick team facing the [Indiana] Pacers or facing the [Chicago] Bulls, or whoever they were going against, they were very tough-minded, and he was the cornerstone of the whole thing." (Photo: Jason Miller/Getty Images)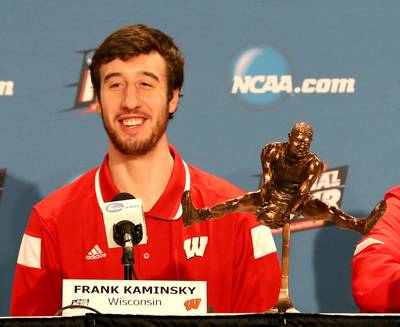 2 / 34
Frank Kaminsky Named AP Player of the Year - Frank Kaminsky was named the Associated Press Player of the Year on Friday after averaging 18.7 points and eight rebounds per game this season and leading the Wisconsin Badgers to a 35-3 record. The seven-foot senior forward earned 58 of the 65 national votes en route to winning the award. His Badgers will face undefeated Kentucky in the Final Four on Saturday night.(Photo: Maxx Wolfson/Getty Images)
Photo By
Photo: Maxx Wolfson/Getty Images
3 / 34
John Calipari Wins AP Coach of the Year - John Calipari won the Associated Press Coach of the Year award Friday after leading Kentucky to an undefeated regular season of 34-0. At 38-0 now, the Wildcats are just two wins away from cementing their undefeated season and winning another national title. (Photo: Streeter Lecka/Getty Images)
4 / 34
MLB Can't Punish Josh Hamilton - An arbitrator ruled Friday that Major League Baseball can't discipline Los Angeles Angels star Josh Hamilton after he admitted to them that he had a relapse of drug and alcohol abuse, ESPN reported. An arbitrator voted on it after one lawyer and one medical representative appointed by each the management and the players' association were stuck at a 2-2 tie on whether Hamilton should be subject to be punished.(Photo: Ed Zurga/Getty Images)
5 / 34
Warriors Barnes Sinks Suns With Game-Winner - Harrison Barnes nailed a runner in the lane with one second left to lift the Golden State Warriors to a 107-106 home win over the Phoenix Suns on Thursday night. Stephen Curry had a game-high 28 points.(Photo: AP Photo/Ben Margot)
Photo By
Photo: AP Photo/Ben Margot
6 / 34
Phil Jackson Says Knicks Terrible Season May Be 'Godsend' - It has been a downright ugly year for the New York Knicks, who are an NBA-worst 14-61 this season. But team president Phil Jackson sees a silver lining. Talking to Knicks season-ticket holders Thursday, Jackson said this forgettable season "may be a godsend." "A draft pick can move an entire organization forward ...and this is our opportunity," Jackson told them, as reported by ESPN. He added that the Knicks have received two phone calls from other teams inquiring about the potential first pick in the 2015 NBA Draft that they could land. (Photo: Stephen Dunn/Getty Images)
7 / 34
Report: Florida's Billy Donovan Eyeing Jump to NBA - After 20 years of coaching the Florida Gators basketball team, Billy Donovan is reportedly ready and willing to make the jump to the NBA. According to ESPN, NBA executives are ready to show serious interest in Donovan and the longtime college hoops coach would reciprocate. Donovan recently signed an extension to stay at the helm of Florida's program through the 2020 season, but the Gators failed to make the post-season for just the second time in his 20 years as coach of the team. (Photo: Andy Lyons/Getty Images)
8 / 34
Shaka Smart Takes Texas Coaching Job - Done deal. ESPN has confirmed that Shaka Smart is leaving Virginia Commonwealth University to coach Texas' basketball team. Smart led VCU to the NCAA Tournament in 2011 and guided it to at least 26 wins in each of his past six seasons at the school.(Photo: Mike Stobe/Getty Images)
Photo By
Photo: Mike Stobe/Getty Images
9 / 34
Jonathan Taylor No Longer at Alabama - Despite his domestic-violence accuser changing her story to police, former defensive tackle Jonathan Taylor is no longer a student at Alabama. The school's football coach Nick Saban dismissed Taylor from the team Sunday and stood by his decision Thursday that he won't be back, according to ESPN. (Photo: AP Photo/AL.com, Vasha Hunt)
10 / 34
James Harden Boosts MVP Case With 51-Point Performance - Seems like nothing is going to stop James Harden from cooking toward his first MVP award. Already the leading scorer in the NBA this season, the three-time All-Star shooting guard scored 51 points to lead the Houston Rockets to a 115-111 home victory over the Sacramento Kings on Wednesday night. Harden finished the game shooting 16-of-25 from the floor, 8-of-9 from beyond the arc and 11-of-13 from the charity stripe. Harden's effort overshadowed an equally Herculean performance from the Kings' All-Star center DeMarcus Cousins, who posted a triple-double with 24 points, 21 rebounds, 10 assists and six blocks. With the Rockets (51-24) having played 75 games, Harden will have seven more games to strengthen his case for MVP further. (Photo: Scott Halleran/Getty Images)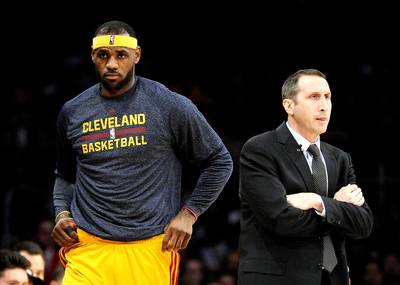 11 / 34
LeBron Has Freedom to Call All Cavs Plays, Coach OK With It - Cleveland Cavaliers coach David Blatt is fine with LeBron James having a green light to call plays and adjust to what he sees out there on the court. In fact, Blatt says it's perfectly normal. "I don't think that's peculiar," Blatt told ESPN on Wednesday. "When the game is going on and you are in the heat of the battle at times, you can't get a message through or you don't want to stop the flow, so a guy may [call the play on his own]. We have sets that we know what we're going to use going in. You know, we have a package that we're going to use going in and at times, according to the flow of the game, somebody may call out a play. I don't think that's unusual." Added James: "Coach Blatt does the play calling obviously throughout the game in timeouts, but ...
12 / 34
Clippers Rally Behind Chris Paul's 41 Points - A third-quarter Chris Kaman shove of Chris Paul seemed to only further ignite the Los Angeles Clippers point guard. Paul wound up scoring 12 of his 41 points in the fourth quarter to lead the Clippers to a rallying 126-122 road win over the Portland Trail Blazers on Wednesday night. (Photo: Stephen Dunn/Getty Images)
Photo By
Photo: Stephen Dunn/Getty Images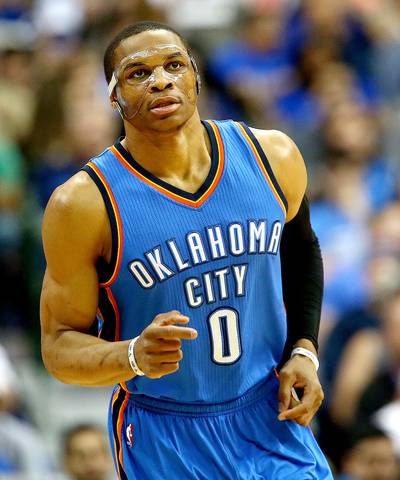 13 / 34
Mavs Drop Thunder, Despite Another Westbrook Triple-Double - Russell Westbrook notched his 10th triple-double of the season with 31 points, 11 assists and 11 boards, but his Oklahoma City Thunder still fell at home to the Dallas Mavericks 135-131 on Wednesday night. Monta Ellis led the Mavs with 26 points. The Thunder (42-33) are still narrowly hanging onto the eighth playoff seed out West.(Photo: Ronald Martinez/Getty Images)
14 / 34
Texas AD to Meet With Shaka Smart - Shaka Smart's solid coaching job at Virginia Commonwealth University has given him national attention. So much so that the Associated Press is reporting that Texas athletic director Steve Patterson is scheduled to meet with Smart on Thursday and offer him the Longhorns' basketball coach job. Smart led VCU to the 2011 NCAA Tournament and his teams have won at least 26 games in each of the past six seasons.  (Photo: Jonathan Ferrey/Getty Images)
Photo By
Photo: Jonathan Ferrey/Getty Images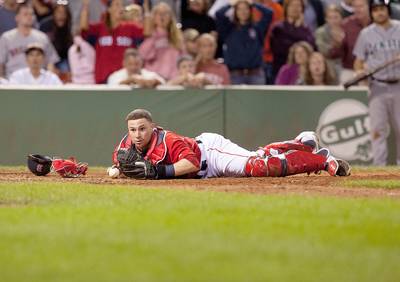 15 / 34
Red Sox Vazquez to Have Tommy John Surgery - Rough news for the Boston Red Sox — catcher Christian Vazquez will have season-ending Tommy John surgery on his right elbow on Thursday, according to ESPN. Vazquez, 24, was scheduled to be the Red Sox starting catcher this season.(Photo: Rich Gagnon/Getty Images)
16 / 34
Kevin Durant Says He Wants to Play for Thunder Whole Career - Kevin Durant had bone graft surgery on his right foot Tuesday, officially ending the remainder of his 2014-15 season. On his way to becoming a free agent next summer, though, KD says he would ideally like to remain a member of the Oklahoma City Thunder.  "I love it here, man. I love my teammates, I love the city, I don't really think about anywhere else," Durant told Revolt TV during a recent interview. "I hear it all the time, don't get me wrong, and once you hear it, you're kind of like [looks up, thinking]. But for me, I love staying in the moment, and I'm one of those guys that would love to stick it out with one team my whole career." He added, "I would love to get my jersey retired here." These are the strongest comments from Durant about staying with the Thunder since specu...
17 / 34
Jameis Winston Says He's Best Player in Draft - Jameis Winston is definitely confident in his ability. When asked by ESPN why the Tampa Bay Buccaneers should select him with the No. 1 pick in the 2015 NFL Draft, Winston's response was simple: "Because I'm the best player in the draft." The comment came after Winston completed his pro day workout in front of NFL coaches, scouts and general managers at Florida State University's practice facility.(Photo: AP Photo/Mark Wallheiser)
18 / 34
Steve Kerr, Doc Rivers Take Shots at Each Other - Before the Golden State Warriors scored a 110-106 victory over the Los Angeles Clippers on Tuesday night, the teams' coaches, Steve Kerr and Doc Rivers, traded jabs at each other. Responding to Warriors forward Draymond Green sitting out with inflamed shins, Rivers told ESPN: "That was pretty predictable; they didn't want to take the risk of going 2-2 [in the season series] with their regular guys. You could pretty much predict they weren't going to play everybody." Having caught wind of Rivers's remarks, Kerr responded: "Oh, is that right? Either that or we have a nine-game lead and a couple guys banged up. Somewhere in there." With the win, the Warriors improved to 61-13 on the season, having already clinched the Western Conference.(Photos from left: Ezra Shaw/Getty Images, Stephen Dunn/Getty Images)
19 / 34
Tiger Woods Plays, but Remains Undecided on Masters - Is Tiger Woods on the comeback trail? The golfing great played 18 practice holes at Augusta National on Tuesday, but remains undecided on whether he'll play in the Master's next week, his agent told ESPN.(Photo: Maddie Meyer/Getty Images)
20 / 34
Mariota Doesn't Plan on Attending Draft - First James Winston's camp said he wasn't going to attend the 2015 NFL Draft in Chicago, opting to stay with family and friends back home. Now, Marcus Mariota seems to be following suit. According to an ESPN report, Mariota plans on being in Hawaii with his family and the community that helped raise him there. (Photo: Joe Robbins/Getty Images)
21 / 34
Romo Says He Would've Taken Pay Cut for Murray - The Dallas Cowboys watched DeMarco Murray sign with their NFC East rival Philadelphia Eagles last month for $42 million over five years, including $21 million guaranteed. But Cowboys quarterback Tony Romo said he would have gladly taken a pay cut from his $17 million salary in 2015 to keep Murray, the NFL's leading rusher last season. "DeMarco ended up asking me, 'Why don't you take a pay cut?'" Romo told 105.3 The Fan in Dallas on Tuesday, as reported by ESPN. "I was like, 'I will. I will take a pay cut to go do this.' I was like, 'They're going to restructure me and the whole thing,' that's the same thing in some ways just for salary-cap purposes. He was like, 'OK, now we're back to being friends.' 'You're really worried about me? I would take $5 million less if it meant getting you back.' He knew that.&qu...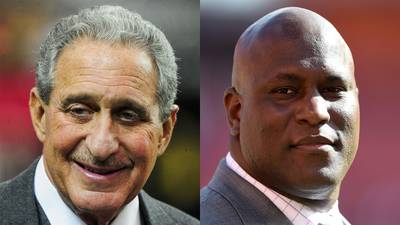 22 / 34
NFL Comes Down On Browns and Falcons For Violations - The NFL has responded to violations by the Atlanta Falcons and the Cleveland Browns. The league fined the Falcons $350,000 on Monday and is making the franchise forfeit their 2016 draft pick for admitting to pumping artificial noise into the Georgia Dome for home games during the past two seasons, according to ESPN. Earlier Monday, the NFL suspended Browns general manager Ray Farmer without pay for the first four games of the 2015 season for sending texts to team staff during games last year. In addition, the league fined the Browns $250,000.(Photos from left: Scott Cunningham/Getty Images, Jason Miller/Getty Images)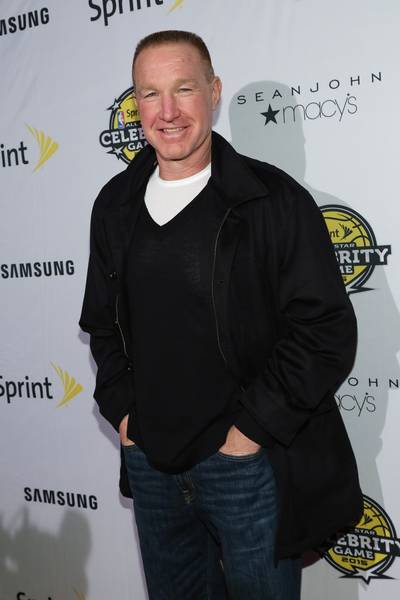 23 / 34
Chris Mullin Agrees to Coach St. John's - Full circle for Chris Mullin. The Hall of Famer has reportedly agreed to be the coach St. John's men's basketball team, a squad he once starred for during the early 1980s. Mullin, 51, is also a New York native. (Photo: Brent N. Clarke/FilmMagic)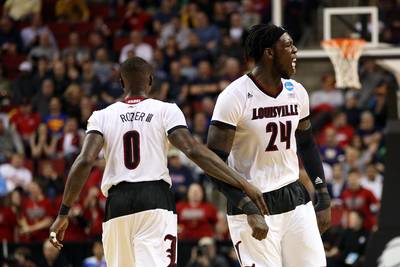 24 / 34
Louisville's Harrell, Rozier Entering NBA Draft - Well, that was fast. Fresh off losing its Elite Eight matchup against Michigan State on Sunday, Louisville stars Montrezl Harrell and Terry Rozier have delcared eligible for the 2015 NBA Draft. "They're both leaving, yes—100 percent," Cardinals coach Rick Pitino told ESPN on Monday. "And it's the right thing to do for both of them." Harrell, a 6'8" junior forward, averaged 15.7 points and 9.2 rebounds per game. Rozier, a 6'1" sophomore guard, put up 17.1 points per game this season.(Photo: Otto Greule Jr/Getty Images)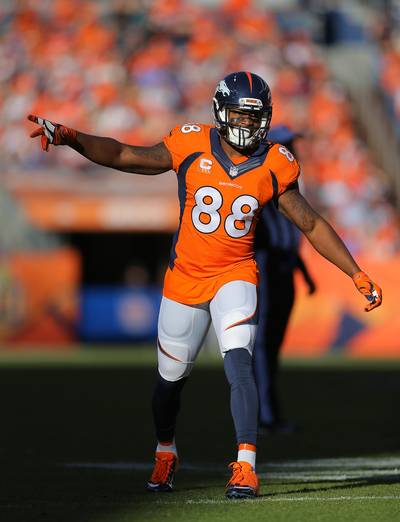 25 / 34
Demaryius Thomas to Skip Team Offseason Programs - After the Denver Broncos designated Demaryius Thomas as their franchise player earlier this month, the star wide receiver said he will skip the team's offseason program and workouts with Peyton Manning, as reported by ESPN. "I'll be back in Georgia, trying to get the body right, get the ankle right," he told the press during a media call Monday. "Then when it's time to go, make sure I'm 100 percent ready to go." The Broncos' offseason program begins April 13th. Thomas set a team record last season with 1,619 receiving yards and wanted a longterm contract extension instead of having the franchise tag slapped on him.  (Photo: Justin Edmonds/Getty Images)
26 / 34
Cubs' Sensation Kris Bryant to Begin Year in Minors - The Chicago Cubs are keeping their thunder bottled up a little longer. According to ESPN, the team reassigned third baseman Kris Bryant to their minor league system, despite him hitting a sizzling .425 with nine homers and 15 RBIs in 40 at-bats this spring training.  (Photo: Lisa Blumenfeld/Getty Images)
27 / 34
Phil Jackson Asks Knicks' Season-Ticket Holders to Remain Patient - This season has been largely forgettable for the New York Knicks, owners of the worst record (14-60) in the NBA. But Knicks president Phil Jackson wants the team's fans to know that better days are ahead. Jackson sent a message to Knicks' season-ticket holders Monday saying as much. "While I know this has been a challenging season for our team on the court, I can also tell you that everyone in the organization is working tirelessly to get our Knicks back to a place where we are once again competing at the highest level," Jackson said in a video message obtained by ESPN New York.  (Photo: Stephen Dunn/Getty Images)
28 / 34
UConn Women Reach Eighth Straight Final Four - For the eight straight season, UConn is back in the NCAA Tournament's women's basketall Final Four. The Huskies punched their ticket to the national semifinals with a 91-70 thrashing of Dayton on Monday night and are now just two victories shy of their third straight title.  (Photo: AP Photo/Tim Roske)
29 / 34
Duke, Michigan State Book Tickets to Final Four - The NCAA Tournament's Final Four is all set. Duke and Michigan State stamped their tickets to the Final Four after the Spartans edged Louisville 76-70 in overtime on Sunday and the Blue Devils followed through with a 66-52 rout of Gonzaga in the night cap. The No. 7 seeded Michigan State will now face top-seed Duke on Saturday night, while No. 1 Kentucky goes up against top-seed Wisconsin.(Photos from left: Ronald Martinez/Getty Images, Elsa/Getty Images)
30 / 34
TNT's Craig Sager Has Leukemia Recurrence - TNT's longtime NBA sideline reporter Craig Sager has had a recurrence of leukemia, after seemingly defeating the disease. Sager's son, Craig Sager Jr., took to his Twitter account Sunday to share that his father will once again undergo treatment via chemotherapy and a bone marrow transplant. The gaudy-fashioned reporter returned to NBA sidelines for TNT earlier this month but canceled a trip to Omaha, Nebraska, to cover the NCAA Tournament.(Photo: Ronald Martinez/Getty Images)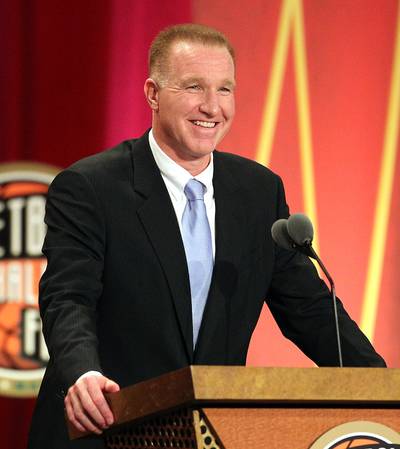 31 / 34
Report: Chris Mullin Offered St. John's Coaching Job - After starring for St. John's from 1981-85, Chris Mullin could potentially make a return to his alma mater as a head coach. Sources are telling ESPN that St. John's has offered Mullin the vacant head coach job of its men's basketball team after letting go of former coach Steve Lavin.(Photo: Jim Rogash/Getty Images)
32 / 34
Houston GM Says Rockets Can Win Title - Houston Rockets general manager Daryl Morey thinks the team is good enough to win the NBA title this season, even if they have to do it without defensive-oriented point guard Patrick Beverley. "We think we can win the title with or without Beverley," Morey said on ESPN Radio's Basketball Insiders show Sunday night. "Obviously it gets more challenging without Beverley. He's the key to our ability to guard a lot of these very good point guards in the West." After missing 26 games due to a swollen right knee, Dwight Howard returned to the Rockets' lineup last week. At 50-23, the Rockets are currently sitting in second place in the Western Conference standings.(Photo: Bob Levey/Getty Images)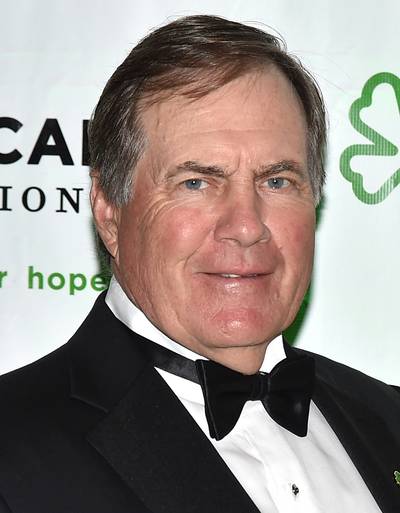 33 / 34
NFL Pondering Belichick's Camera Idea - Last week, Bill Belichick criticized the NFL about not adding extra cameras in the end zone for replay purposes. Well, ESPN is reporting that the league is researching placing fixed cameras on sidelines and goal lines to offer referees extra angles during instant replay review.(Photo: Theo Wargo/Getty Images)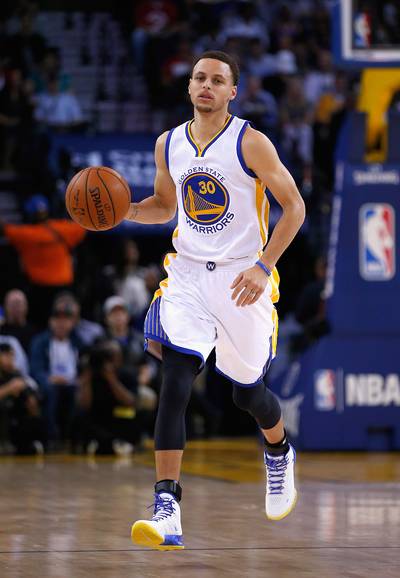 34 / 34
StubHub Suing Warriors - This could get interesting. In what could be a landmark lawsuit, StubHub is suing the Golden State Warriors and Ticketmaster, alleging they conspired to create an illegal resale market by ordering season-ticket holders to resell tickets through their program only and not the popular event ticket website. "If the anti-competitive actions complained herein are not stopped, Ticketmaster is likely to seek to replicate them with other teams," the lawsuit says, as reported by ESPN. "As a result, millions of Americans will be held captive to a monopoly secondary ticketing exchange."(Photo: Ezra Shaw/Getty Images)