Global Week in Review: Super Tropical Cyclone Ravages Pacific Nation Vanuatu
Benjamin Netanyahu says no to Palestinian state, plus more.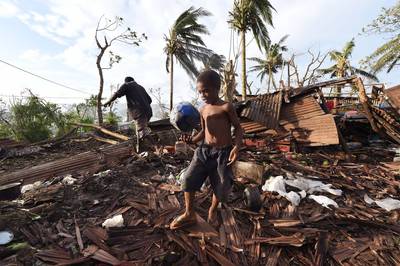 1 / 8
Super Tropical Cyclone Ravages Pacific Nation - Israeli's Benjamin Netanyahu vows to remove Palestinian state if re-elected, plus more. — Patrice PeckThe Pacific nation of Vanuatu declared a state of emergency after Cyclone Pam tore through on March 13, NBC News reports. At least eight people were killed, but the death toll is expected to rise. According to BBC, President Baldwin Lonsdale said the natural disaster had "wiped out" all the development of recent years and everything would have to be rebuilt. Lonsdale cited climate change as the cause of the cyclone, noting that his country had experienced changing weather patterns, rising seas and heavier-than-usual rain.(Photo: AP Photo/Dave Hunt, Pool)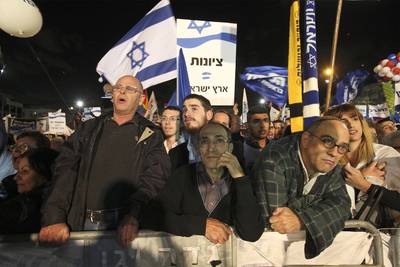 2 / 8
Benjamin Netanyahu: No Palestinian State If Re-Elected - Two days ahead of Israel's highly-anticipated parliamentary elections, Prime Minister Benjamin Netanyahu vowed that a Palestinian state would not be established if he is elected, AP reported on Monday. "I think that whoever today moves to establish a Palestinian state and withdraw from territory is giving attack territory for Islamic extremists against the state of Israel," Netanyahu told the news website. "Whoever ignores that is burying his head in the sand. The left is doing that, burying its head in the sand time after time." According to the latest opinion polls, Netanyahu's main opposition and underdog Isaac Herzog and his party Zionist Union is in the lead. "I believe in a certain type of leadership that is not always customary in this region. I'm not a general. I don't give orders. I know how to w...
3 / 8
DRC Frees US Diplomat Who Attended Pro-Democracy Event - On Sunday, the ongoing pro-democracy protests in the Democratic Republic of Congo made headlines when journalists, activists and a U.S. diplomat were detained, International Business Times UK reports. Diplomat Kevin Sturr was reportedly released on Monday, along with the journalists. A government spokesperson claimed that the detainees were suspected of being a threat to national security after attending a conference in the capital of Kinshasa that encouraged the participation of youths in politics. (Photo: PAPY MULONGO/AFP/Getty Images)

4 / 8
Cameroon's Rare Chimps Move Closer to Humans - A recent AlJazeera report claims that the expansion of farming and forest clearing in Cameroon is threatening the country's rare chimpanzee population. "They tell you their grandparents have been farming here, but this is primary forest," Martin Mikeš, a Czech volunteer conservationist, told AlJazeera. "This is forest and it belongs to chimpanzees." Local forest conservation workers also revealed that a new sub-species of chimpanzees might have emerged, referring to the chimps they discovered living unusually close to human settlements and eating cultivated crops.(Photo: Eco Images / Getty Images)

5 / 8
Wife of Burundi Opposition Leader Shot in Head - Agathon Rwasa, a prominent Burundian opposition politician, has accused the nation's government of trying to assassinate his wife, BBC reports. Annonciate Haberisoni was shot and injured in the capital, Bujumbura, during a hair salon visit. According to Rwasa, his wife's condition was not critical. He also said he would not be intimidated by the shooting. This violence reportedly reflects the rising tension ahead of presidential elections in May and June.(Photo: CARL DE SOUZA/AFP/Getty Images)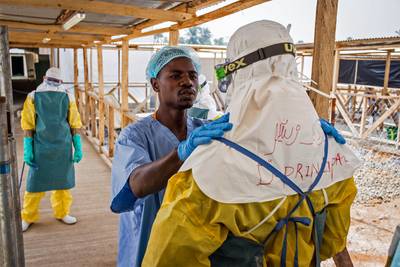 6 / 8
American Ebola Patient in Critical Condition - Doctors at the National Institutes of Health reported on Monday that an American health worker who contracted Ebola in Sierra Leone has been downgraded from serious to critical condition, AP reports. "We are intensively treating the patient," said Dr. Anthony Fauci, director of the National Institute of Allergy and Infectious Diseases at NIH. "He's in our special clinical studies unit and, hopefully, that will be able to turn this around and the patient will recover, but it's too early to say." The unidentified patient, who was volunteering in the West African nation, is the 11th person to receive treatment for the virus in the U.S.(Photo: AP Photo/ Michael Duff)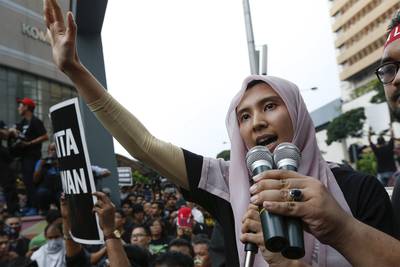 7 / 8
Malaysia's Anwar Ibrahim's Daughter Arrested - Malaysian authorities recently arrested the daughter of jailed opposition leader Anwar Ibrahim, citing alleged sedition, BBC reports. Nurul Izzah Anwar, a vice president of her father's PKR party, had criticized the conviction of her father in a speech she delivered in parliament last week. According to local reports, Nurul was arrested after another lawmaker filed a police report against her for the speech.(Photo: AP Photo/Vincent Thian, File)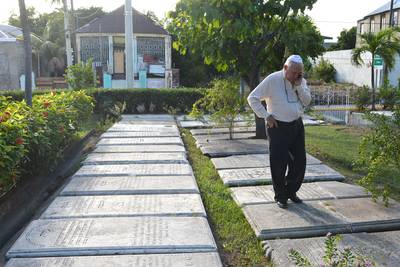 8 / 8
Jamaica Looks to Jewish Tourism to Revive Fading Community - Jamaica's little-known Jewish community is hoping to attract tourists to preserve their history, AP reports. The island's Jewish population has reportedly plummeted from roughly 2,500 in the 1800s to 200, with only one temple remaining. (Photo: AP Photo/David McFadden)