Archbishop Desmond Tutu: A Life in Photos
South African Archbishop Desmond Tutu died Sunday at age 90. But his legacy as a voice for peace and against apartheid will live on.
1 / 10
Desmond Tutu and Rosa Parks in 1985.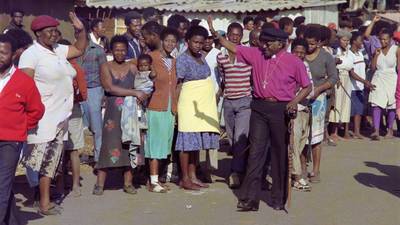 2 / 10
Archbishop Desmond Tutu greets residents of Phola park squatter camp, on August 23, 1990.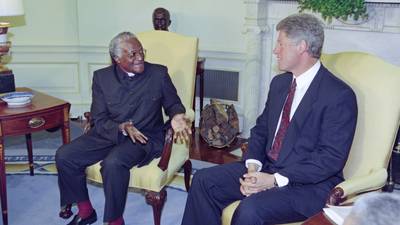 3 / 10
Archbishop Desmond Tutu (L) meets US president Bill Clinton, on May 18, 1989, in the Oval Office of the White House, in Washington.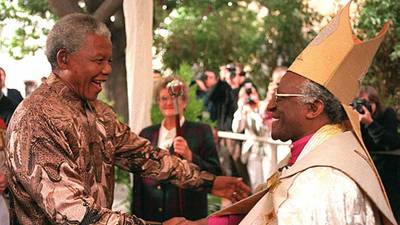 4 / 10
Archbishop Desmond Tutu (R) greets S. African President Nelson Mandela (L) at the entrance of St George's Cathedral in Cape Town 23 June 1996.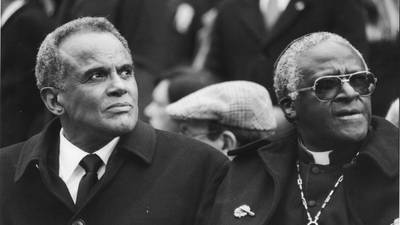 5 / 10
Harry Belafonte (left) and Archbishop Desmond Tutu (right) attend the inauguration for the new Mayor of New York City David Dinkins in a ceremony held at City Hall in New York City on Jan. 1, 1990.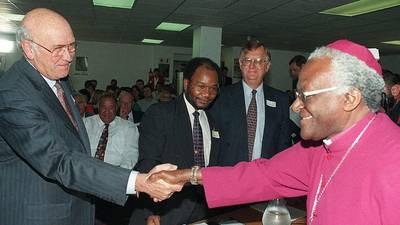 6 / 10
Former South African president, Frederik de Klerk (l) shakes hands with ArchBishop Desmond Tutu, head of the Truth and Reconciliation Commission. DeKlerk died in November at 85.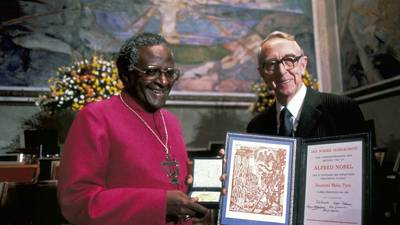 7 / 10
Archbishop Desmond Tutu (L) poses with his Nobel Peace Prize along with Chairman of the Nobel committee Egil Aarvik, December 10, 1984, in Oslo, Norway.
8 / 10
Archbishop Desmond Tutu talks with an ethnic Karen boy who welcomed Tutu and the other Nobel winners February 18, 1993 at a camp for Karen refugees on the Thai-Burmese border in Mae Sot, Thailand.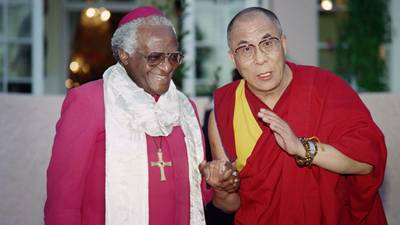 9 / 10
Archbishop Desmond Tutu (L) meets the Dalai Lama, spiritual and political leader of the Tibetan people, in the garden of the Mount Nelson Hotel in Cape Town on August 22, 1996.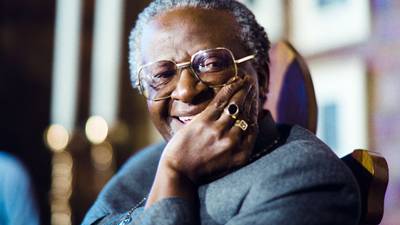 10 / 10
South African activist and Nobel Peace Prize and Anglican Archbishop Desmond Tutu gives a press conference, on August 22, 1986 at St Alban's Anglican Mission Church, in Johannesburg.