Global Week in Review: Dozens Die at New Year's Eve Stampede in Shanghai
Indian commuters hold violent protests at train station.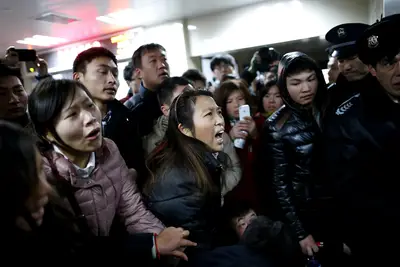 1 / 15
Shanghai Stampede Kills 36 - Hundreds of African migrants storm a Spanish enclave's border fence, plus more global news. —Patrice Peck Three dozen people were crushed to death and 49 others injured during a stampede at a famous riverfront during New Year's Eve celebrations in Shanghai, China. According to AP, authorities are still investigating what caused the massive rush, but many witnesses claim that the high-profile city failed to prepare for the huge turnout on Wednesday night. The police presence was also reportedly "thin at the scene."(Photo: AP Photo)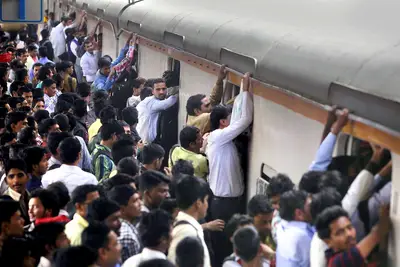 2 / 15
Mumbai Train Commuters Rampage Station - Violent protests erupted at a train station in Mumbai, India on Friday morning. The Hindu reported that a mob of commuters angered by train delays pelted stones at the trains, vandalized railway property and set three vehicles, including a police car, on fire. At least one person—a railway worker—was injured in the stone throwing incident. Railways Minister Suresh Prabhu has reportedly promised to look into the commuters' demands and will be launching an inquiry in the protests. (Photo: Kalpak Pathak/Hindustan Times via Getty Images)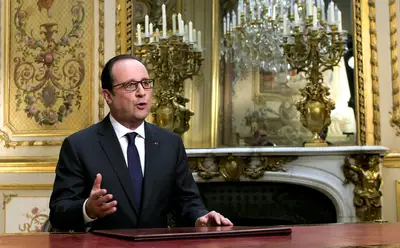 3 / 15
President Hollande Vows to Fight Anti-Semitism, Racism - French President Francois Hollande recently announced that his national cause for the new year would be the fight against racism and anti-Semitism. According to national statistics, France experienced a surge of anti-Semitism and racist acts in 2014.
4 / 15
US Releases Five Guantanamo Bay Prisoners - The Defense Department announced on Wednesday that five Guantanamo Bay prisoners will be transferred to the Central Asian nation of Kazakhstan for resettlement. This is the latest step by the White House to "significantly reduce" the prisoner population in order to ultimately close the camp, Fox News reports. According to the Pentagon, the release of the five prisoners — two men from Tunisia and three from Yemen — brings the camp's population to 127. (Photo: Andres Leighton, File/AP Photo)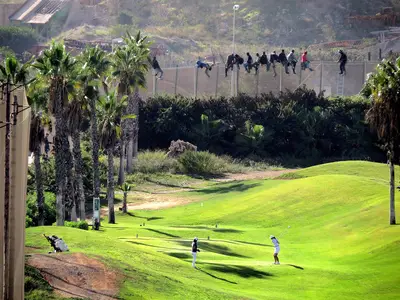 5 / 15
Hundreds of Migrants Storm North African Border Fence - On Wednesday, 800 African migrants attempted to storm the 20-feet border fences between Spain's North African enclave of Melilla and Morocco, according to the Interior Ministry. Fifty-four were successful. This marked the second attempt in two days, after 200 migrants aimed for the same feat on Tuesday, with 102 successfully doing so. AP reports that thousands of African migrants hoping for a better life in Europe try to illegally enter the Spanish enclaves of Melilla and Ceuta annually.(Photo: Jose Palazon/AP Photo)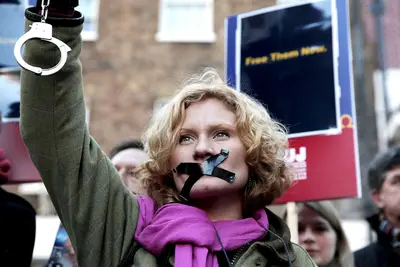 6 / 15
Families of Jailed Al-Jazeera Journalists Stay Optimistic - The families of two of the three English Al-Jazeera journalists who were arrested in Egypt one year ago today told the BBC they are hopeful an appeals court will overturn the group's convictions and order their release. Peter Greste, Mohamed Fahmy and Baher Mohamed were locked up on terrorism-related charges regarded by some as "trumped up for political reasons," AP reports. "We believe that the only decision that the Court of Cassation can make is to overturn the original verdict," said Greste's father, Juris Greste. "Therein will be Egypt's opportunity to demonstrate the integrity and independence of its appeals system."(Photo: Lefteris Pitarakis/AP Photo)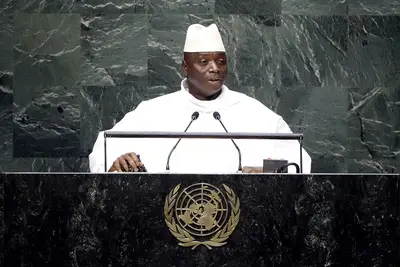 7 / 15
Gambia President Returns Home - According to the BBC, Gambian President Yahya Jammeh has returned to the West African nation after an alleged coup attempt. Officials say that the military takeover was thwarted, but details of the incident remain "sketchy." The alleged death of four people, as reported by a local pro-opposition newspaper, has not been confirmed. Critics of President Jammeh have accused the leader of not tolerating any opposition, while a number of opposition leaders and officials claim to have fled Gambia in fear for their lives.(Photo: Frank Franklin II/AP Photo)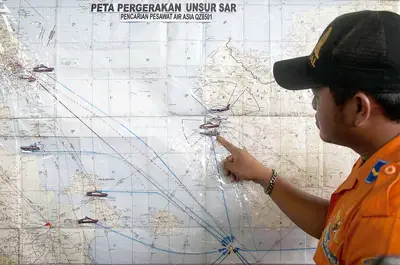 8 / 15
Officials Say Debris, Bodies Are From Missing Plane - Debris and bodies from the missing AirAsia jet that vanished over the weekend have reportedly been found in the Java Sea, according to a statement from the airline. The plane, which was en route to Singapore and carrying 162 people, disappeared on Sunday. "There is at least some closure as opposed to not knowing what's happened and holding out hope," said AirAsia CEO Tony Fernandes at a news conference.(Photo: Trisnadi Marjan/AP Photo)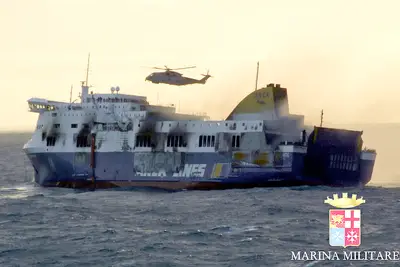 9 / 15
Greek Ferry Fire Kills 10 - A fire aboard a Greek ferry left at least 10 dead on Monday, USA Today reports. More than 400 people who were trapped on the vessel, including 56 crew members, have been rescued. However, a discrepancy between the original ferry manifest and some of the rescued individuals, who were not listed on the manifest, seem to confirm that a number of illegal migrants were also aboard, hoping to reach Italy.(Photo: AP Photo/Italian Navy, ho)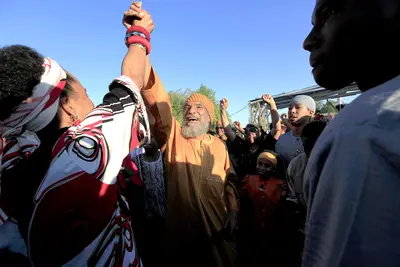 10 / 15
African Hebrew Israelites Leader Dies at 75 - Ben Ammi Ben Israel, the spiritual leader of the African Hebrew Israelites, died at 75 on Sunday, AP reports. His followers, a reportedly polygamous vegan group, confirmed his passing in the southern Israeli town where he brought them 40 years ago. African Hebrew Israelites believe that some African-Americans are the descendants of the biblical tribe Judah. "While obviously deeply saddened at the loss of our Holy Father's physical presence," said Ahmadiel Ben Yehuda, a spokesman, "we are nevertheless emboldened in knowing that his spirit truly lives in each and every one of us. His example and focused commitment to Yah and His people will be an eternal flame in our hearts and a guiding light on our path."(Photo: Tsafrir Abayov, File/AP Photo)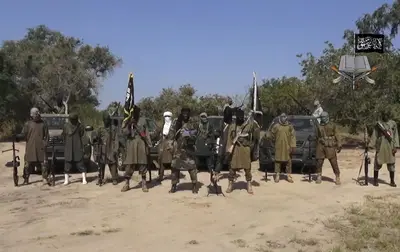 11 / 15
Cameroon Fights Back Against Nigerian Militants - Cameroon recently launched a series of airstrikes against the militant Islamist group Boko Haram, BBC reported on Monday. The West African nation's president, Paul Biya, reportedly ordered the air forces to attack after the Nigerian-based group seized a Cameroon military base and raided five villages.(Photo: AP Photo/Boko Haram)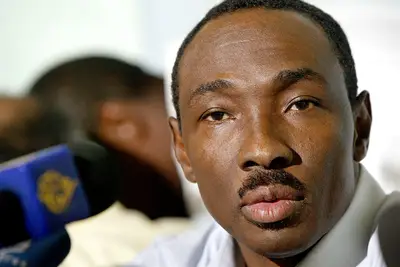 12 / 15
Veteran Politician Nominated for Haiti Prime Minister - Haitian political veteran Evans Paul was recently nominated to become the next prime minister of the Caribbean island, AP reports. The former mayor of Port-au-Prince and 2006 presidential candidate would replace Prime Minister Laurent Lamonthe, who recently stepped down along with his cabinet.(Photo: Scott Olson/Getty Images)

13 / 15
Venezuela Ranks Second in Homicides - According to the Venezuelan Violence Observatory, a non-governmental organization, an estimated 24,980 killings have occurred in Venezuela this year. This staggering statistic means that every 82 of 100,000 people are killed, pushing the Latin American nation to the No. 2 country for homicide, after Honduras. The victims reportedly span across class and include both armed guards and police.(Photo: Leo Ramirez/AFP/Getty Images)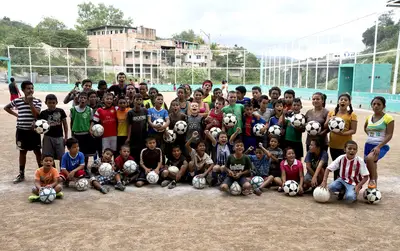 14 / 15
Honduras Kids Aim for Better Life through Soccer - The AP recently spotlighted Honduran native Luis Lopez and his ambitious soccer program to help keep dozens of local girls and boys safe in a country with the highest murder rate in the world. "The field has created a group, comfort, friendship. It gives them a place to belong, something to care about, something they don't want to lose," Lopez, also known as "Luisito," told AP. A California-based foundation has sent funds to the program to upgrade the field, purchase equipment and rent travel buses; and while Lopez has gladly used the resources, he also worries that they will attract extortion and threats. "The day that one of these guys decides that something about this project goes against them, he'll come and tell us that it's all over," Lopez said.(Photo: Esteban Felix/AP Photo)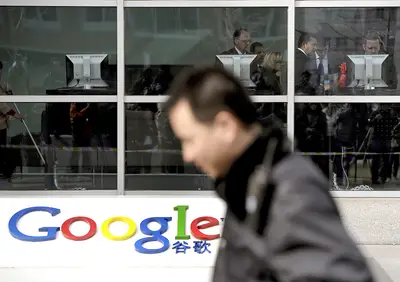 15 / 15
Chinese Government Blocks Access to Gmail - As Reuters reported on Monday, many of Google's Gmail Web addresses were blocked in China on Friday. The service was still down as of publication, according to users. "I think the government is just trying to further eliminate Google's presence in China and even weaken its market overseas," said a member of GreatFire.org, a China-based anti-censorship group. China is known for maintaining tight control over the Internet, cracking down on any dissent or opposition to the ruling Communist leadership.(Photo: Andy Wong, File/AP Photo)