The Gridiron: HBCU Football Roundup Week 7
North Carolina Central trounces Morgan State; Fort Valley State steamrolled Morehouse; Winston Salem held off Shaw; and Benedict clips Albany State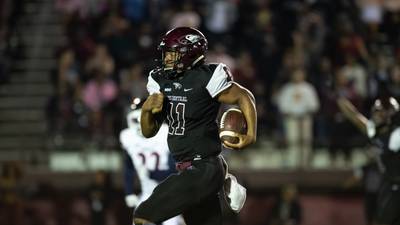 1 / 4
NCCU 59, Morgan State 20 -- North Carolina Central soared past Morgan State in their first MEAC challenge of the season. The Eagles tripled their lead over the Bears with a huge second quarter. Junior quarterback Davius Richard passed for 217 yards (4 touchdowns) and rushed for 66 yards (2 touchdowns). In addition, senior running back Latrell Collier rushed for 112 yards on 16 carries. The Eagles improved to 5-1 earning 1st place in conference standings. The Bears now drop to last place in the MEAC.
Photo By
Courtesy: North Carolina Central University Athletics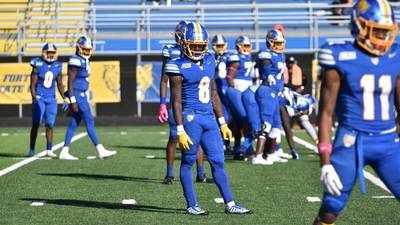 2 / 4
Fort Valley State 56, Morehouse 28 -- Led by Emanuel Wilson, Fort Valley State rolled past Morehouse. In the first half the game seemed like it was going to be a close one. However, the Wildcats went on to score 28 unanswered points making their lead unbearable for the Maroon Tigers. Wilson helped his team to victory by scoring four touchdowns two through the air and two on the ground. The Wildcats improve to a 6-1 record while Morehouse still looks to win their first game.
Photo By
Courtesy: Fort Valley State University Athletics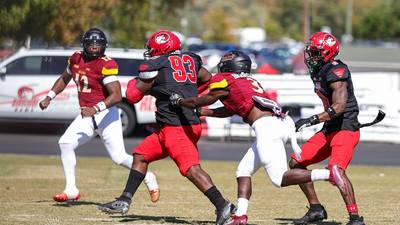 3 / 4
Winston Salem State University 17, Shaw University 10 -- Winston Salem pulled out a tight one against Shaw to earn their first win of the season. The first big play came when junior Octavius McLaurin intercepted a pass that set the Rams up for a successful field goal attempt. In the second quarter freshman quarterback Nicholas Jackson scored a one-yard rushing touchdown. The Bears fought back to tie the game 10-10. The game's biggest play came in the third quarter when the Rams blocked a punt and returned it for 68 yards for the win.
Photo By
Courtesy: Winston Salem State Athletics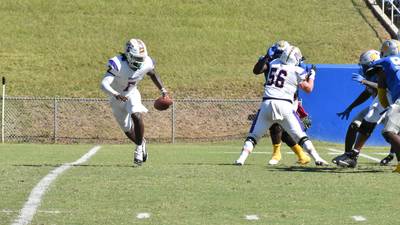 4 / 4
Benedict College 24, Albany State 20 -- Benedict College spoiled Albany State's homecoming by pulling out a close victory over the Golden Rams. The Tigers pounced on ASU first by getting an early 14-0 lead. Albany State started the second half with a bang after quarterback Antoine Bonneau threw a 93-yard touchdown bringing the score to 17-14. However, led by quarterback Eric Phoenix the Tigers would respond, throwing for a total of 253 yards and a touchdown. He also scored a rushing touchdown to put the Tigers up 24-14. The Golden Rams did respond with a touchdown of their own but failed to get the extra point.
Photo By
Courtesy: Benedict College Athletics