Rapologies: When Rappers Say Sorry
Notable hip hop apologies.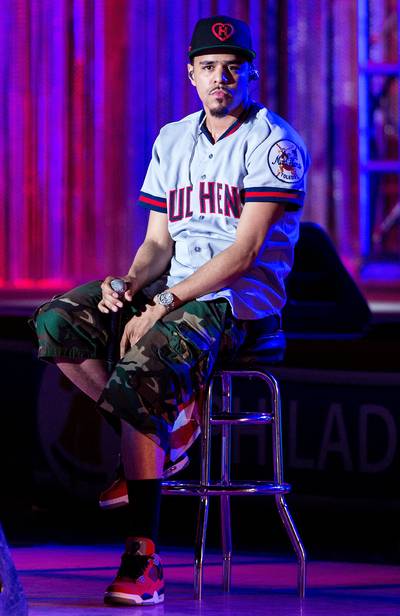 1 / 17
Rapologies: When Rappers Say Sorry - Rap has reached a new level of maturity. In an environment where beef is a favored pastime, many rappers have actually proved their grit through humility. J. Cole immediately admitted to being "embarassed" when he was called out by autism activists for insensitivity in one of his lyrics and told the community that he is "sorry" and wants to learn more about the disorder. But the "Let Nas Down" rapper was not the first hip hop luminary to apologize. Click on for more notable rapologies. (Photo: Jeff Fusco/Getty Images)
Photo By
Photo: Jeff Fusco/Getty Images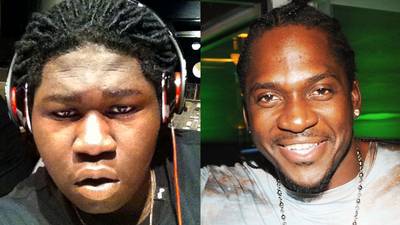 2 / 17
Young Chop and Pusha T - Pusha T and producer Young Chop had a dust-up earlier this year, when Chop criticized Pusha's G.O.O.D. Music capo Kanye West for remixing his beat to Chief Keef's "I Don't Like." Pusha responded with a thinly veiled shot on his "Exodus 23:1." But apparently it's all water under the bridge now. Pusha released a banging new track, "Blocka," and Young Chop produced it. There was no public apology, but it's fair to say these two talked it out and forgave each other.(Photos from left: Courtesy YoungChopBeatz.com, Rick Diamond/Getty Images for Heineken)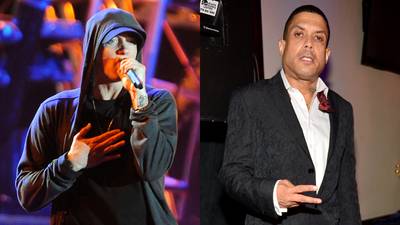 3 / 17
Benzino - Before he was grossing out viewers of Love & Hip Hop: Atlanta, Benzino was a controversial rapper and co-publisher of The Source magazine. Z-No notoriously led the magazine on a lengthy vendetta against Eminem that makes Joseline's Stevie J smackdown look tame. In the magazine and on several diss tracks, Benzino labeled Eminem a racist, calling him "the rap Hitler," and prompting Em to respond on several vicious cuts of his own. But today Benzino — wiser, older and a whole lot more lovey-dovey — is extending an olive branch. "I can say it now, I was wrong for it," Benzino told MTV. "I don't have no beef with nobody... The situation with me and Eminem, if I could've done it over, I would've...If I offended anybody with that, I apologize to hip hop for that."  (Photos from left: C Flanigan/FilmMagic, Prince Williams/FilmMagic)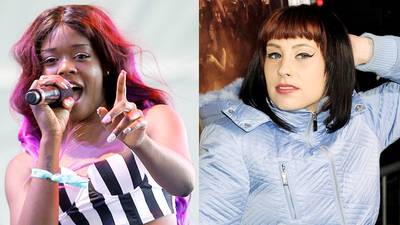 4 / 17
Azealia Banks - Azealia Banks is well known for starting Twitter beefs, but now it seems like she's ending one. Banks reached out to Kreayshawn via the social networking site to dead a conflict the two landed in earlier this year. "@KREAYSHAWN I apologize for coming down on you so hard earlier this year," she tweeted. "I missunderstood [sic] that pornhub rt. I can be really defensive sometimes. I'm just naturally rude." Kreayshawn was all for it, writing back, "It's all G! I f--k with you[r] music above all...You have those fire barz gurlll!" The squabble set off earlier this year when Kreay retweeted a link to Banks' popular single "212" that led to a pornographic website. After seeing the tweet, Banks immediately took shots at the "Gucci Gucci" rapper, writing, "@KREAYSHAWN you think you're funny? You're a dumb b---h. And yo...
5 / 17
Meek Mill - Sometimes even bosses have to apologize. Meek Mill made headlines last month when Philly's Reverend Jomo K. Johnson called for a boycott of the MMG rapper's hit "Amen," saying its commingling of religious language and lewd content was "blasphemous." After initially rebuking the reverend, Meek changed his tune on 106 & Park on Monday. "I wasn't trying to disrespect no religion or anything like that," Meek told the Livest Audience. "If anybody feel disrespected, I ain't do it in that way...I didn't do it with bad intentions at the end of the day."  (Photo: Alberto E. Rodriguez/Getty Images For BET)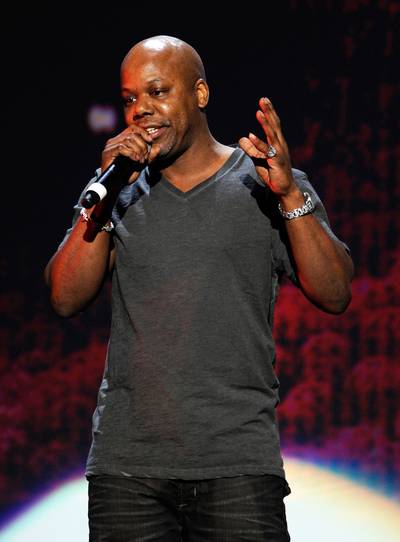 6 / 17
Too $hort - Too $hort recently had to blow the whistle—on himself. The Bay Area icon was widely criticized for a video posted on XXLmag.com in which he gave some pointers to teenage boys about the opposite sex. In the video, Too $hort says that when boys "get to late middle school, early high school" and "start feeling a certain way about girls," they should skip the kisses and touch a girl "down there." He tells them to "push her against a wall," and it only gets more graphic from there. The video sparked outrage across the Internet and media, and Too Short apologized in an interview with Ebony. "I had never realized," Short said, "until this thing came up that legally and more importantly, morally, it just [is] not right.  (Photo: Ethan Miller/Getty Images)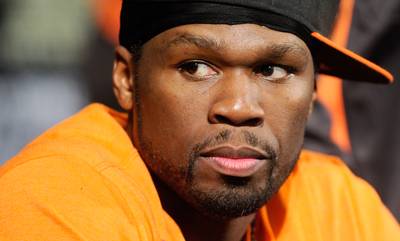 7 / 17
50 Cent Apologizes for Twitter Rant - 50 Cent is the latest addition to the list of rappers who've made public apologies for their mistakes. The Queens rapper has been ranting on Twitter lately about how his label, Interscope Records, has mismanaged the planning and promotion of his upcoming album. On January 9, he issued a public mea culpa via Twitter after apparently overreacting to what turned out to be a computer glitch that caused the leak of some material from the yet-to-be-released project. (Photo: Ethan Miller/Getty Images)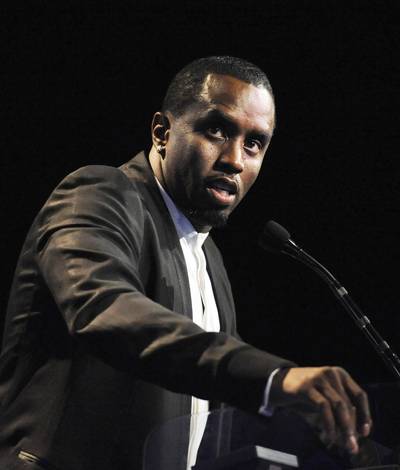 8 / 17
Diddy Apologizes For Acting Up in the Club - It ain't easy saying "sorry." Last month, Diddy was filmed cursing and throwing a drink at a clubgoer at a BET Hip Hop Awards 2011 after-party. Mr. Combs was all apologies days later. "I have backslid and regressed," he tweeted. "Forgive me for my ignorance. Pray for me pls. I know better and I am better."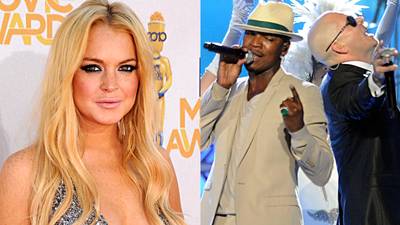 9 / 17
Pitbull Apologizes to Lindsay Lohan - The Mean Girls star hit up Pitbull with a lawsuit this past summer after he rapped "got it locked up like Lindsay Lohan" on his hit with Ne-Yo, "Give Me Everything." The Miami rapper later apologized, saying he didn't mean to "defamate" the troubled starlet, and even offered her tickets to go to the MTV VMAs with him.(Photos from left: Gregg DeGuire/MTV/PictureGroup, Vince Bucci/PictureGroup)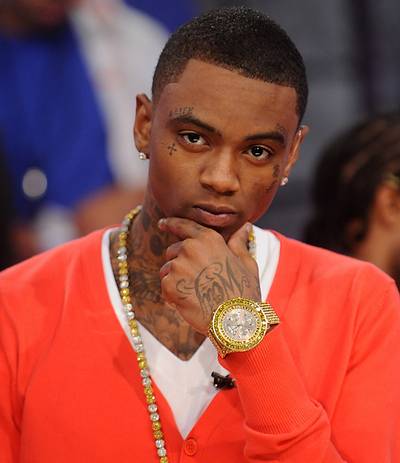 10 / 17
Soulja Boy Apologizes to Soldiers - Soulja Boy was roundly criticized for rhyming, "F--k the FBI and the army troops/B---h, fighting for what? Be your own man" on his 2011 song "Let's Be Real." SB later expressed remorse in a blog post: "When I expressed my frustration with the U.S. Army, not only did my words come out wrong, I was wrong to even speak them," he wrote.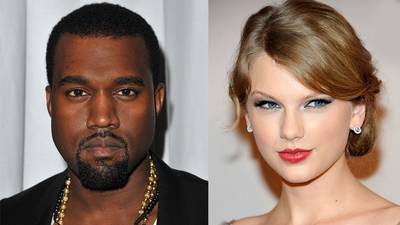 11 / 17
Kanye West Apologizes to Taylor Swift - Kanye could really get his own rapology list. When you talk as much smack as he does, it's inevitable you're gonna ruffle a few feathers. People acted like Yeezy slapped a baby when he infamously interrupted Taylor Swift's acceptance speech at the 2009 VMAs. Even President Obama reportedly called him a "jackass." Afterwards, West took to his blog with a long-winded (of course) apology. "I'm sooooo sorry to Taylor Swift and her fans and her mom," he wrote. "I'm in the wrong for going on stage and taking away from her moment... I'm sorry to my fans if I let you guys down!!!! I'm sorry to my friends at MTV... I really feel bad for Taylor and I'm sincerely sorry!!! Much respect!!!!!" (Photos from left: Pascal Le Segretain/GettyImages ,Frederick Breedon IV/GettyImages)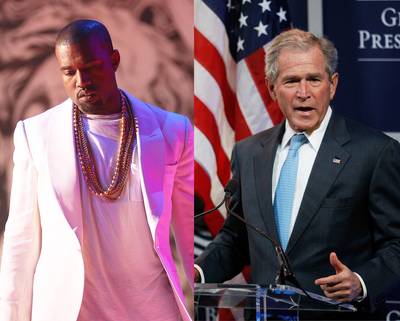 12 / 17
Kanye West Apologizes to George W. Bush - This is one rapology we kinda wish never happened. Last year Kanye told the Today show that he was sorry for saying "George Bush doesn't care about Black people" in the wake of Hurricane Katrina. "I would tell George Bush in my moment of frustration, I didn't have the grounds to call him a racist," 'Ye told Matt Lauer. "I believe that in a situation of high emotion like that we as human beings don't always choose the right words."(Photos from left: Chris Hyde/Getty Images ,Tom Pennington/GettyImages)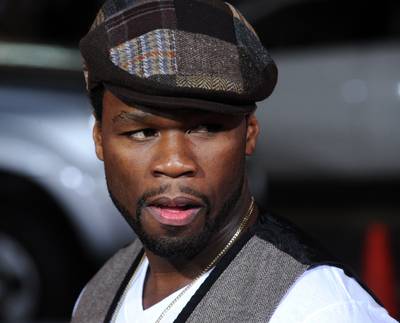 13 / 17
50 Cent Apologizes to Lady Gaga, Gay Community - In a 2009 interview on Hot 97, Fif called Kanye's (later canceled) tour with Lady Gaga "the gay tour" and made fun of Yeezy, saying he was "cool with the gay folk." 50 later took to his blog (where else) and rapologized: "It was not my intention to offend anyone," he wrote. "I don't have a problem with anyone's lifestyle and have no issue with Lady Gaga. She makes great music."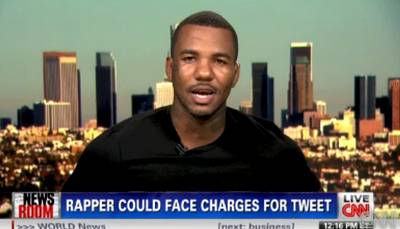 14 / 17
The Game Apologizes for Tweet - Earlier this year, a message posted to Game's Twitter page led to the phone lines of the Compton sheriff office to be jammed by a "telephone flash mob," possibly delaying emergency response times. Facing possible criminal charges, Game apologized, insisting a friend sent the tweet. "My sincerest apologies to the Sheriff's Department," he told CNN. "It was a joke gone wrong... I never intended for anybody to take it the wrong way or for it to go this far… If my apology is not enough, I don't understand what else can be done." Charges were never filed. (Photo: CNN)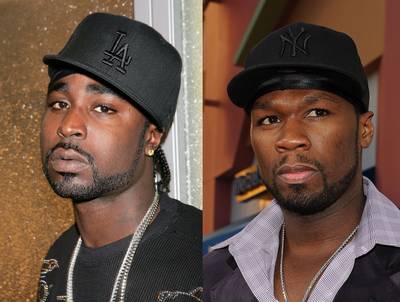 15 / 17
Young Buck Apologizes to 50 Cent - After months of tension over accusations of disloyalty and missed royalty payments, Young Buck was kicked out of G Unit in 2008. A year later, a recorded phone call leaked to the Web, featuring what seemed to be an emotional Buck apologizing to Fif: "I done said things and I'm aware of some of the things that I have said... I'm just trying to make you happy... I don't want to be dismembered from the crew," Buck said. "I have gotten out of line with you. I swear to God I have. I'm wrong. A n---a just be confused." (Photos from left: Scott Gries/GettyImages, Chris Hyde/Getty Images)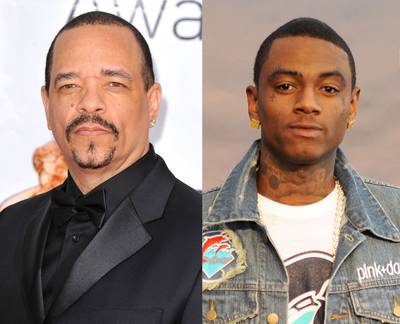 16 / 17
Ice-T Apologizes to Soulja Boy ... Kinda-Sorta - After saying that Soulja Boy is single-handedly killing hip-hop and telling him to eat a d--k, Ice-T issued an "apology" Web video like only he can. "I apologize Soulja Boy for telling you to eat a d--k. That was just in anger ... Because truthfully, a brother of my caliber shouldn't be talking down on a youngster of your age," T said. "But as far as your music goes, it's garbage ... We got to get rid of that, man. Hip-hop has to last and it ain't gonna last with you doing that Supaman bulls--t." (Photo: Pascal Le Segretain/GettyImages, Chris McKay/GettyImages)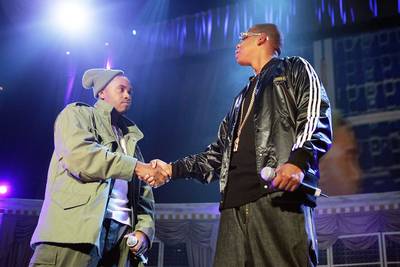 17 / 17
Jay-Z Apologizes to Nas - In the middle of his legendary world war with Nas in 2001, Hov dropped "Super Ugly," in which he rapped about hitting off Nas' baby mother (whom he identified by name) and leaving a condom on their daughter's baby seat. Ouch. Immediately afterwards, Jay reportedly got a scolding from his mama. A regretful Mr. Carter went to Hot 97 the next day to say he was sorry. "I apologize," he said. "I felt like I didn't think about women's feelings or [Nas' former girlfriend's] feelings, or even my mom."