The Best of Wale's Twitter Beefs
What's Tweef? Meek Mill goes in on fellow MMG MC, plus more.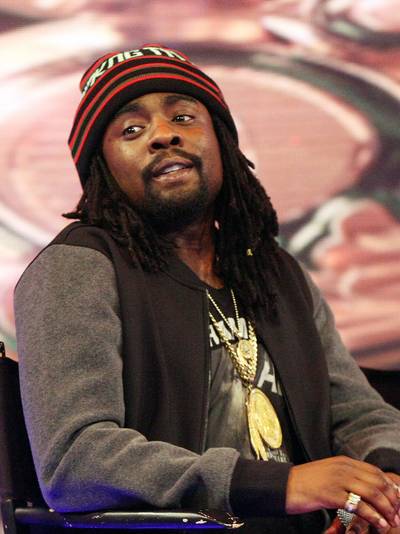 1 / 12
Posts About Nothing - What's tweef? Just ask Wale. Since he launched his Twitter account in 2008, The Gifted rapper has had his share of heated Twitter debates. Airing out whoever wants it — from fans to fellow rappers and other celebs — Wale keeps his 3.56 million followers entertained with 140 character assassinations. Read on to see the best of Falorin's Twitter beefs. —Dominique Zonyeé (@DominiqueZonyee)(Photo: Bennett Raglin/BET/Getty Images for BET)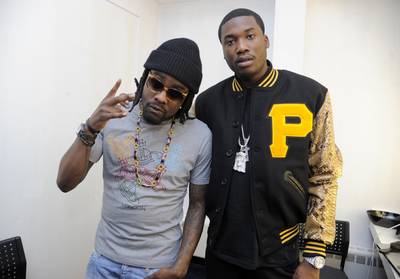 2 / 12
Wale vs. Meek Mill - There seems to be trouble in the MMG household. In an unlikely Tweef, Wale takes on Meek Mill, who's apparently peeved at the "hate" from his label mate, and took to Twitter to blast Wale for not mentioning his recently announced release date for his album Dreams Are Worth More Than Money. "Don't even text me cornball," Meek wrote.It must've touched a nerve. Wale, always ready for a good online fight, took a calmer-than-expected approach, tweeting that he's moved this battle to Instagram and perhaps even a song. "I always try to have a lighter side to MMG…Cuz I understand I don't 'fit the mold' so if I'm tryna spruce an interview up to show that we not tryn be 'serious tough guys' on the red carpet…to broaden our audience forgive me," he wrote in a lengthy IG post.Mr. Folarin went on to illustrate that he ...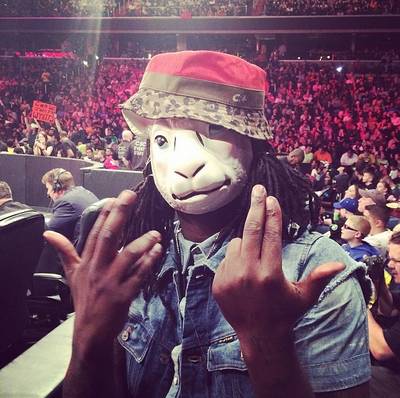 3 / 12
Wale vs. the Twitter Heckler - Wale will beef so hard on Twitter, he'll shut down his account, but recently, he was pushed in another direction. After being heckled on Twitter while at WWE Monday Night Raw in D.C. this week, the Maybach Music Group rapper had had enough and confronted the taunting tweeter. (Photo: Wale via Instagram)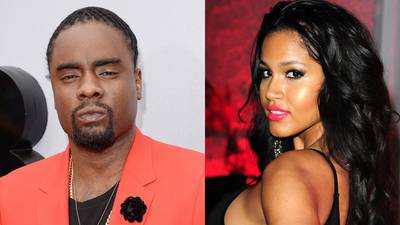 4 / 12
Wale vs. Rosa Acosta - If you come for Wale on Twitter, it doesn't matter if you are a curvy video vixen; he will check you. After a Roc Nation concert in Philadelphia in 2011, Rosa Acosta tweeted that Wale had to be "saved" by security. Folarin, who couldn't move in the packed crowd, clapped back, coming for Rosa's alleged promiscuity with: "@RosaAcosta how bout I couldn't move..do u have any fans, or a bunch of n---as that wanna f--k u following u…" Ouch!(Photos from Left: Johnny Louis/WENN.com, Jason Merritt/BET/Getty Images for BET)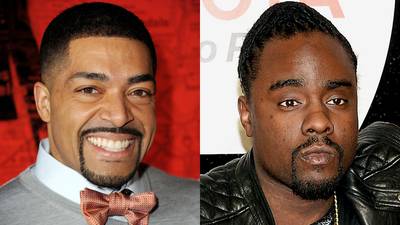 5 / 12
Wale vs. David Otunga - Wale used Twitter to put a virtual "Brainbuster" on Jennifer Hudson's WWE star fiancé, Davis Otunga, in August 2013. Otunga tweeted that Rihanna overshadowed Wale on the "Bad" remix, and that didn't sit well with the poetic MMG affiliate. Wale shot back at Otunga with "your wife overshadowing your career tho."(Photos from left: Kevin Winter/Getty Images, Jason Kempin/Getty Images for BET)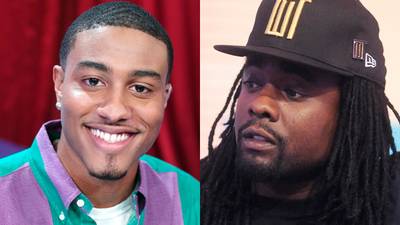 6 / 12
Wale vs. Sir Michael Rocks - Wale loves to interact with his followers, even tweeting questions and offering restaurant reviews. But when he asked fans, "What is the best anime series?" in Oct. 2013, he got a response from an unexpected follower. Sir Michael Rocks of the Cool Kids took the question personally. He told Wale anime is not his lane, tweeting "You will b super Sus talkin about anime G its not u." In true Wale fashion, he proceeded to slam the rapper in a series of swear-riddled tweets.(Photos: Jon Ricard/BET)
7 / 12
Wale vs. Complex Magazine - Complex magazine got a taste of the beef in Dec. 2013 when the editors failed to add The Gifted to its 50 Best Albums of 2013 list. Heated that his platinum album wasn't considered, Wale called the staff, threatening to "knock out" folks. When the mag released the audio of Folarin's rant, Twitter went crazy taking sides.(Photos from left: Moses Robinson/Getty Images for BET, Complex Magazine)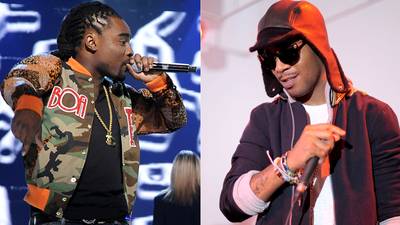 8 / 12
Wale vs. Kid Cudi - According to Wale his beef with Complex started way before he was snubbed on the Best Albums list. The beef was sparked by Kid Cudi, a former friend and another victim of Wale's Twitter bashing. Cudi took shots at Wale in a 2010 Complex interview saying "Everybody think they Hov. N----s ain't got the magic like they think they do; there's only a couple of wizards in this game. I'm a wizard and I know it." Folarin, obviously pissed, couldn't refrain from taking a few shots of his own, indirectly addressing Cudi for calling him "wack."(Photos from left: John Ricard / BET, Charley Gallay/Getty Images for Bacardi)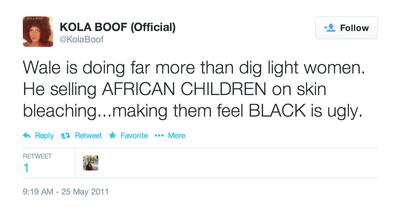 9 / 12
Wale vs. Kola Boof - Like we mentioned earlier, Wale doesn't discriminate when it comes to Twitter wars. He will go to battle with anyone, even actress, author and former Osama Bin Laden mistress Kola Boof. When Wale dropped his "Pretty Girls" video in 2011, Boof, who is known to be vocal and sometimes vulgar on Twitter, called Wale a "colorstruck Black man," for the alleged lack of diversity in the video. After her long rant, Wale had his turn attacking Boof's relationship with a terrorist in addition to tweeting, "Your a disgusting human being, an absolute disgrace to the very people you pretend to endorse."
Photo By
Photo: kolaboof wia Twitter

10 / 12
Wale vs. Matt Devlin - Toronto Raptors play-by-play man Matt Devlin should just stick to sports announcing, according to Wale. While at a Raptors vs. Washington Wizards game in D.C. in February 2010, Wale was rooting for Rudy Gay and made a phone call hand gesture at the baller. However, Devlin confused Wale with a "heckling fan." Devlin announced Gay's three-pointer, then asked fans on Twitter to tell him who Wale was, saying, "He's not Drake, that's for sure." Wale took to Twitter to answer Devlin's question tweeting simply, "watch your mouth."
Photo By
Photo: Wale Via Twitter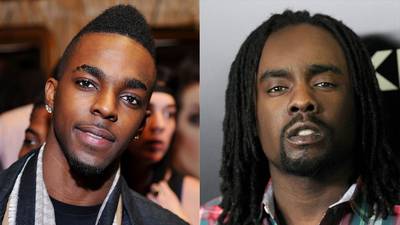 11 / 12
Wale vs. Roscoe Dash - There is nothing like a rapper scorned and Roscoe Dash is proof. Dash aired out Kanye West, Meek Mill, Miguel and Wale on Twitter in September 2012, for allegedly not giving him credit for penning hits such as "Lotus Flower Bomb" and "To the World." The normally active Twitter assassin, Wale took the high road on this one and talked to Dash offline, but that did not stop Meek Mill from tweeting; "Yo @Roscoedash u must not b getting no money b! Lol."(Photos from left: Mike Coppola/Getty Images, Frederick M. Brown/Getty Images)

12 / 12
Wale vs. Fat Trel and Shy Glizzy - Wale must have been having a peaceful year because for the second time in 2012 the "Bad" rapper attempted to diffuse Twitter beef with a phone conversation. Wale was allegedly instrumental in deadin' the Twitter war between Chicago rapper Shy Glizzy and the DMV's own Fat Trel. Wale announced to fans via Twitter that they had squashed their beef and new music featuring all three rappers was in the making.(Photo: Wale via Twitter)
Photo By
Photo: Wale via Twitter