BP Oil Spill: One Year Later
The BP oil spill devastated the Gulf last year. See photos.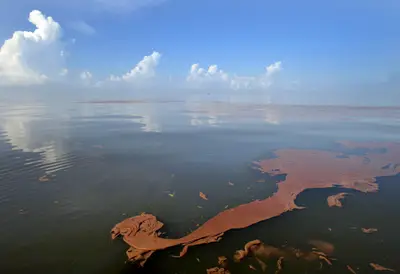 1 / 24
One Year Later - It has been a year since the Deepwater Horizon oil rig explosion in the Gulf of Mexico, killing 11 people and causing one of the worst oil spills in the nation's history. While workers struggled to find solutions to cap the spill, President Obama met with BP officials and citizens living in the region to try to alleviate the effects of the accident. The environmental and economic repercussions were devastating. Almost three months later and after more than 200 millions of gallons of crude oil had spilled into the Gulf, the spill was finally plugged. Take a look back at the oil spill in photos.\r\r \r(Photo: AP Photo/Charlie Riedel)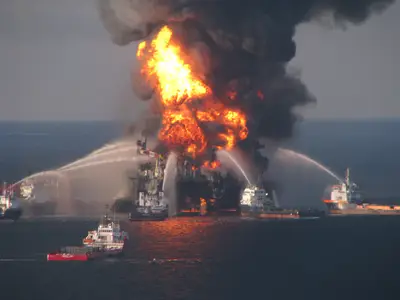 2 / 24
Oil Rig Explosion - On April 20, 2010, the Deepwater Horizon oil rig exploded and caught on fire in the Gulf of Mexico. While most of the workers were able to escape, 11 were never found and are presumed to be dead. \r\r \r(Photo: AP Photo/US Coast Guard, File)
3 / 24
Spill Areas - The spill affected areas in Louisiana, Mississippi, Alabama and the Florida Panhandle hardest. A relatively small amount of oil was even found in Texas. \r\r(Map: BP)
4 / 24
Oil Leaks - Days after the explosion, the U.S. Coast Guard confirmed by underwater camera that the well was leaking about 1,000 barrels of oil a day. A few days later, the Coast Guard said the leak was worse than originally thought and that oil was actually leaking 5,000 barrels per day.\r\r\r\r \r(Photo: AP Photo/BP PLC)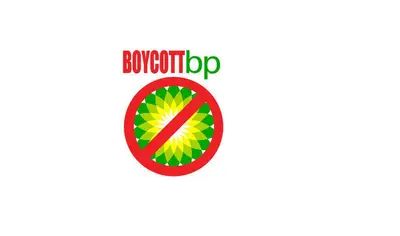 5 / 24
Public Outrage - Soon after word of the spill hit, Americans across the nation rallied, calling for BP to do more to end the spill. People protested in front of BP gas stations and used social media sites like Facebook to organize boycotts of the stations.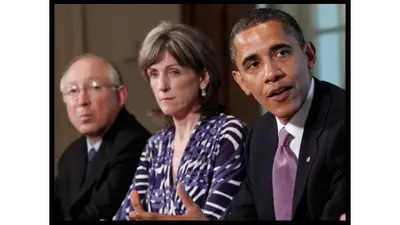 6 / 24
Obama Speaks - The President made his first public comments about the spill April 29, pledging to use every resource available to stop the spill. The same day, Louisiana declared a state of emergency. Many feared the oil could start to reach land. A day later it was announced that all drilling in new areas had been halted.\r\r \rIn this photo the president stands alongside Secretary of Homeland Security Janet Napolitano and Secretary of Interior Ken Salazar during a May briefing.\r \r(Photo:AP Photo/Pablo Martinez Monsivais)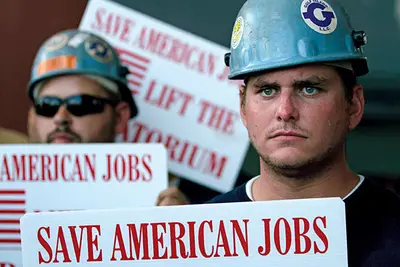 7 / 24
Drilling Moratorium - On July 12, the Obama administration announced a ban on deep water oil drilling in the Gulf. The move angered Republicans who argued that the move axed thousands of jobs. The ban would be lifted in October.\r\r \r(Photo: Gregory Bull/AP/File)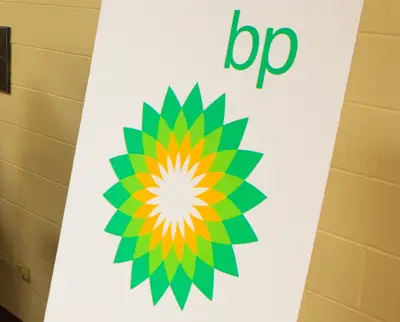 8 / 24
BP Takes Responsibility - A week and a half after the explosion, company chairman Tony Hayward announced BP will take responsibility, paying for all costs and claims resulting from the spill. \r\r \r\r(Photo: BP plc)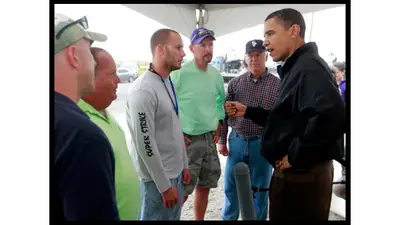 9 / 24
President Visits - Obama visits Louisiana to witness efforts to clean up the spill in person May 2.\r\r \r(Photo: AP Photo/Charles Dharapak)
Photo By
Photo: AP Photo/Charles Dharapak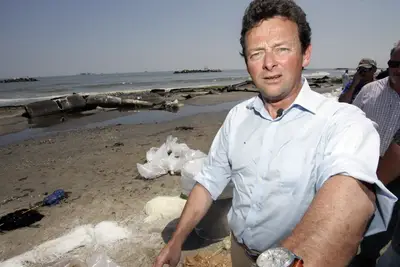 10 / 24
"I Would Like My Life Back" - Almost a month after the explosion, BP chairman Tony Hayward incited more public outrage when he said, "There's no one who wants this over more than I do. I would like my life back." Many viewed the remark as insensitive to the people living near the spill who were directly affected by it. \r\r\r \r(Photo: AP Photo/Patrick Semansky)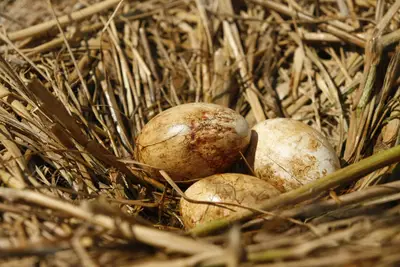 11 / 24
Effect on Wildlife - As toxic oil water reached the Louisiana coast, concerns rose over the effect of the spill on local wildlife. Fishing bans set for waters off the coast adversely affect the livelihoods of local fishermen. The immediate effects of the spill were apparent: sea corals were left dead and dying, birds' feathers were drenched in oil and sea turtles were also covered with oil. In the months after the leak stopped, more than 8,000 birds, sea turtles and marine mammals were found injured or dead, the National Wildlife Federation reports. \r\r\r\r \r(Photo: AP Photo/Gerald Herbert)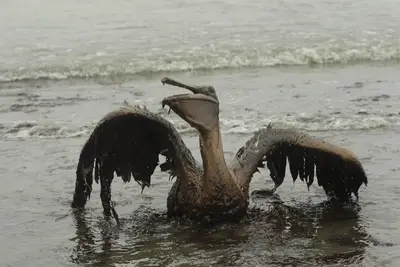 12 / 24
Effect on Wildlife - With both the oil and the chemical dispersants used to clean up the spill, it could be years before we see the long-term effects of the spill. Here a brown pelican attempts to raise its wings as it sits on the beach at East Grand Terre Island along the Louisiana coast after being drenched in oil from the BP spill.\r \r(Photo: AP Photo/Charlie Riedel)
13 / 24
Effect on the Environment - When oil enters the ecosystem, it takes a while to leave while making everything it touches unsuitable for wildlife. In this June 2010 photo, a man reaches into thick oil on the surface of the northern regions of Barataria Bay in Plaquemines Parish, La.\r \r\r\rIn this two picture combo, nesting pelicans are seen landing as oil washes ashore on May 22, 2010, left, on Cat Island, home to hundreds of brown pelican nests as well at terns, gulls and roseate spoonbills in Barataria Bay, just inside the the coast of Lousiana. The second photo, taken in the same spot on April 8, 2011, shows the shoreline heavily eroded, and the lush marsh grass and mangrove trees mostly dead or dying.\r \r(Photo: AP Photo/Gerald Herbert, File)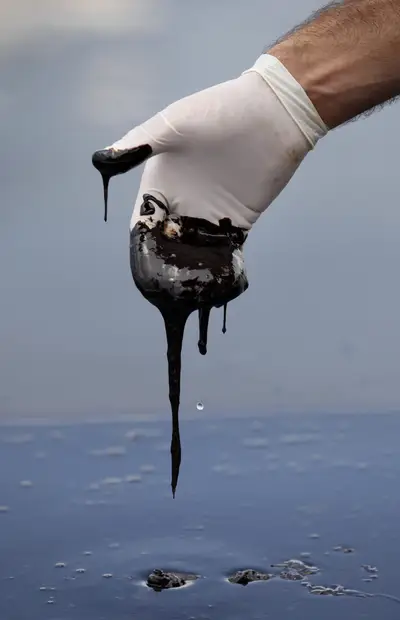 14 / 24
Worse Than Originally Thought - In May, experts told Congress that the original estimate of 5,000 barrels of oil day leaking into the Gulf was way off. The real amount, they said, was 20,000 to 100,000 barrels per day.\r \r(Photo: AP Photo/Gerald Herbert)
15 / 24
Some Success - In early June, after varying attempts to stop the leak with limited success, BP announces that a containment cap meant to stem the flow is capturing 10,000 barrels of oil per day. \r\r\r \r(Photo: AP Photo/Gerald Herbert)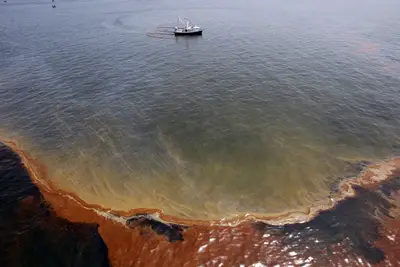 16 / 24
Costs Rising - BP announces in early July that the spill cleanup costs have risen to over $3 billion. \r\r\r\r \r(Photo: AP Photo/Eric Gay)
17 / 24
BP Payout Controversy - In late August BP stopped handling the claims from fishermen and other Gulf businesses affected by the spill, handing the process over to claims chief Ken Feinberg and his Gulf Coast Claims Facility to distribute payments from the company's $20 billion fund. Since the spill, Feinberg says he's paid out $4 billion in claims. But many businesses have expressed frustration over not getting adequate compensation for their claims. Feinberg has stated that sufficient documentation is needed for him to be able to justify the amount of money he gives to a person or business. A letter from a BP official in February told Feinberg he was paying claimants too much.\r\r\r\r \r(Photo: AP Photo/Patrick Semansky)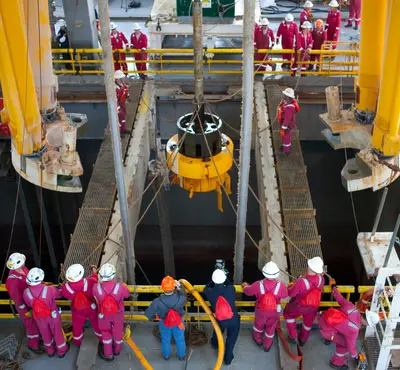 18 / 24
Oil Leak Stopped - After almost three months, a containment cap recently installed by BP on the busted wellhead stops the flow of oil July 15. A few weeks later the company successfully enacts a "static kill" (the pumping of mud and cement into the well to fortify the plug). The U.S government announces that most of the oil from the spill has been cleaned up. \r\r \r(Photo: Marc Morrison)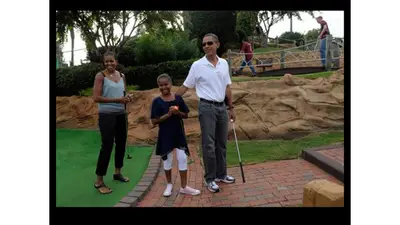 19 / 24
Obamas Visit - In an effort to drum up tourism in the area slammed economically by the effects of the spill, the Obamas visit Panama City, Florida, for a weekend in the middle of August.\r\r \r(Photo: AP Photo/Andrew Wardlow, Pool)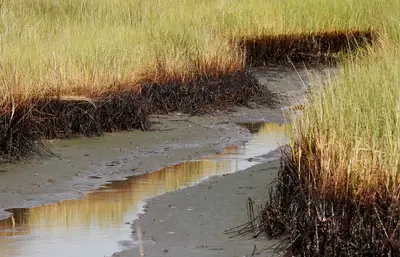 20 / 24
Permanently Stopped - By the middle of September BP installs a cement plug that fully stops the leak. The total cost to the company for clean-up efforts is about $40 billion. Experts estimate that a total of 4.4 million barrels of oil leaked into the Gulf of Mexico during the spill.\r \r(Photo: AP Photo/Patrick Semansky)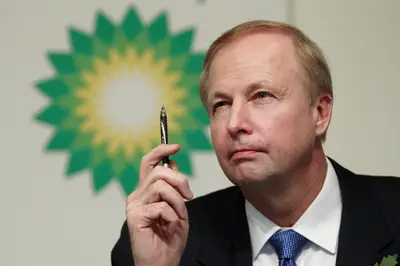 21 / 24
Lawsuit - In December the U.S. Justice Department sued BP—which is now helmed by Bob Dudley, who replaced Hayward—and other partners for their role in the spill. The suit alleges the company violated safety rules and seeks money to pay for the cost of the cleanup along with the monetary losses by local businesses and the environment.\r\r\r \r(Photo: AP Photo/Alastair Grant, File)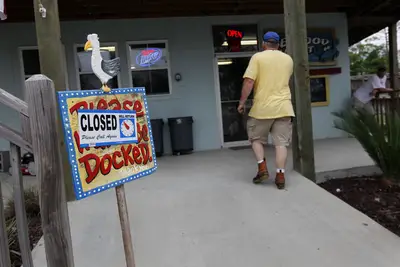 22 / 24
Effect of the Spill on Businesses - Estimates show that the spill could cost the Gulf region $22.7 billion over the next three years.\r\r \r(Photo: AP Photo/Gerald Herbert)
Photo By
Photo: AP Photo/Gerald Herbert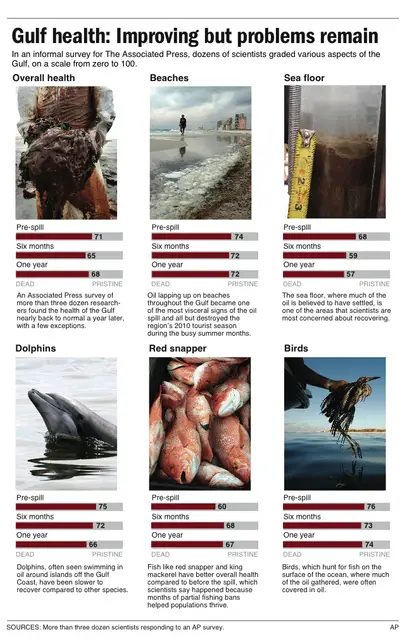 23 / 24
Aftermath - Since the spill, the government has tightened regulations on off shore drilling. Some of the people who helped clean up the spill last year report dizziness and respiratory problems. In April of 2011 BP committed to giving $30 million to five Florida counties affected by the spill. (Photo: Associated Press)
Photo By
Associated Press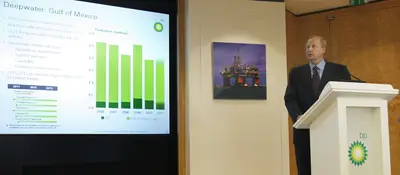 24 / 24
BP's Success - Since the spill, BP's stock has largely rebounded, and it is paying dividends to shareholders again. The oil company is even angling to explore again in the deep waters of the Gulf of Mexico, where it holds more leases than any competitor.\r\r(Photo: AP Photo/Alastair Grant, File)