Sports Buzz: Kevin Durant Leads Thunder Past Clippers
Plus, Michael Sam doc called a "potential distraction."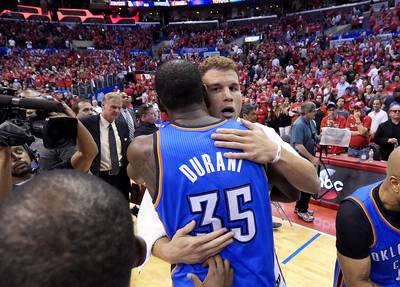 1 / 39
Kevin Durant Leads Thunder Past Clippers - Kevin Durant put Oklahoma City on his back Thursday night, dominating with 39 points and 16 rebounds to lead the Thunder to a series clinching 104-98 road win over the Los Angeles Clippers on Thursday. Russell Westbrook added 19 points and 12 assists for the second-seed Thunder, who advance to meet the No. 1 San Antonio Spurs in the Western Conference Finals, beginning on Monday. Chris Paul led the Clippers with 25 points and 11 assists, while Blake Griffin added 22 points, eight rebounds, and eight assists before fouling out in the fourth quarter. Afterwards, Durant embraced Griffin following a hard-fought series. (Photo: Mark J. Terrill/AP Photo)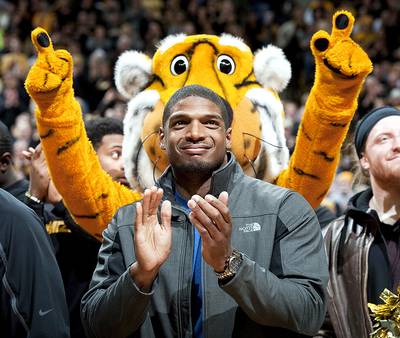 2 / 39
Rams Player Calls Michael Sam Doc "Potential Distraction" - The announcement that the Oprah Winfrey Network (OWN) is producing a documentary about Michael Sam, the NFL's first openly-gay player, isn't sitting well with at least one of his St. Louis Rams teammates. "It's an interesting case that he gets to work with Oprah and have his own show, but I think it does raise eyebrows and it may be somewhat of a distraction," a Rams player speaking under the condition of anonymity told ESPN. "But this is our first time dealing with something like this, so we'll have to wait and see how it plays out and how people react."
3 / 39
Pacers Finish Off Wizards, Face Heat Next - David West shot the Indiana Pacers into the next round and the Washington Wizards right out of the postseason altogether Thursday night. West scored 29 points in a 93-80 road victory in Game 6 to send the Pacers into an Eastern Conference rematch with the Miami Heat. (Photo: Rob Carr/Getty Images)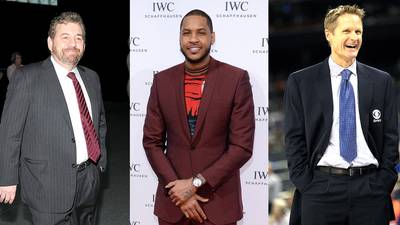 4 / 39
Dolan, Melo Influenced Kerr to Not Take Knicks Job - A New York Times report says that besides Steve Kerr's family ties to the West Coast, another reason he chose the Golden State Warriors over the New York Knicks was actually because of Knicks owner James Dolan and superstar Carmelo Anthony. Apparently, Kerr was concerned with Anthony's willingness to deal with the learning curve of the triangle offense and Dolan's overall patience so much that he overlooked his ties to Knicks president Phil Jackson.(Photos from Left: Brad Barket/Getty Images, Dimitrios Kambouris/Getty Images for IWC, Streeter Lecka/Getty Images)
5 / 39
Lakers GM: Kobe Won't Weigh In on Next Coach - During an appearance on Jimmy Kimmel Live! just last week, Kobe Bryant expressed hope that the Los Angeles Lakers would get his opinion on their next head coach hiring. But Lakers general manager Mitch Kupchak says that's not going to happen. "From time to time we ask his advice," Kupchak told ESPN about Bryant. "He really won't weigh in on something like this. I'm not even sure that we'll talk to him prior to interviews. But from time to time, he is in our facility, I'll go downstairs and I'll talk to him about a bunch of different things."(Photos from left: Kevin Winter/Getty Images, Kevork Djansezian/Getty Images)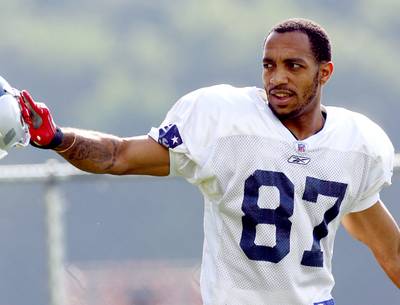 6 / 39
Ex-NFL Player Reche Caldwell Arrested for Selling Ecstasy - Former NFL wide receiver Reche Caldwell was arrested earlier this week for trying to sell ecstasy pills in Florida, TMZ reported. This comes on top of his arrest last year for allegedly running an illegal gambling ring. (Photo: Jim Rogash/Getty Images)
7 / 39
Hardy's Accuser Says He Was Upset With Nelly Relationship - Nelly certainly seems to be getting the best of two athletes — first boxing champion Floyd Mayweather Jr. and now Greg Hardy. The Carolina Panthers defensive end was arrested earlier this week in a domestic violence incident and his girlfriend, Nicole Holder, says her "short-lived" relationship with the St. Louis rapper sparked Hardy's rage. (Photo: Streeter Lecka/Getty Images)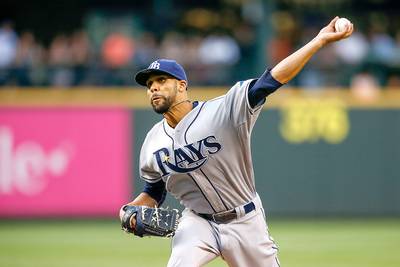 8 / 39
HS Pitcher Throws 192 Pitches, Gets Tweet From David Price - After making headlines for throwing 194 pitches over 14 innings, Rochester High School (Washington State) pitcher Dylan Fosnacht even caught the attention of David Price. The Tampa Bay Rays pitcher tweeted Fosnacht, "haha you're a beast @DFosnacht5 …but let's be a little smarter brotha!! Love the competitiveness though!! #urcoachshouldbefired" To that, Fosnacht replied: @DAVIDprice14 just trying to get a much needed win for my team and wouldn't want no other coach then the one I have." Price responded telling the kid, he respects that and "take care of that money maker." Rochester manager Jerry Striegel said he talked to Fosnacht every inning to see if he was OK, but would probably handle the situation different next time around.(Photo: Otto Greule Jr/Getty Images)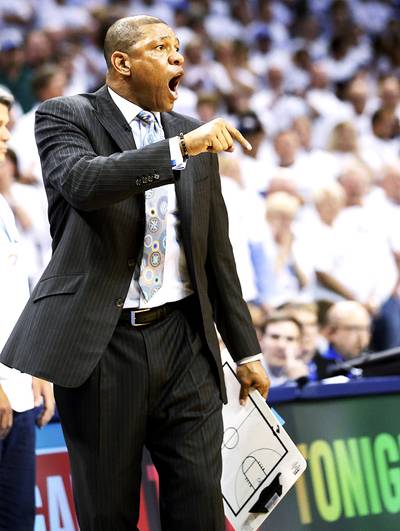 9 / 39
League Fines Rivers for Critizing Ref's Call - The NBA fined Los Angeles Clippers coach Doc Rivers $25,000 on Thursday for saying a ref's questionable call "robbed" his team of victory in Game 5 of their Western Conference semifinal Tuesday night against the Oklahoma City Thunder. "Let's take away the replay system because that's our ball," Rivers said after that game. "We win the game and we got robbed because of that call. It's clear." (Photo: AP Photo)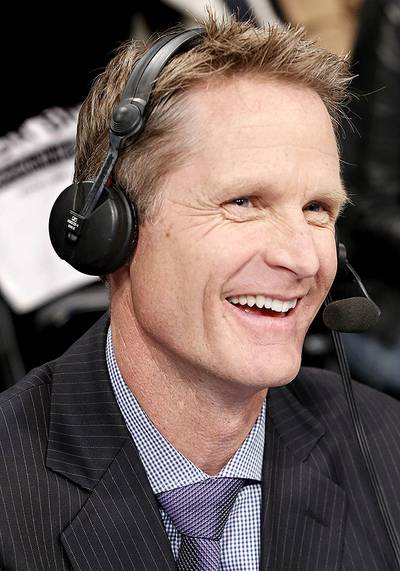 10 / 39
Steve Kerr Shuns Knicks to Coach Warriors - Despite having ties to New York Knicks president Phil Jackson and being rumored to be the front-runner for the team's coveted coaching job, Steve Kerr signed a five-year, $25 million offer Wednesday to become the Golden State Warriors coach instead. "They have a good young team. The location is ideal," Kerr said during a phone interview with NBA.com on Wednesday night. "My daughter goes to Cal and plays volleyball. My oldest son is in college in San Diego and our youngest is a junior in high school. It's just a short flight for them." (Photo: Kathy Willens/AP Photo, File)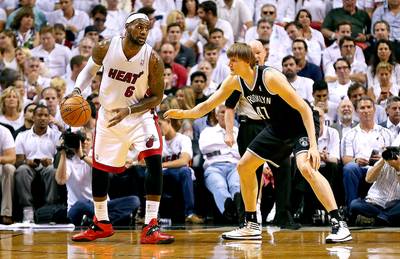 11 / 39
Miami Heat Eliminate Brooklyn Nets - LeBron James had 29 points, nine rebounds and five assists to lead the two-time defending NBA champion Miami Heat to a 96-94 series clinching win over the Brooklyn Nets. The Heat now await the winner of the Indiana Pacers-Washington Wizards for an Eastern Conference finals matchup. (Photo: Mike Ehrmann/Getty Images)
12 / 39
LeBron Pleased With Sterling Removal Process - LeBron James says the NBA's removal process of disgraced Los Angeles Clippers owner Donald Sterling is "progressing good for now. At the end of the day, we see what Adam Silver is doing, and he's moving forward," James said Wednesday to ESPN. "And if he continues, which we believe Adam Silver will do on the situation, then us players have nothing to worry about."(Photos from Left: Mike Ehrmann/Getty Images, Stephen Dunn/Getty Images)
Photo By
Photos from Left: Mike Ehrmann/Getty Images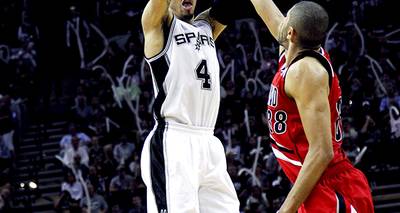 13 / 39
Spurs Finish Off Blazers - Danny Green and Kawhi Leonard had 22 points apiece to lead the San Antonio Spurs to a 104-82 victory over the Portland Trail Blazers in Game 5 of their Western Conference semifinal series Wednesday night. The Spurs are now set to move on to the Western Conference finals for the third straight season, where they'll face the winner of the Los Angeles Clippers-Oklahoma City Thunder series. (Photo: Chris Covatta/Getty Images)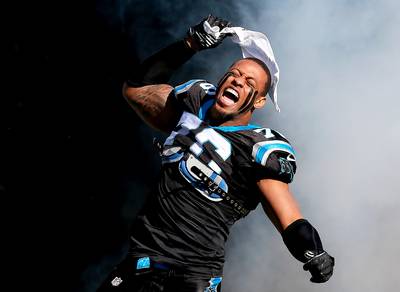 14 / 39
Greg Hardy Accuser: He Threw Me on Top of Guns - Carolina Panthers defensive end Greg Hardy was released from jail Wednesday following a domestic violence charge, in which his girlfriend alleges he threw her onto a couch covered with "assault rifles and/or shotguns." Hardy claims his girlfriend was the aggressor. (Photo: Kevin C. Cox/Getty Images)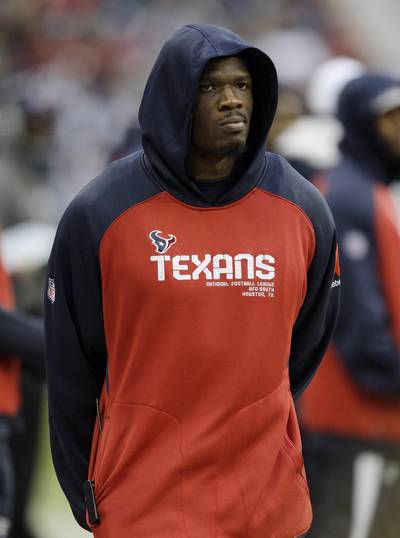 15 / 39
Texans to Trade Andre Johnson? - Facing another rebuilding season in Houston, Texans star wide receiver Andre Johnson may want out of H-Town, according to CBS Sports. If the 12-year pro is willing to restructure his contract, NFL insiders say he could land on teams like New England, Carolina or Kansas City.(Photo: Bob Levey/Getty Images)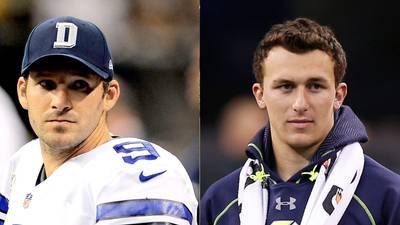 16 / 39
Romo Wasn't Worried About Cowboys Drafting Manziel - What was Tony Romo's reaction to the Dallas Cowboys' front office possibly drafting quarterback Johnny Manziel? "Of course, his response, as you might expect from Tony," Cowboys Chief Operating Officer Stephen told Mad Dog Sports Radio's Adam Schein on Wednesday, "was, 'Well, if you decide to, it ain't going to matter, there's no one out there who can beat me out.'" The Cowboys selected Notre Dame offensive lineman Zack Martin with their first-round draft pick instead of Manziel.(Photos from left: Stacy Revere/Getty Images, Joe Robbins/Getty Images)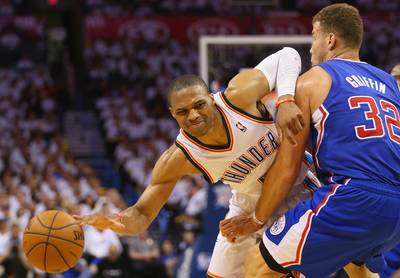 17 / 39
Westbrook, Thunder Rally to Edge Clippers - Russell Westbrook and the Oklahoma City Thunder erased a seven-point deficit in the final 50 seconds to score a 105-104 home win over the Los Angeles Clippers in Game 5 of their Western Conference semifinal series Tuesday night. Westbrook made three free throws with 6.4 seconds remaining to give the Thunder a one-point edge and finished with 38 points, five rebounds, and six assists. Kevin Durant added 27 points on 6-of-22 shooting from the field, but 12-of-12 from the charity stripe for the Thunder, who own a 3-2 series lead.(Photo: Ronald Martinez/Getty Images)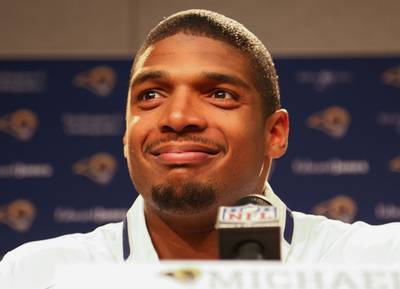 18 / 39
Michael Sam Talks Making Rams Team - Michael Sam is cool about the idea of being a role model for other gay athletes to follow his path, but he wants everyone to know that his main priority right now is to make the St. Louis Rams roster. "I will support all equality," the openly-gay defensive end told ESPN. "It doesn't have to be just about gay rights. Right now I am focused on football. I will always support equality. Period. My job right now is to focus on football and making this team so I can help win championships."(Photo: Dilip Vishwanat/Getty Images)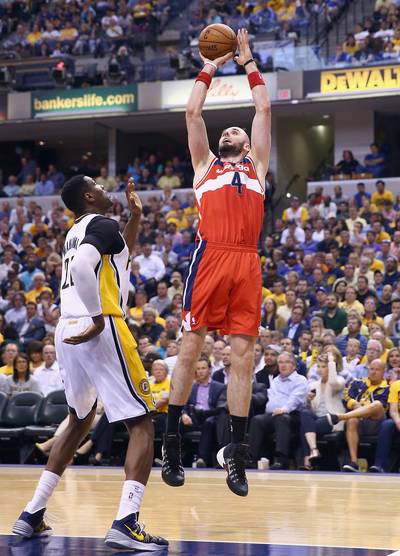 19 / 39
Wizards Destroy Pacers to Force Game 6 - Facing elimination on the road, the Washington Wizards absolutely destroyed the Indiana Pacers, 102-79, in Game 5 of their Eastern Conference semifinal series Tuesday night. Wizards center Marcin Gortat had a monstrous 31 points and 16 rebounds effort, while John Wall added 27 for Washington, which pulled within 3-2 of the Pacers in the series.(Photo: Andy Lyons/Getty Images)

20 / 39
Pistons to Name Stan Van Gundy Coach, President - The Detroit Pistons are giving Stan Van Gundy the keys to their franchise, as ESPN reports that they've reached an agreement to name him their new coach and president of basketball operations. SVG is set to sign a five-year contract worth an estimated $35 million. A formal announcement is expected to be held as early as Wednesday.(Photos from left: NBA, AP Photo/Nick Wass)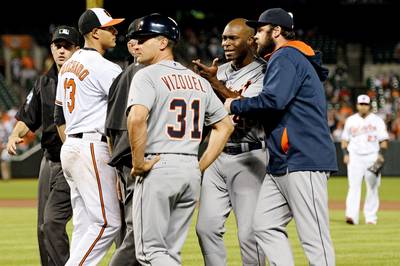 21 / 39
MLB to Look Into Umpire Touching Player's Face - When benches cleared after Baltimore Orioles pitcher Bud Norris hit Detroit Tigers outfielder Torii Hunter in the ribs during the eighth inning of their game Monday night, umpire Paul Nauert briefly touched Hunter's face. That contact is subject to a Major League Baseball suspension if they see it fit, although Hunter isn't taking it seriously. "If MLB came to me (to ask about Nauert), I wouldn't even talk to them," Hunter told ESPN. "That's my guy."(Photo: Patrick Smith/Getty Images)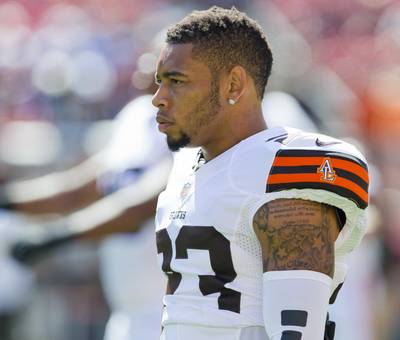 22 / 39
Joe Haden Re-Ups With Browns For Five Years, $68 Million - Less than a week after Richard Sherman signed a four-year, $57.4 million extension with the Seattle Seahawks, the Cleveland Browns have reached a five-year, $68 extension with cornerback Joe Haden. The deal includes a fully guaranteed $23 million. The fifth-year corner had four interceptions and 43 tackles in 2013.(Photo: Jason Miller/Getty Images)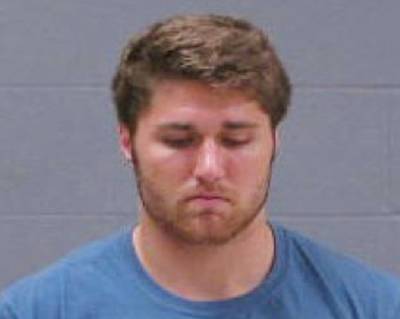 23 / 39
Rutgers Releases Quarterback After Assault Charge - Rutgers dismissed quarterback Philip Nelson on Tuesday after he was charged with one count of first-degree assault and one count of third-degree assault. Nelson allegedly kicked a defenseless man in the head during an altercation in Minnesota this past weekend.(Photo: AP Photo/Blue Earth County Jail)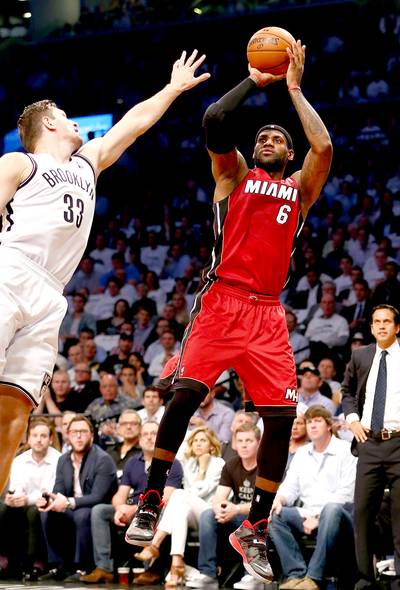 24 / 39
LeBron James Scores 49, Heat Up 3-1 on Nets - Be careful what you ask for. After Paul Pierce said he wanted to guard LeBron James, King James proceeded to punish his rival with 49 points to lead the two-time defending champion Miami Heat to a 102-96 victory over the Brooklyn Nets on Monday night (May 12). With the Game 4 victory Miami now owns a commanding 3-1 series lead in the Eastern Conference semifinal.(Photo: Elsa/Getty Images)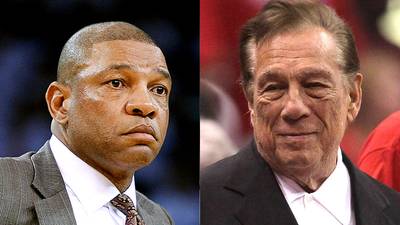 25 / 39
Doc Rivers on Sterling: Not Much of An Apology - Los Angeles Clippers coach Doc Rivers didn't think much of disgraced team owner Donald Sterling's apology during an interview with CNN's Anderson Cooper on Monday night. "Whatever it is, that doesn't sound like much of an apology to me," Rivers told ESPN, adding that he will side with good friend Magic Johnson over Sterling.(Photos from left: Thearon W. Henderson/Getty Images, Stephen Dunn/Getty Images)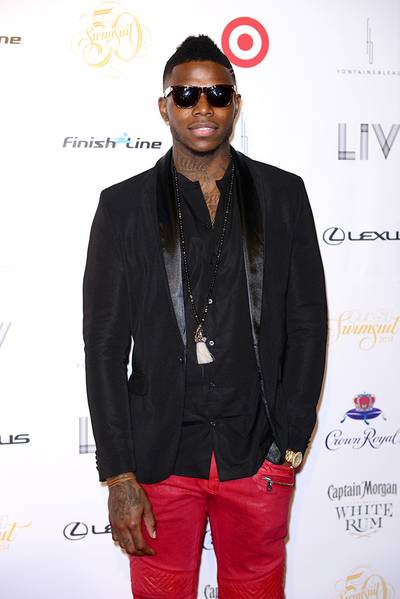 26 / 39
Josh Gordon Faces Year-Long Suspension For Drugs - Cleveland Browns star wide receiver Josh Gordon is facing a possible year-long suspension for another failed drug test for marijuana, Sports Illustrated is reporting. Gordon, 23, had 1,646 receiving yards with nine touchdowns last season.(Photo: JLN Photography/WENN.com)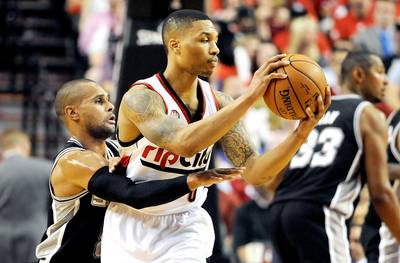 27 / 39
Lillard, Blazers Avoid Elimination - Damian Lillard scored 25 points to keep hope alive for the Portland Trail Blazers in the Western Conference semifinals. The Blazers avoided elimination with a 103-92 victory over the San Antonio Spurs in Game 4 on Monday night. They trail the Spurs, 3-1, in the series.(Photo: Steve Dykes/Getty Images)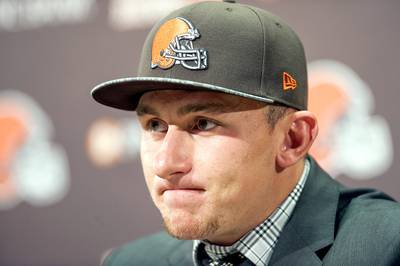 28 / 39
Manziel Will Have to Earn Browns Starting Job - If Johnny Manziel is going to be the Cleveland Browns starting quarterback for the 2014 season, he's going to have to earn it in a competition with QB Brian Hoyer. That's what his new teammates are telling Manziel. "I think good old Johnny Football is going to be a good addition to Cleveland," Browns center Alex Mack told ESPN on Monday. "Don't know who the starter is going to be, though." Monday also saw the Browns cut veteran quarterback Vince Young.(Photo: Jason Miller/Getty Images)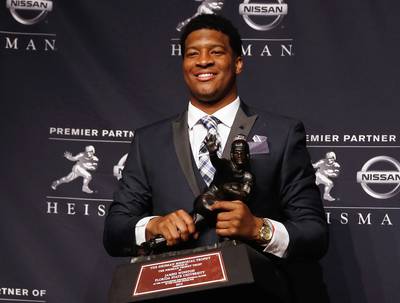 29 / 39
No Football Suspension For Jameis Winston - Florida State football coach Jimbo Fisher says that star quarterback Jameis Winston will not face any type of football-related punishment for shoplifting last month. The Heisman Trophy winner was given a citation for taking crab legs from a local supermarket.(Photo: Jeff Zelevansky/Getty Images)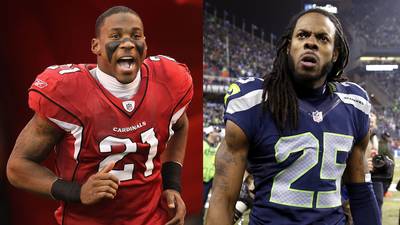 30 / 39
Patrick Peterson Says He's Worth More Than Richard Sherman  - Arizona Cardinals cornerback Patrick Peterson took note of the four-year, $57 million extension that Richard Sherman received from the Seattle Seahawks last week…and he's saying he's worth more. Peterson had three interceptions and 42 tackles to Sherman's eight interceptions and 48 tackles last season.(Photos from left: Christian Petersen/Getty Images, Otto Greule Jr./Getty Images)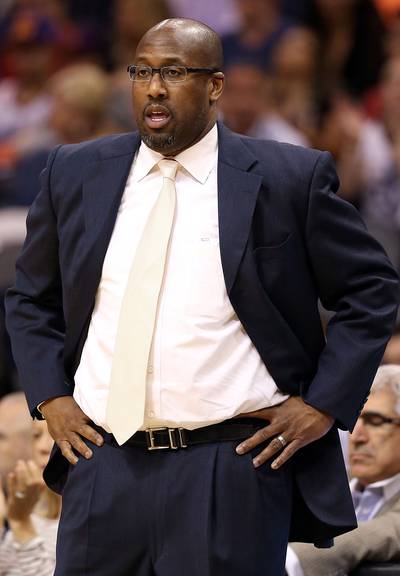 31 / 39
Cleveland Cavaliers Fire Coach Mike Brown - Mike Brown's second go-around as the Cleveland Cavaliers head coach didn't go nearly as well as his first. Brown was fired by the Cavs after year one of his return to the team.  Owner Dan Gilbert cut ties with Brown following a dismal 33-49 season. "This is a very tough business," Gilbert said in a statement. "It pains all of us here that we needed to make the difficult decision of releasing Mike Brown. Mike worked hard over this last season to move our team in the right direction." Brown was previously let go by the Cavs in 2010, then brought back in April 2013.(Photo: Christian Petersen/Getty Images)
32 / 39
Ole Miss Player Explains Anti-Gay Michael Sam Tweets - It was all done in the name of science. Ole Miss basketball player Marshall Henderson revealed on Twitter today (May 12) that the bigoted comments he aimed at ESPN for airing a kiss between Michael Sam and his boyfriend were part of a psychology experiment. Henderson initially tweeted, "Boycotting sportscenter til this michael sam nasty ass s--- is off .... My brothers are 7 and 11 and saw that!!! #SICKENING." After  a lot of backlash Henderson announced, One of my best friends, WHO IS GAY, is about to graduate in psychology, asked me to say these things so he can have responses ... TBC."(Photo: Kevin C. Cox/Getty Images)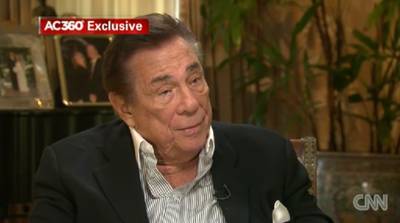 33 / 39
Donald Sterling: "I'm Here To Apologize" - Disgraced Los Angeles Clippers owner Donald Sterling is apologizing and asking for forgiveness for making racist remarks against African-Americans. "I'm not a racist," Sterling tells Anderson Cooper in an interview that aired on CNN Monday night. "I made a terrible, terrible mistake. And I'm here with you today to apologize and to ask for forgiveness for all the people that I've hurt. I'm a good member who made a mistake and I'm apologizing and I'm asking for forgiveness. Am I entitled to one mistake, am I after 35 years? I mean, I love my league, I love my partners. Am I entitled to one mistake? It's a terrible mistake, and I'll never do it again."(Photo: CNN)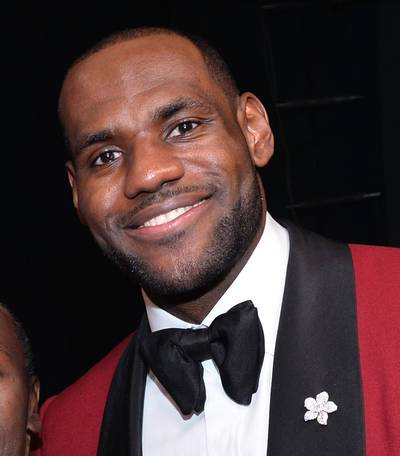 34 / 39
LeBron James Says No Sterling Should Own Clippers - LeBron James couldn't be any clearer about his stance on Donald or Shelly Sterling owning the Los Angeles Clippers. "As players, we want what's right and we don't feel like no one in [Sterling's] family should be able to own the team," he told ESPN over the weekend. James's statement comes in response to Sterling being banned by the NBA for life and his estranged wife, Shelly, telling Barbara Walters that she plans on fighting to keep her ownership of the team even if the NBA owners vote for the sale of the franchise. (Photo: Alberto E. Rodriguez/Getty Images for ESPY)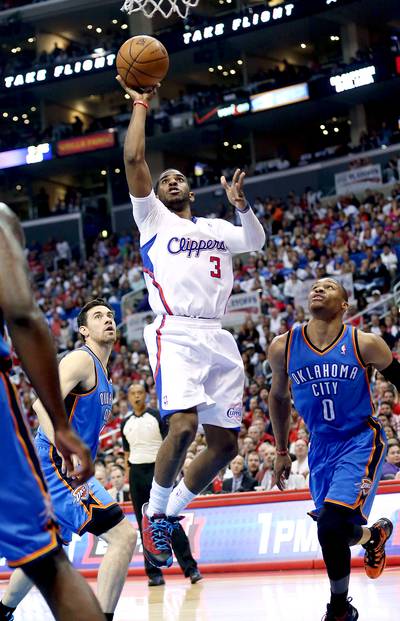 35 / 39
Clippers Rally to Shock Thunder - The Los Angeles Clippers overcame a 22-point deficit to score a 101-99 victory over the Oklahoma City Thunder in Game 4 of the Western Conference semifinals on Sunday. Chris Paul paced the Clippers with 23 points, 10 assists, five rebounds and four steals, while Darren Collison brought the firepower off the bench. Collison scored eight of his 18 points in the final three minutes to fight off a game-high 40 points from NBA MVP Kevin Durant. The Clippers-Thunder series is now knotted up at 2-2.(Photo: Stephen Dunn/Getty Images)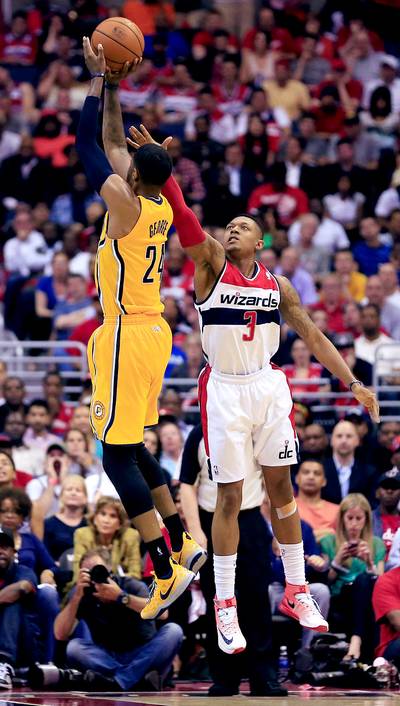 36 / 39
Pacers Up 3-1 on Wizards - The Indiana Pacers rallied from 19 points down in the second half to edge the Washington Wizards, 95-92, in Game 4 of their Eastern Conference semifinal series on Sunday night. The Pacers were led by Paul George's playoff-high 39 points and now own a commanding 3-1 series lead. (Photo: Rob Carr/Getty Images)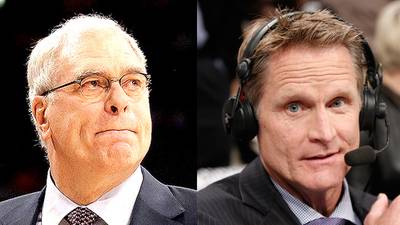 37 / 39
Knicks, Kerr May Agree to Terms This Week - The New York Knicks will reportedly name Steve Kerr their new head coach in the next few days. According to the New York Daily News, the Knicks' plan is to have Kerr named head coach and for him to accompany team president Phil Jackson to the NBA draft combine beginning Thursday in Chicago.(Photos from left: Stephen Dunn/Getty Images, Kathy Willens/AP Photo)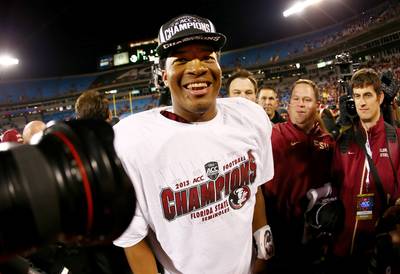 38 / 39
Jameis Winston's Dad Says FSU Dropped Ball on Supervising Son - The father of Heisman Trophy winner Jameis Winston says that his son and Florida State University can learn something from the star quarterback's recent citation for shoplifting crab legs. "I think it should show the university and us, I think we probably kind of dropped the ball on that a little bit," Antonor Winston told USA Today. "He's supposed to have somebody around him 24/7. He a Heisman Trophy winner so [he's] definitely not supposed to be by [himself]."(Photo: Streeter Lecka/Getty Images)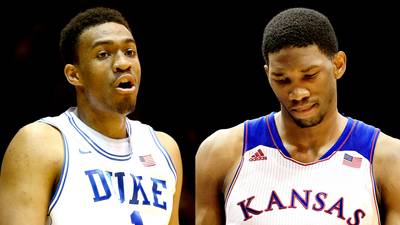 39 / 39
Top Three Prospects Not Participating in NBA Combine - Yahoo Sports is reporting that Duke forward Jabari Parker and Kansas stars Joel Embiid (pictured) and Andrew Wiggins—the top three prospects in the 2014 NBA Draft—will not participate in the league's draft combine in Chicago beginning Thursday since there would be little for the trio to prove.(Photos from left: Streeter Lecka/Getty Images, Jamie Squire/Getty Images)