Long Time Coming: Delayed Albums
LPs that may or may not come out this millennium.
1 / 15
Make-Up Is the New Music? - Delayed albums are as quintessential to the music business as rap beefs are to the Twitter world, but sometimes artists end up delivering on time; other times not at all. Take Rihanna, who in the midst of a massive album delay, has announced the launching of her own beauty agency.Rihanna's seventh album, Unapologetic, really solidified her current standing as a superstar. Rumors began to circulate about the then named (by fans, of course) #R8 as soon as her Diamonds Tour ended in 2013. The Bajan beauty never plays and squashed the rumors really fast by tweeting out "Any news about #R8 will be delivered directly from me!!!!"Finally, in October 2015, we got an official album cover and title, Anti. No word on a release date but Rihanna did cancel her scheduled appearance for the Victoria's Secret Fashion Show in November to [reportedly] finish her new albu...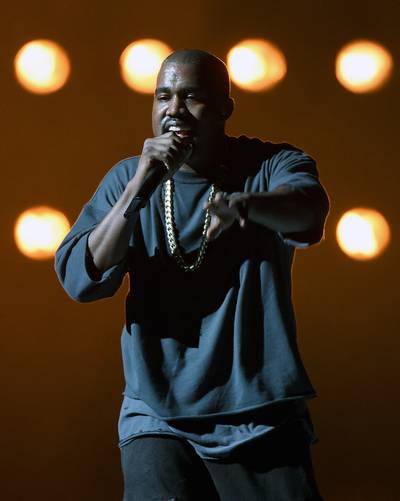 2 / 15
Kanye West, SWISH - Kanye is always...everywhere. He's designing, producing, ranting — you name it. The release of music has been consistently active, starting with "Only One" (an ode to baby North), "FourFiveSeconds" (a heavy feature rumored to be on Rihanna's record) and "All Day" (which seems to be a more fitting peek into the new album). Rumors in May 2015 that Kanye's seventh album was going to be released through Apple stream on June 8 never came to bear any fruit and we're still anxiously waiting.(Photo: Ethan Miller/Getty Images for iHeartMedia)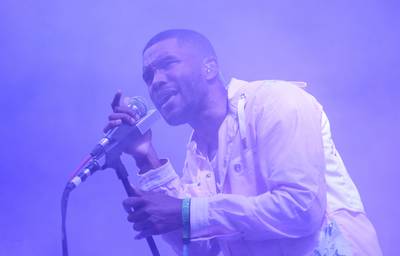 3 / 15
Frank Ocean, Boys Don't Cry - The boy who cried release. While the smartest artists are careful about throwing out a date for any anticipated album, Frank Ocean had the Internet in their feelings when it was reported that Boys Don't Cry would arrive in July but never did.(Photo: Jason Merritt/Getty Images)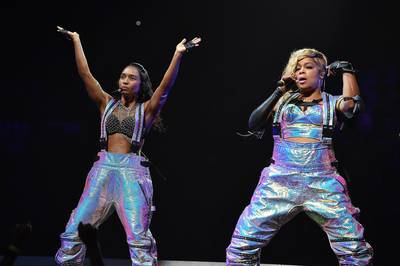 4 / 15
TLC, Untitled - At the top of 2015, the record-breaking group announced that their next album would be the last for TLC. The real story is that this new album was actually financed by fans since the group took donations from die-hard stans on Kickstarter. They raised a deep $400,000 dollars. Now, fans await the release in 2016 while questioning where exactly their money has gone.(Photo: Paras Griffin/Getty Images)
5 / 15
50 Cent - After several title changes, pushbacks, conflict with his label and other snafus, Fif announced in October that he's finally releasing his fifth studio LP in early December. But with that deadline around the corner, expect another postponement soon.UPDATE: That postponement did come; Animal Ambition wasn't released until June 3, 2014. Even though it had been five years since his previous album, Animal Ambition sold an underwhelming 124,000 units in the year of its release. Maybe it was all of that dated stuff? (Photo: Stephen Lovekin/Getty Images)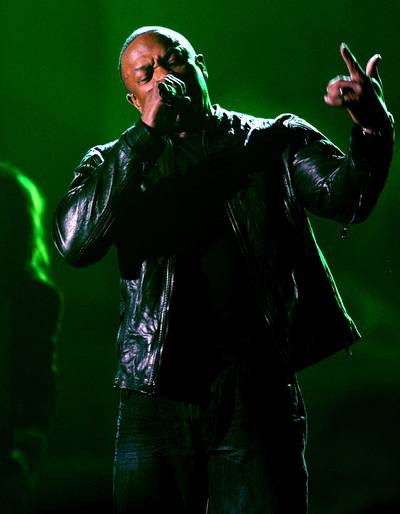 6 / 15
Dr. Dre, Detox - Seven years passed between Dre's first two solo albums, Chronic and 2001, so we knew we'd have to wait a while for the notorious perfectionist's third set. But after 11 years, multiple leaks, rumors and an all-star collaborator list, many people are convinced that Detox won't ever see the light of day.UPDATE: Detox still never came, but Compton did. In 2015, almost 16 years since 2001, Dr. Dre released the critically acclaimed album that landed on the No. 2 spot on the Billboard chart and is already Gold certified. (Photo: Kevin Winter/Getty Images)
7 / 15
Young Jeezy, TM103 - Waiting for Jeezy's fourth LP, TM 103, to drop is like watching paint dry. He has a new release date, December 20, and a dope new single, "F.A.M.E.," so hopefully we'll see the new album before the Snowman goes gray.UPDATE: Jeezy totally delivered, releasing his sixth album in December of 2011, which has since been certified Gold. The Atlanta rapper got all the help he could get on that one. Only four tracks were a solo effort, the rest carried features from a pretty impressive bunch.(Photo:  Chris McKay/Getty Images)
8 / 15
D'Angelo, Black Messiah - It's been 11 years since D released his landmark sophomore album, Voodoo. In the meantime, he's been struggling with drug issues, weight issues, legal issues, you name it. But long-time collaborator Questlove of the Roots recently said a new album is finally almost done. For the sake of both soul music and D'Angelo himself, we hope Questo's right. UPDATE: 14 years after Voodoo, D'Angelo pulled a Beyoncé and released Black Messiah out of nowhere. Social media went crazy with the new album. It proved the soul singer was still on his game experimenting with funk and keeping the topics of his songs raw and current. In the year of Ferguson and Eric Garner, it was a breath of fresh air.(Photo: Frank Micelotta/ImageDirect)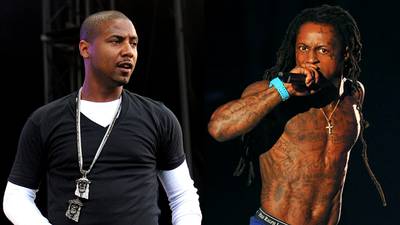 9 / 15
Juelz Santana and Lil Wayne, I Can't Feel My Face - Unexpected collaborators Weezy and Juelz were working on an album five years ago, but after several songs leaked and Wayne got all busy being a superstar, the LP was shelved and everyone forgot about it. However, Juelz and Young Money's Mack Maine have both said that the two are back in the studio to finish what they started.UPDATE: Still waiting. (Photos from left: Brad Barket/PictureGroup, Vince Bucci/PictureGroup)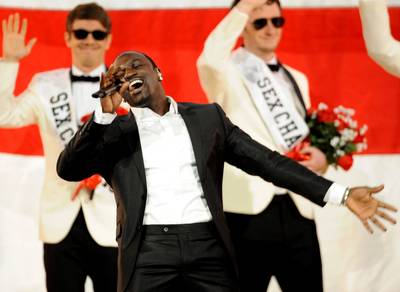 10 / 15
Akon, Stadium - After Internet leaks, name changes, label politics and other setbacks, Akon announced earlier this year that he was releasing his fourth solo album, now titled Stadium, in September. The release date came and went, but the Senegalese singer did drop a new single, "Angel," so we might actually see this LP before pigs fly.  UPDATE: At the top of 2015, Akon tweeted that five albums covering five genres were coming our way. It was whittled down to four albums tackling four genres (Island, Urban, World and House). (Photo: Phil McCarten/PictureGroup)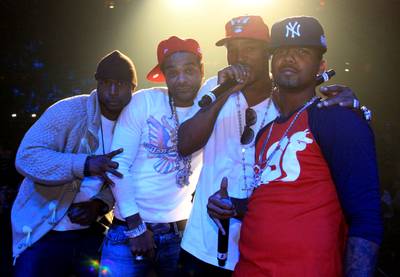 11 / 15
Dipset, Diplomatic Immunity 3 - After beefing internally for years, Dipset announced they'd be dropping a follow-up to 2004's Diplomatic Immunity 2 in 2008. Cam'ron said in August that they have several songs recorded already, but the album still doesn't have a label home. However, the group did tour earlier this year, so we wouldn't be surprised if we see a reunion LP soon. UPDATE: A mixtape, American Dream, was released in the summer of 2015, but no word as to when Diplomatic Immunity 3 will see the light of day. (Photo: Johnny Nunez/WireImage)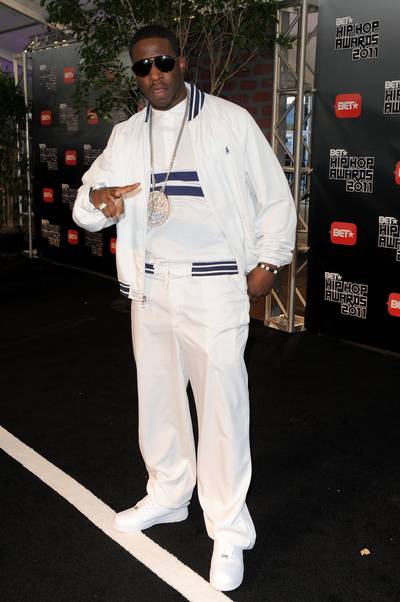 12 / 15
Young Dro, P.O.L.O. - Young Dro dropped a Top 10 single, "Shoulder Lean," and a No. 3 album, Best Thang Smokin', back in 2006. But after his follow-up, P.O.L.O., leaked to the Web in 2008, the T.I. protégé went back to the drawing board. It took him three years to record all new material for the new album, which is supposedly dropping on Grand Hustle this winter.  UPDATE: The follow-up to Best Thang Smokin' took 7 years to make, with High Times being released in October 2013. Since then, Dro has released another album this past fall called Da Reality Show.(Photo: Jeff Daly/PictureGroup)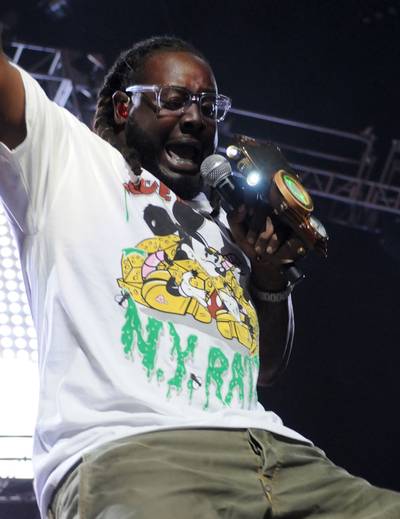 13 / 15
T-Pain, RevolveR - This "rappa-ternt-sanga" has been leaking music from his fourth studio album for two years. At one point, he said he wouldn't drop the LP until he amassed a million Twitter followers. Considering he's at around 600,000 now, he made a smart move in setting a new release date, December 6, 2011, in stone. UPDATE: December 6 was in stone, yet RevolveR wasn't that well received by critics, with some citing a lack of artistic growth. The album wasn't even certified Gold.(Photo:  Gregg DeGuire/PictureGroup)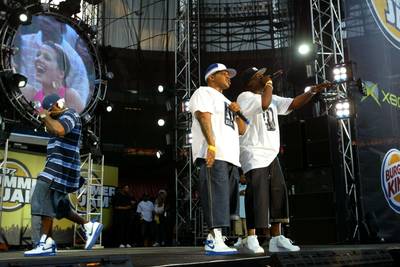 14 / 15
The LOX, New L.O.X. Order - Jadakiss and Styles P recently joked that the LOX reunion album was taking longer than Dre's Detox. Funny, but not funny. The album, which would mark the Yonkers trio's first since 1998, has supposedly been almost finished since 2007. The group blames "paperwork" and label politics.UPDATE: Jadakiss confirmed that the follow-up to We Are the Streets would be named We Are the Streets 2...three years ago. Thee are still no reports as of yet when the new album will be released. (Photo: Matthew Peyton/Getty Images)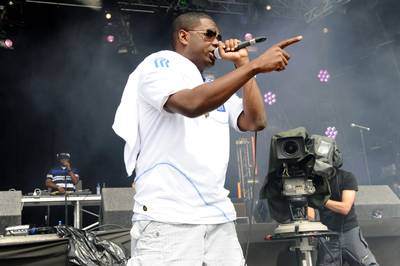 15 / 15
Jay Electronica, Act II: Patents of Nobility - Reclusive rapper Jay Elec is like the winged unicorn of rap. Hip hop acolytes have been fiending for his Just Blaze-produced Act II: Patents of Nobility for three years, but all they have to show for it is a handful of leaked songs and a few random shows. The Roc Nation rapper announced in July that the album was complete, but the next month he took down his Twitter and Tumblr pages. He's back online now, so hopefully, possibly, maybe we'll see his album soon. Your guess is as good as ours.UPDATE: Act II: Patents of Nobility has still not been released. (Photo: Gus Stewart/Redferns)