Sports Buzz: LeBron James, Kyrie Irving Have Locker Room Talk
Plus, Ravens GM says Rice told Goodell he hit wife.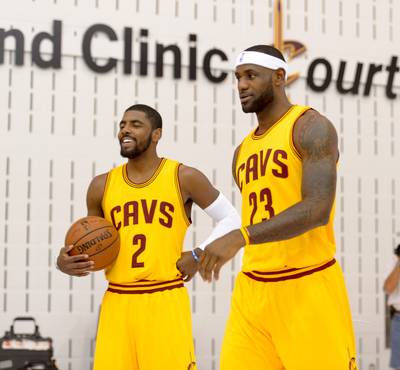 1 / 35
King James Tells Kyrie Irving Cavs Can't Win Like This - LeBron James reportedly pulled Kyrie Irving aside after the Cleveland Cavaliers' stunning 102-100 loss to the Utah Jazz on Wednesday night to let the point guard know that the team just can't continue at this pace. James was heated about the team only totaling six assists in the loss. Despite Irving's game-high 34 points, the point guard failed to record a single assist. "There's no way you're going to win a basketball game like that, just having six assists," James told ESPN. "We had two in the first half, we had four in the second half and we had actually four [total] until the last minute and a half of the game. We just can't win like that, and we got to figure out a way to help each other and not make it so tough." For all fans concerned over the Cavs' slow start, James tweeted Thursday telling t...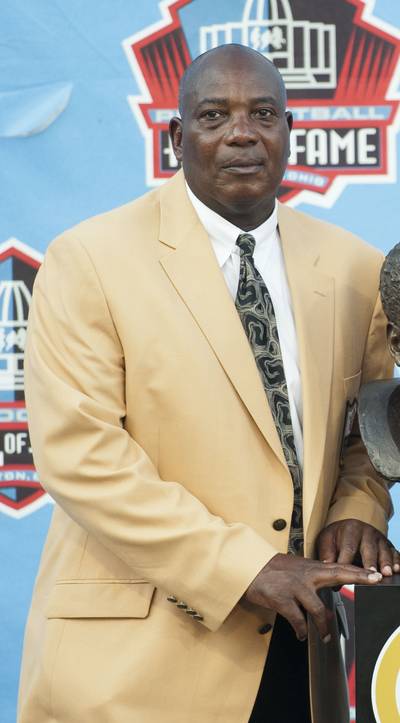 2 / 35
Ravens GM: Ray Rice Told Goodell He Hit Janay - Baltimore Ravens general manager Ozzie Newsome testified Thursday during the Ray Rice appeal hearing that the running back informed NFL commissioner Roger Goodell during their meeting on June 16 that he hit his then-fiancee, now wife, Janay Rice, in a hotel elevator back in February, ESPN's "Outside the Lines" is reporting. That information is vital, considering Goodell has denied the very claim. The league's commissioner reportedly testified for over two hours Wednesday. Rice's appeal case of the league's indefinite suspension ended Thursday and ex-U.S. District Judge Barbara Jones will rule on an outcome soon. Originally Rice was suspended by Goodell for two games, before footage of him punching Janay Rice triggered the Ravens into cutting their star rusher and the NFL suspending him indefinitely. (Photo: Jason ...
3 / 35
NFL to Review Adrian Peterson Case for Potential Punishment - After Adrian Peterson reached a plea deal in his child-abuse case on Tuesday, the NFL informed the star running back on Thursday that they will now take the time to review the case for a possible punishment under a violation of the league's personal conduct policy, CBS Sports is reporting. Such a punishment could possibly wipe out the chances of Peterson playing again this season for the Minnesota Vikings. (Photo: Jason Miller/Getty Images)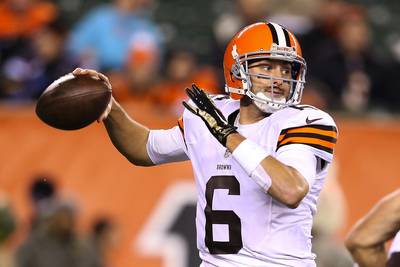 4 / 35
Browns Smack Bengals - Are the Cleveland Browns for real this season? It sure seems like it. The Browns moved to 6-3 on the season following a big 24-3 victory over the Cincinnati Bengals on Thursday Night Football. "A huge boost for our guys," coach Mike Pettine told the Associated Press of the victory. "Not many people gave us a chance." Perhaps most incredible is the fact that the Browns have won without star receiver Josh Gordon in the lineup.(Photo: Andy Lyons/Getty Images)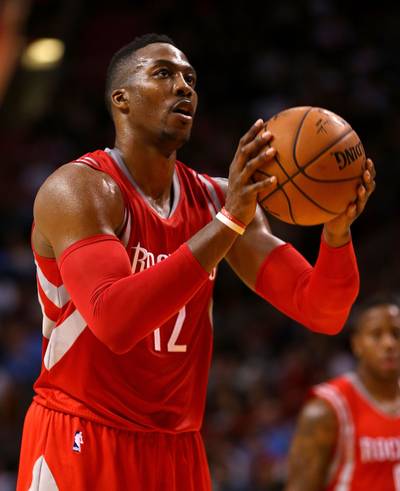 5 / 35
Rockets Defeat Resting Spurs - Dwight Howard took full advantage of a San Antonio Spurs team playing without Tim Duncan (resting) and Tiago Splitter (right calf tightness) in the paint Thursday night. The All-Star center had 32 points and 16 rebounds to lead the Houston Rockets to a 98-81 victory over the defending champion, improving to 6-0 on the season. With the loss, the Spurs, who also rested Manu Ginobili, fell to 2-2.(Photo: Mike Ehrmann/Getty Images)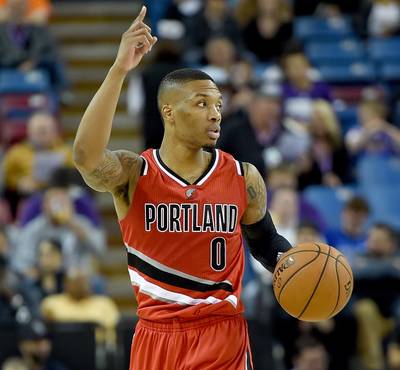 6 / 35
Blazers Cruise Past Mavericks - The Portland Trail Blazers cruised to a 108-87 win over the Dallas Mavericks on Thursday night on the strength of a dominating 35-point third quarter. Damian Lillard paced the Blazers with 18 points, six assists and five rebounds in an all-around solid performance. (Photo: Thearon W. Henderson/Getty Images)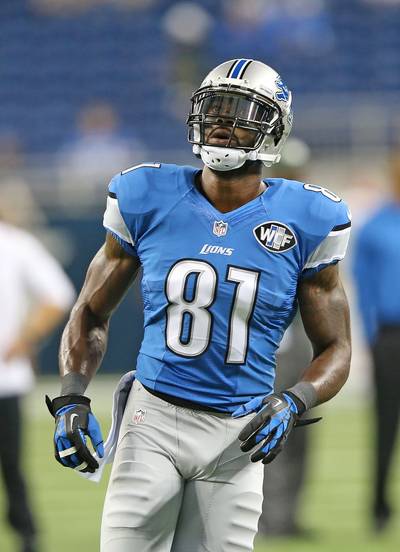 7 / 35
Three NFL Games Set for London in 2015 - It seems like the NFL having games in London will become a yearly tradition. According to CBS Sports, the league will have three games across the pond in 2015, including the Miami Dolphins vs. New York Jets on October 4, the Jacksonville Jaguars against the Buffalo Bills on October 25 and the Kansas City Chiefs against Calvin Johnson (shown here) and the Detroit Lions on November 1. All three games will take place at London's historic Wembley Stadium. (Photo: Leon Halip/Getty Images)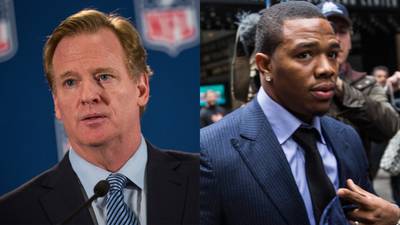 8 / 35
NFL Commissioner Testifies at Ray Rice Hearing - NFL commissioner Roger Goodell testified under oath for over two hours Wednesday as part of Ray Rice's appeal hearing, sources told ESPN's "Outside the Lines." The source wouldn't divulge what Goodell's testimony mentioned, however did state that both Rice and his wife, Janay Rice, were in attendance. Rice is aiming for a successful appeal to lift the NFL's indefinite suspension of him for violating the league's personal conduct policy, stemming from his domestic violence incident, in which he punched his then-fiancee' in a hotel elevator this past February. (Photos: Andrew Burton/Getty Images)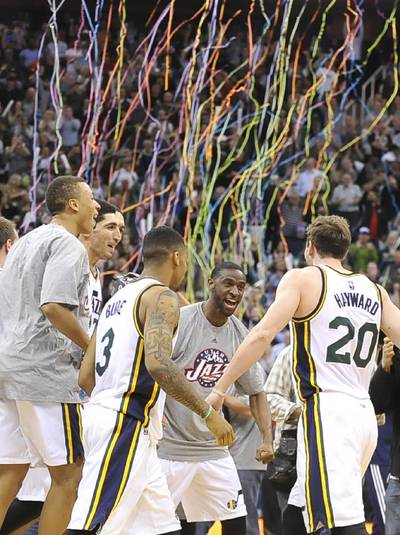 9 / 35
Jazz Shock LeBron James, Cavaliers at Buzzer - Who would have ever called that? Gordon Hayward sunk a jump-shot at the buzzer to give his Utah Jazz a shocking 102-100 victory over LeBron James and the Cleveland Cavaliers on Wednesday night. Hayward was overcome with emotion afterward. "How can you not show emotion after a finish like that? For us to win the game after being in control the whole game and then see it slipping away, it was pretty special," Hayward, who finished with 21 points, told the Associated Press. "Just exhilaration!" If it wasn't evident, it is now...King James and the Cavs are struggling at 1-3 early on this season. (Photo: Gene Sweeney Jr/Getty Images)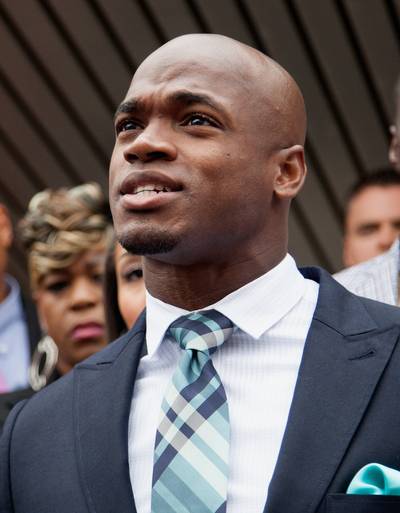 10 / 35
Mother of Peterson's Son Supports Plea Deal - The mother of the 4-year-old boy that was the victim in the Adrian Peterson child abuse case says she agrees with the plea deal that the NFL star reached earlier this week and doesn't want this to affect his football career. As reported by ESPN, she says that she knows Peterson loves their son and has confidence that the running back will remain part of his life.(Photo: Bob Levey/Getty Images)
11 / 35
Warriors Demolish Clippers - Stephen Curry put on a show with 28 points, seven assists and six rebounds to lead the Golden State Warriors to a 121-104 blowout of the Los Angeles Clippers on Wednesday night. With the win, the Warriors improved to 4-0 this season. (Photo: Ezra Shaw/Getty Images)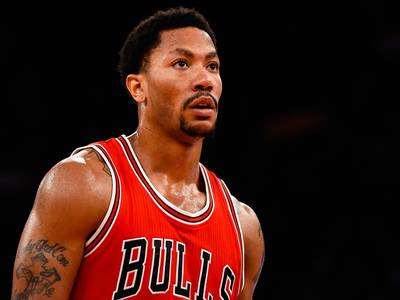 12 / 35
Derrick Rose Tweaks Ankles, Hopes to Play Friday - Derrick Rose had 13 points and seven assists to help the Chicago Bulls score a 95-86 win over the Milwaukee Bucks on Wednesday night. But the point guard said he tweaked his injured ankles during the second quarter and that they're still sore. Will Chicago elect to play Rose Friday night against the Philadelphia 76ers? (Photo: Alex Goodlett/Getty Images)
13 / 35
Alex Rodriguez Admitted Steroid Use to DEA - Alex Rodriguez denied using performance-enhancing drugs from the Biogenesis clinic for nearly two years. However, a Miami Herald report says the embattled slugger admitted purchasing and using PEDs from Biogenesis owner Anthony Bosch during a January closed-doors confession to the DEA (Drug Enforcement Administration) in exchange for immunity from prosecution. A-Rod's year-long suspension from Major League Baseball was lifted last week as he could return to the New York Yankees next season. (Photo: Ethan Miller/Getty Images)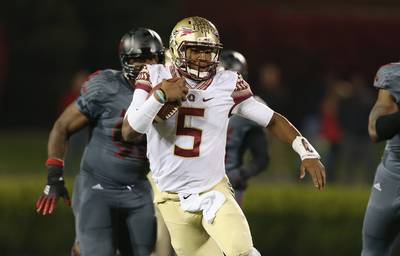 14 / 35
Jameis Winston's Florida State Hearing Set for Week of November 17 - The week of November 17 has been set for Florida State University's disciplinary hearing into whether star quarterback Jameis Winston violated the school's student conduct code by the alleged rape allegation against him stemming from December 2012. Ex-Florida State Supreme court judge Major Harding told USA Today Sports that he has been retained by the University to conduct the investigative hearing. (Photo: Andy Lyons/Getty Images)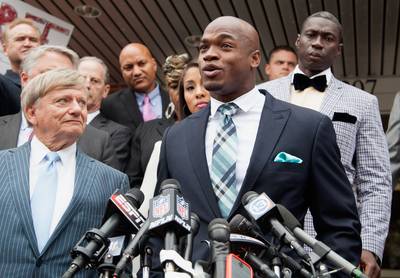 15 / 35
Minnesota Vikings Players Would Welcome Adrian Peterson Back - Now that Adrian Peterson has reached a plea agreement and will avoid jail time due to his child-abuse case, Minnesota Vikings teammates say they would welcome back their star running back if he's able to rejoin them. "We all know the kind of person he is," Vikings tight end Kyle Rudolph told ESPN on Tuesday, the same day Peterson accepted a plea. "We've stood behind him this whole time. You'd be crazy not to welcome him back into that locker room." The NFL still hasn't indicated whether it was going to remove Peterson from its commissioner's exempt list, nor have the Vikings discussed the playing status of their star rusher. (Photo: Bob Levey/Getty Images)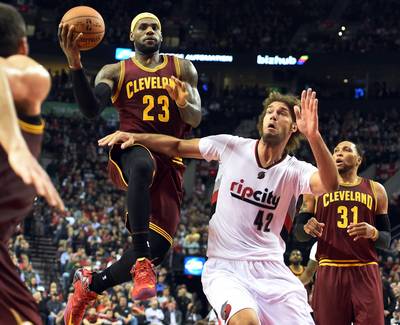 16 / 35
LeBron James, Cavaliers Fall Hard to Trail Blazers - Nobody said it was going to be easy. LeBron James knows that. King James finished with just 11 points in the Cleveland Cavaliers' 101-82 road loss to the Portland Trail Blazers on Tuesday night. Afterwards, the four-time NBA MVP and two-time champion admitted that it's "going to be a long process" for his Cavs. "There's been a lot of losing basketball around here for a few years," James told ESPN. "So a lot of guys that are going to help us win ultimately haven't played a lot of meaningful basketball games in our league." (Photo: Steve Dykes/Getty Images)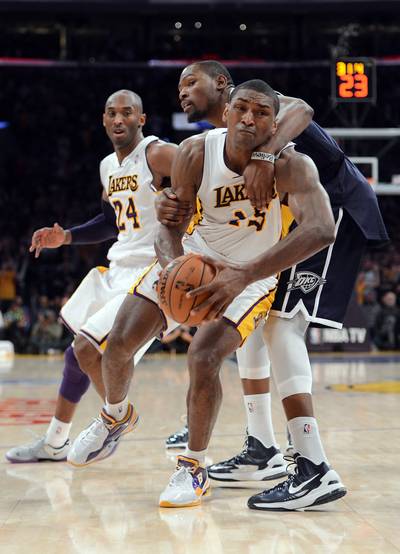 17 / 35
Kevin Durant Says Kobe Bryant's Advice Helped Him - Great players are often students of the game who listen to their elders. Kevin Durant admitted to ESPN Radio's "Mike & Mike" on Tuesday that Kobe Bryant offered him helpful advice on dealing with his foot injury. "Kobe reached out to me at one point right after I got out of surgery," Durant said. "We played a pre-season game, and I was sitting on the sideline, and I was just wanting to get into the game. I just asked him, how'd he do it? What was his thought process? He just told me, he tried to learn the game as much as he can from the sideline and be the best teammate he can be and support all the guys." KD went on to state that he learned a lot from the conversation. (Photo: Harry How/Getty Images)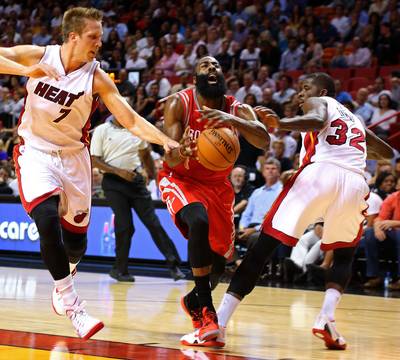 18 / 35
Undefeated Rockets Hand Heat First Loss - Both the Houston Rockets and Miami Heat stepped onto the court as undefeated teams Tuesday night. But James Harden made sure the Rockets emerged as the unbeaten squad. The explosive shooting guard fell one rebound shy of a triple-double (25 points, 10 assists, nine boards) in leading the Rockets to a 108-91 road win over the Heat. With the victory, the Rockets improved to 5-0 on this young season. (Photo: Mike Ehrmann/Getty Images)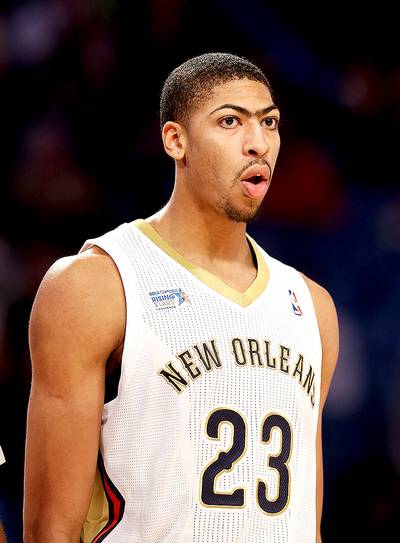 19 / 35
Anthony Davis Continues Dominating - It's still early, but Anthony Davis is clearly laying the groundwork for a huge 2014-15 NBA season. The New Orleans Pelicans big man notched 24 points, 13 rebounds and three assists in leading his team to a 100-91 win over the Charlotte Hornets on Tuesday night. (Photo: Christian Petersen/Getty Images)
Photo By
Photo: Christian Petersen/Getty Images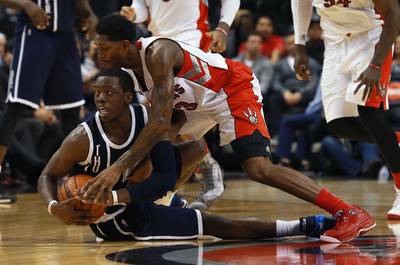 20 / 35
Depleted Thunder in Trouble - Should the Oklahoma City Thunder be panicking at this point? Still playing without Russell Westbrook and NBA MVP Kevin Durant, the Thunder fell to the Toronto Raptors 100-88 on Tuesday night. ''It feels like a nightmare and I'm ready to wake up,'' Thunder guard Reggie Jackson told the Associated Press. With the loss, the Thunder are just 1-4 this year. They'll host the Memphis Grizzlies on Friday night. (Photo: Dave Sandford/Getty Images)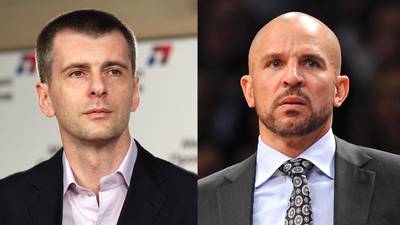 21 / 35
Nets Owner Wants to Get Even on Court With Jason Kidd - There's no love lost between Brooklyn Nets owner Mikhail Prokhorov and Jason Kidd over the way the latter spurned the franchise and left his post as head coach of the team to become coach of the Milwaukee Bucks this past summer. Talking to ESPN New York, Prokhorov stated that he's happy with an "experienced coach" like Lionel Hollins and "very strong" general manager in Billy King. He also seems to be awaiting November 19, when the Nets host Kidd and the Bucks in Brooklyn, adding: "I think we shouldn't get mad. I think we should get even. And we will see it on the court."(Photos from left: Oleg Nikishin/Epsilon/Getty Images, Maddie Meyer/Getty Images)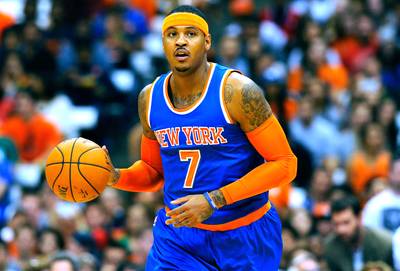 22 / 35
Carmelo Anthony Says Knicks Bad Energy Is Gone - It's early into this 2014-15 NBA season, but already Carmelo Anthony says he could feel the difference with his New York Knicks, especially when it comes to the team's overall attitude and mentality. "I think just overall, not pointing anything out, but just overall from day one last year the energy was just not right," Anthony told ESPN on Monday about last year's team culture. "This year, you could just feel the total difference stepping into this gym, talking to guys, talking to the staff, talking to the players. Everybody has a newfound energy so it's just a lot different now." The Knicks are off to a 2-1 start, hosting a tough Washington Wizards team at Madison Square Garden on Tuesday night. (Photo: Rich Barnes/Getty Images)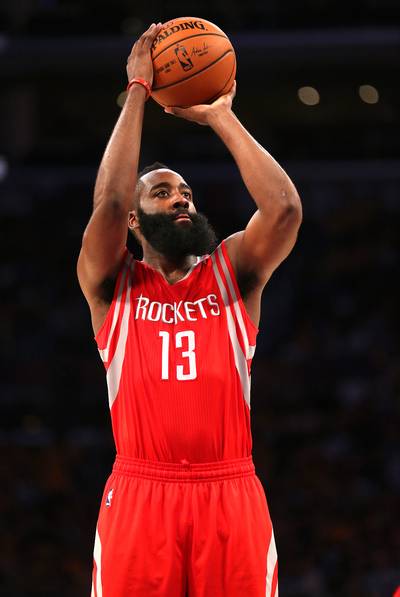 23 / 35
James Harden Posts Monster Game, Rockets Undefeated - James Harden did it all Monday night against the Philadelphia 76ers. The Houston Rockets superstar shooting guard dropped 35 points and added nine rebounds and five assists to lead his squad to a 104-93 road win over the Sixers. With the win, the Rockets improved to 4-0.(Photo: Stephen Dunn/Getty Images)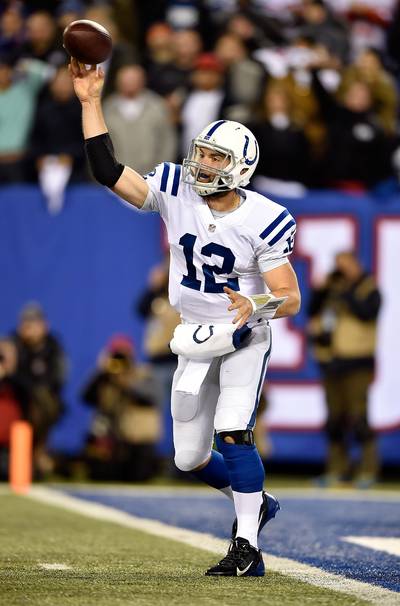 24 / 35
Colts Flatten Giants on Monday Night Football - Andrew Luck and the Indianapolis Colts silenced the crowd at MetLife Stadium with a 21-point third quarter to pave the way toward a 40-24 thrashing of the New York Giants on Monday Night Football. Luck finished with 354 passing yards and four touchdowns, as the Colts improved to 4-0. The Giants slipped to 3-5 with the loss.(Photo: Al Bello/Getty Images)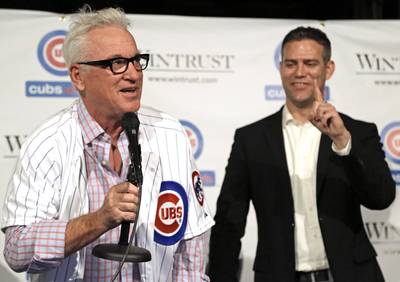 25 / 35
Chicago Cubs Hire Joe Maddon as New Manager - The Chicago Cubs have a brand new manager — former Tampa Bay Rays skipper Joe Maddon. According to the Associated Press, Maddon's deal is worth $25 million with postseason incentives. Maddon said he's going to talk playoff and World Series prospects in 2015 as part of the franchise setting the bar high. (Photo: AP Photo/M. Spencer Green)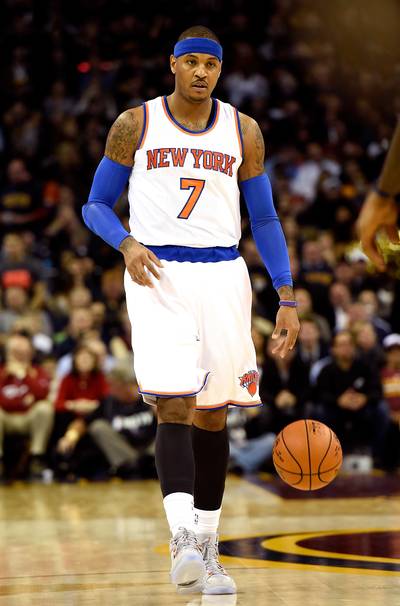 26 / 35
Carmelo Anthony Notches 20,000th-Career Point in Knicks' Win - Carmelo Anthony scored 28 points to lead the New York Knicks to a 96-93 home victory over the Charlotte Hornets on Sunday night and in doing so recorded his 20,000th-career point. At 30, Melo becomes the sixth-youngest and 40th overall player in NBA history to join the prestigous club. After the game, Anthony told the Associated Press that he's "humbled by this experience" of reaching the milestone.(Photo: Jason Miller/Getty Images)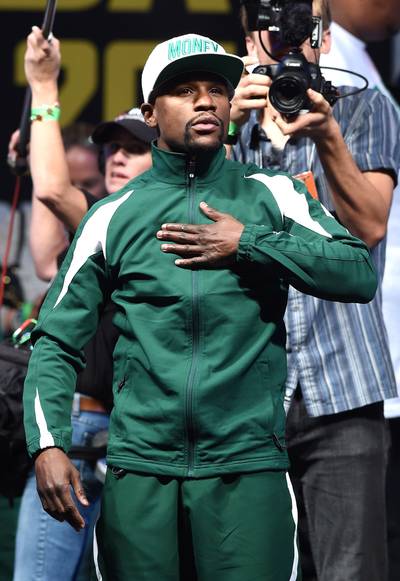 27 / 35
Las Vegas Police Warn Strip Clubs to Not Admit Mayweather - Floyd Mayweather Jr. is still undefeated in the ring. Outside the ring, however, he was just handed a loss. TMZ Sports is reporting that the undefeated boxing champion has been banned from Las Vegas strip clubs. According to the website, the Las Vegas Metro Police Department has warned several Sin City strip clubs to not allow Mayweather, with one police source even saying he "goes in and pulls a 'Do you know who I am' and does inappropriate things with some of the women." Throughout his legendary boxing career, Mayweather has been a staple in Vegas strip clubs, where he has been known to spend a lot of his prize fight earnings.(Photo: Ethan Miller/Getty Images)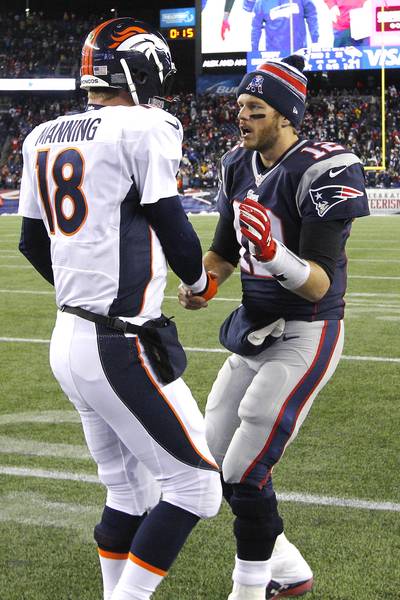 28 / 35
Tom Brady and Patriots Flatten Peyton Manning's Broncos - New England Patriots fans at Gillette Stadium in Foxboro, Massachusetts, let everyone know what they think about the rivalry between Tom Brady and Peyton Manning on Sunday with chants of "Brady's better." Brady's Pats scored a 43-21 win over Manning's Broncos, with Brady passing for 333 yards, four touchdowns and one interception to Manning's 438 yards, two TDs and two interceptions. With the win, the Patriots improved to 7-2, while the Broncos fell to 6-2.(Photo: UPI/Matthew Healey /LANDOV)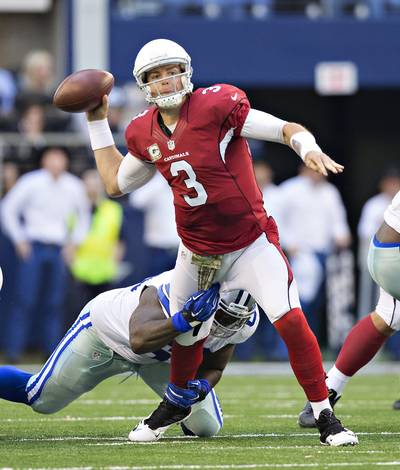 29 / 35
Arizona Cardinals Own Best Record in NFL - Who is the best team in the NFL? The Arizona Cardinals. Carson Palmer threw for 249 yards and three touchdowns Sunday to lead the team to a big 28-17 win over the Dallas Cowboys. With the victory, the Cardinals improved to an NFL-best 7-1 this season, taking full advantage of Cowboys starter Tony Romo sitting out to nurse his back injury.(Photo: Wesley Hitt/Getty Images)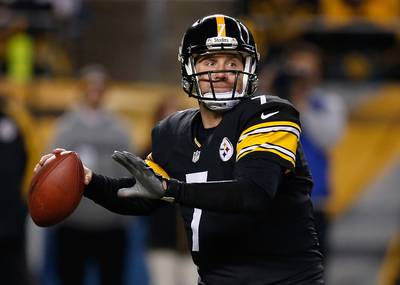 30 / 35
Roethlisberger Has Another Six-Touchdown Game - What was Ben Roethlisberger's encore to a franchise-record six-touchdown game? Another six-TD performance, this time setting an NFL record. Big Ben threw for 340 yards and six touchdowns to lead the Pittsburgh Steelers to a 43-23 home win over the Baltimore Ravens on Sunday, becoming the first quarterback in league history to toss six TDs in back-to-back games. With the win, the Steelers improve to 6-3 on the season. (Photo: Gregory Shamus/Getty Images)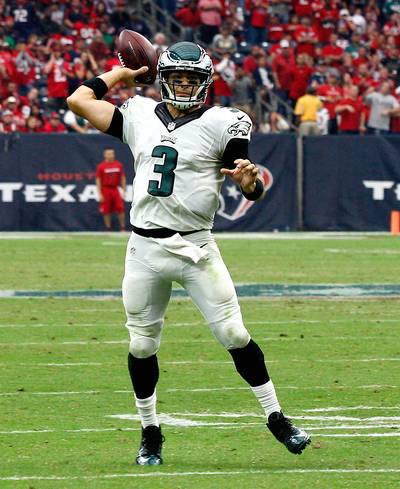 31 / 35
Eagles' Foles Breaks Collarbone, Sanchez in at QB - When Nick Foles broke his collarbone at the end of the first quarter against the Houston Texans on Sunday, Mark Sanchez came in and led the Philadelphia Eagles to a 31-21 home win. The victory, coupled with the Dallas Cowboys' loss, moves the Eagles to first place atop the NFC East division with a 6-2 record. With Foles out indefinitely, the Eagles will look to Sanchez to continue filling in at quarterback admirably.(Photo: Bob Levey/Getty Images)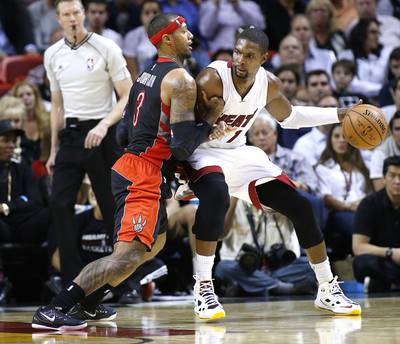 32 / 35
Heat Remain East's Only Undefeated Team - The Miami Heat are handling life after LeBron James just fine so far. Chris Bosh scored 21 points and hauled in 11 rebounds and Dwyane Wade added 19 points, 11 boards of his own and seven assists to lead the Heat to a 107-102 home win over the Toronto Raptors on Sunday night. With the victory, the Heat (3-0) remain the only undefeated squad in the Eastern Conference this young season. (Photo: AP Photo/Joel Auerbach)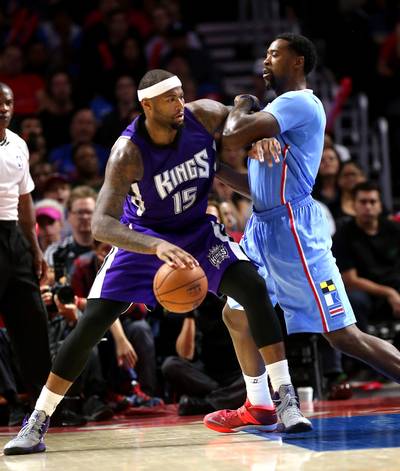 33 / 35
Cousins Has Monster Game in Kings' Win Over Clippers - Too much DeMarcus Cousins for the flashy Los Angeles Clippers to handle. That was the story as Cousins dropped 34 points, 17 rebounds, five assists and three blocks to lead the Sacramento Kings to a 98-92 road win on Sunday.  (Photo: Stephen Dunn/Getty Images)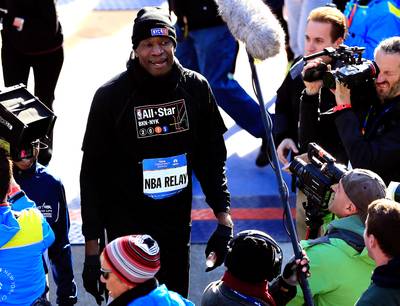 34 / 35
Mutombo Crosses NYC Marathon Finish Line for NBA Stars - NBA commissioner Adam Silver led a relay team of the league's past greats in the New York City Marathon on Sunday. After Silver handled the first three miles, Chris Mullin took over with Hall of Famer Nate "Tiny" Archibald and former New York Knicks forward Charles Oakley running before Dikembe Mutombo finished the race, giving the team a total running time of four hours and 48 minutes, according to the Associated Press. The NBA participated to inspire kids to exercise.(Photo: Alex Trautwig/Getty Images)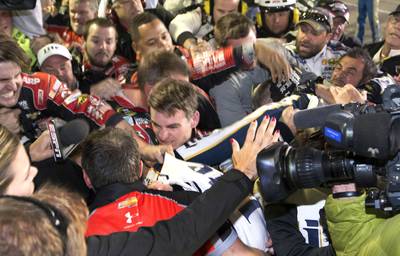 35 / 35
NASCAR Drivers Have Fist-Fight After Race - Things got testy Sunday following the NASCAR Sprint Cup Series race at Texas Motor Speedway in Fort Worth, Texas. At the conclusion of the race, which Jimmie Johnson won, drivers Jeff Gordon and Brad Keselowski came to blows after Gordon confronted him for hitting his car during the race. Their crews had to be separated after the skirmish. (Photo: AP Photo/Matthew Bishop)