5 Things We Learned From 'The Murder Inc Story' Episode 1
Did you know Gotti comes from a family of 8 siblings?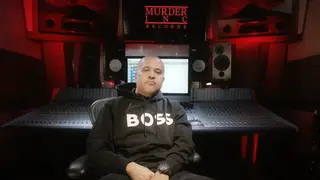 BET's new five-part documentary series, The Murder Inc Story, debuted on August 9, revealing firsthand accounts of how its founders, Irving 'Irv Gotti' Lorenzo and his brother, Chris, pulled off one of the most dominant stretches in hip-hop history in the early 2000s.
Episode one started with a bang, going into the depths of Irv Gotti's come-up in the industry, offering what ended up being both an eye-opening and educational revelation.
Here are 5 things we learned from episode one.
Irv is a family man – the youngest of 8

An intricate part of understanding the mastermind and CEO behind Murder Inc is to understand where he comes from – which is from a big family, as he's the youngest of eight children. "My family had a lot of love, but we ain't have no bread," Irv says in the doc.

In addition to having a large family, they all lived in tight quarters. Being that his mom and father remained together, it was a total of 10 of them who lived in their small, three bedroom, one bathroom home in Queens, N.Y.

Founder of Fubu had a crush on Irv's sister

The doc has a great way of showing viewers not only the era Irv grew up in during the '90s in Queens, but just how rich his community was with future ground shakers.

Daymond John, who founded FUBU and is a host on ABC's Shark Tank, for example, makes an appearance on the doc reminiscing on his crush on Gotti's sister, Dana.

"I used to go over and try and hang out just to look at their sister," Daymond John said. "She was smokin'."

Irv has a "numbers" brain

The success of Murder Inc was undeniable at its peak, charting multiple Billboard number one songs, with over 30 plus million records sold and grossing well over $500 million worldwide in the process.

With no official co-sign, Irv achieved this success with his smarts. What we learn through the doc is that he got his unofficial business savvy from his pops, who he saw hustling to work every day and who taught him to play poker at the age of four.

"Gotti has a numbers brain, which comes from that gambling background growing up," said Glen Williams, who worked video production for Murder Inc.

Irv initially did not know how to produce

While Irv may be one of the most legendary producers alive, having touched iconic tracks like "Can I Live", "What's my Name", along with other countless classics, the truth of the matter is that Irv was a DJ and did not know how to sample at first.

When first introduced to DMX's crew from Yonkers New York, Irv was primarily just a DJ. Afraid to tell them he didn't have the skillset, his excuse was that he didn't have a beat-making machine. Then they bought him one.

"So they go and buy me an MPC60," Irv laughs in the doc. "I do not know how to work this drum machine," he continued. To buy time he tells DMX that he does not have the appropriate wiring and that he will need a day. That's when he calls up Jaz-O and asks for help. "In 15 minutes he walks me through what to do," Irv said.

The name 'Murder Inc' was inspired by a crime series

Although it took some rough negotiations and threatening to leave, Irv would eventually be offered his label under Def Jam after overseeing the acquisition and success of DMX and several Jay-Z projects.

In the doc, Irv talks about initially being stumped on the name of his label until he was up at night watching gangster week on television. "It was like God slapped me," Gotti said.

Lyor Cohen was hesitant on the name but Irv Gotti explained it was a play on words. "I had a problem with Murder Inc. But when he broke it down – hits. When you had a big record, it was called a hit. So it was a double entendre. Omg, I totally understand why you're calling it Murder Inc.," Cohen said.