From Whoopi To Fantasia: 'The Color Purple' Cast Then And Now
The original movie was released in 1985 and the new version will hit theaters Christmas.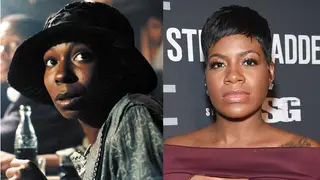 There are a handful of films that are iconic in cinematic history, and the period drama The Color Purple, based on Alice Walker's Pulitzer Prize-winning novel of the same name is one of them. Thanks largely in part to the exceptional cast, the film — which arrived theaters in December 1985 — was a major success. The film introduced the world to Whoopi Goldberg, Oprah Winfrey, making Danny Glover a household name. Decades later, The Color Purple has lived on in two different Broadway shows and productions worldwide. This December, a new theatrical version of The Color Purple will be released as a musical. 
Directed by Blitz Bazawule, the new cast includes Taraji P. Henson, Danielle Brooks, Colman Domingo, Corey Hawkins, H.E.R., Halle Bailey, Fantasia Barrino and more. Brace yourself for powerhouse acting and otherworldly vocals. Here, we look back at the cast from 1985 and the cast from 2023. 
Celie

Whoopi Goldberg was nominated for an Oscar for her portrayal of Celie. Fantasia played Celie in a Broadway version of The Color Purple to rave reviews. Fantasia on the big screen with her anointed voice is sure to be soul-stirring. 

Young Nettie

Halle Bailey will play a younger version of Nettie, Celie's sister. Akosua Busia brought Nettie to life in the 1985 version. 

Adult Nettie

Ciara is tackling the role of older Nettie (Busia played both younger and older Nettie in 1985), who fights her whole life to reconnect with her sister. 

Squeak

Rae Down Chong was Squeak in 1985. H.E.R. will portray Squeak in the musical version.

Sofia

Oprah Winfrey, who serves as producer on the new version, earned an Oscar nod for her riveting portrayal of Sofia. Danielle Brooks earned a Tony nomination for her Broadway performance of Sofia and now she is reprising the role. This iconic character delivers one of the most famous lines in movie and stage history, "All my life I have to fight..."

Mister

Danny Glover brought Mister to life in 1985. The insanely talented Colman Domingo is Mister in the musical. If you aren't familiar with Mr. Domingo, be prepared to be blown away.

Older Mister

For older Mister, Oscar winner Louis Gossett Jr. is the older version of Celie's abusive husband. 

Shug Avery

Margaret Avery slayed as Shug Avery -- a role that Tina Turner repeatedly turned down -- now it's Taraji P. Henson's turn. You may not known of  Henson as a singer, but she has the range. 

Harpo

In 1985, Willard E. Pugh played Harpo Johnson. This time around, Corey Hawkins, best known for playing Dr. Dre in Straight Outta Compton, will play Harpo.

'The Color Purple'

The Color Purple opens Christmas Day, watch the trailer above.