Paris Jackson: 'I Consider Myself Black'
Michael Jackson's daughter opens up about race in a new interview.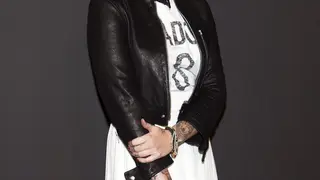 Paris Jackson is stepping outside of her legendary father's shadow now that she's a full-fledged adult and has given Rolling Stone magazine the exclusive on her life.
In the intimate interview, she touched on everything from her struggles with suicide, believing the late Michael Jackson is her biological father and considering herself a Black woman.
When speaking of her late dad, Paris gave a lengthy explanation as to why she considers him her birth father and why she will never see him as anything but.
"He is my father. He will always be my father," she said. "He never wasn't, and he never will not be. People that knew him really ... say they see him in me, that it's almost scary."
She even expounded a bit more, saying that because of the "Smooth Criminal" singer's instilling words, she considers herself a Black woman.
"I consider myself Black. [Dad] would look me in the eyes and he'd point his finger at me and he'd be like, 'You're Black. Be proud of your roots,'" she said. "And I'd be like, 'OK, he's my dad. Why would he lie to me?' So I just believe what he told me. 'Cause, to my knowledge, he's never lied to me."
Despite what her father told her, she said the outside world still sees her as white: "Most people that don't know me call me white," she said. "I've got light skin and, especially since I've had my hair blond, I look like I was born in Finland or something."
In the interview, she also spoke on why she is convinced her father was murdered, the many life lessons he taught her before his passing, being sexually assaulted at 14, and much more.
Read the rest of the in-depth interview, here.
See how fans reacted to a white man playing her father on screen with BET Breaks, above.