Drake Responds To 'Randomly Angry Poets'
The superstar rapper recently dropped a collection of poetry.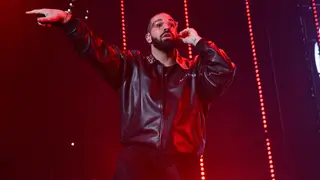 Drake's debut book of poetry, Titles Ruin Everything: A Stream of Consciousness has been widely panned by poets. The Canadian rapper, however, doesn't seem bothered.
"Randomly angry poets: blahagaggagegsvachjsksyavsvvehevehebwgabvqvqqvwvwv," he wrote in a message on his Instagram Story, Complex writes. He wrote "Me" alongside an image a shrug from legendary Canadian sex educator Sue Johanson, who passed away on Thursday in Toronto at age 93, per the BBC.
Titles Ruin Everything is a collaboration with frequent Drake co-writer and contributor Kenza Samir. According to Genius, she was a major contributor on his 2015 solo mixtape If You're Reading This, It's Too Late, on which she received 4 total writing credits.
"I don't know if I have ever wanted people to buy or support something more in my life…our first book is available tmrw on @drakerelated and other select retailers," Drake captioned the post where he shared a picture of the book cover last week.
However, celebrated poets have offered their opinion on the book. MacArthur Fellow recipient Hanif Abdurraqib told Sama'an Ashrawi that he's "not interested in gatekeeping what is or isn't 'poetry,'" but, according to Complex, he added that he isn't impressed by the poetry.
"None of these strike me as poems, because they're not even attempting to push against any unknown in order to offer something revelatory or at least somewhat beautiful," said Abdurraqib. "Some of these are so absurd that they're actually funny. But it's hard to tell if he also understands that they're bending into absurdist humor, and understands that there will be people who find it profound? Or if he's convinced himself of the profundity."
Abdurraqib has described the book as a "book of puns," or "silly lil' jokes."
The book is reportedly a preview of Drake's next album, currently titled, For All the Dogs  "I made an album to go with the book," a statement on the official website for the poetry book reads, according to Complex. "They say they miss the old Drake girl don't tempt me."
The new album will be Drake's eighth studio album.