The Second Roll: A Black Easter Tradition in Washington, DC
The history behind the capital's African-American Easter Egg Roll.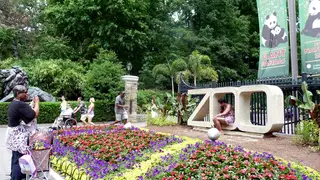 On Monday, April 21, children from all over the nation, adorned in their Easter's finest will assemble on the White House lawn to participate in the 136th annual White House Easter Egg Roll. This event, which will be hosted by President Obama and First Lady Michelle Obama, dates all the way back to 1878. It's one of the oldest traditions in the history of the White House.
More than 30,000 families of different ethnic and socio-economic backgrounds are expected to participate, but attendants haven't always been so diverse. The event didn't become officially integrated until 1954 when First Lady Mamie Eisenhower invited African-American children to participate in the festivities.
In 1891, the Smithsonian National Zoo introduced another Easter egg roll that became wildly popular among African-American families who were unable to attend the White House event. Since 55,000 Blacks attended the event in 1919, it has been embraced as a tradition for African-American families throughout the years.
As with the White House event, the National Zoo Easter Monday celebration is now a more multi-cultural affair. Just as it has in the past, this year's Easter Monday event promises to be fun-filled. Families will gather together for a day of entertainment, games and arts. Some of the features will include an Easter egg hunt, steel drum band and a typing Orangutan. In keeping up with the spirit of the holiday, there will also be a special visit from the famous Easter Panda.
This historic event is free and open to the public.
BET National News - Your source for Black news from around the world, including international politics, health and human rights, the latest celebrity news and more. Click here to subscribe to our newsletter.  

 (Photo: Marie Bouhour/AFP/Getty Images)