John Legend, Questlove and Phonte Clown Democrats For Wearing Kente Cloth In Honor Of George Floyd
What they wore has unfortunately overshadowed what they were trying to do.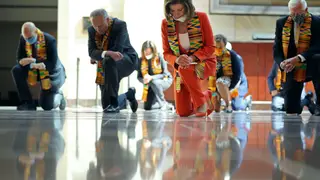 On Monday (June 8), Democratic Congress members unveiled a new police reform bill aimed at curbing police brutality. In their attempt to honor George Floyd and countless other Black lives lost to white violence, Congressional members caught the public's attention for all the wrong reasons.
Before announcing the bill, a number of Democrats gathered to hold a moment of silence at the Capitol's Emancipation Hall, CNN reported, including House Speaker Nancy Pelosi, Senate Minority Leader Chuck Schumer, and Sen. Kamala Harris. During the moment of silence, they all took a knee to honor Floyd. The issue is that most of the members did so while wearing stoles made of kente cloth, a textile pattern native to Ghana, while kneeling for eight minute and 46 seconds. It's the same amount of time that fired Minneapolis officer Derek Chauvin knelt on Floyd's neck which ultimately led to his death.

Rep. Karen Bass, chairwoman of the Congressional Black Caucus (CBC), explained at a press conference that the stoles were gifted to the members from the CBC and were worn by all as a gesture to pay respect to Black American's African heritage, according to CNN.

While they're intentions may have been well-meaning, the image of white Congressional Democrats wearing kente cloths elicited widespread criticism online from a number of Black celebrities and writers, many who felt the act was unnecessary or worse, pandering.

"Everyone was texting me these Kente Cloth photos, I had to come here to make sure the Roots weren't  pranking me. I just…," Questlove wrote in disbelief on Twitter.

Little Brother's Phonte likened the move to a skit straight from IFC's comedy series, Sherman's Showcase. "Our duly elected officials acting out a skit from [Sherman's Showcase] wasn't on my 2020 bingo card either," he tweeted along with a fictional music video titled "Add Some Kente."

"Man," John Legend wrote in response to Phonte sharing the video. "We got the Speaker of the House of Representatives of the United States of America to promo a [Sherman's Showcase] song."

The internet clearly has no chill and has been having a field day over the photo op. Check out more reactions below

BET has been covering every angle of George Floyd's death in police custody, other social justice cases and the subsequent aftermath and protests. For our continuing coverage, click here.