Does Rick Ross Have a Birdman Diss Track on the Way?
Rozay might be dishing it all on "Rather You Than Me" album.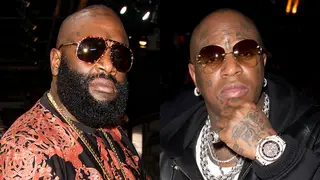 It's no secret that MMG's top boss Rick Ross and Cash Money's chieftain Birdman have had their differences over the years.
But in a track from Ricky Rozay's approaching Rather You Than Me album, he may be making the tension between the two even thicker. 
In a recent Billboard interview, Rozay shared details of his ninth studio undertaking, which is also his first release under the umbrella of Epic Records. Speaking on his idea behind the album's mysterious title, he added that a track titled "Idols Become Rivals" would be included as a personal letter to a nameless industry figure he formerly looked up to.
"I've got a record titled 'Idols Become Rivals' and it's basically me writing a letter to someone in the game that I looked up to damn near the most," he explained. "And I hate what things have come to."
While it's not verified whether the single will be an actual diss track or just an address to previous sentiments about Birdman, Rozay assured that he's experimenting with new directions for the impending album.
And after we learned that Nas, Future, 2 Chainz, Gucci Mane and hopefully a few assists from the two heavyweights of his MMG team, Wale and Meek Mill, could be included, the anticipation for the project has just escalated to gloriously new heights.