Drake Might Executive Produce New Aaliyah Album
The hip hop star sets his eyes on new Aaliyah music.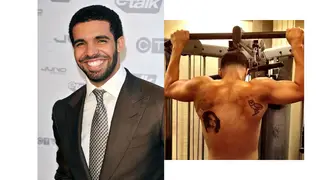 Drake is a longtime admirer of Aaliyah, with a tattoo of the late R&B singer on his back. He's cited her as one of his early influences and now he's rumored to be an executive producer on her posthumous album. According to HipHopDX, the Toronto rapper will take leadership over her new LP and feature the deceased star on one of his new singles.
"I have some great Aaliyah news coming soon," the rapper told Tim Westwood earlier this year. "Just some special things. Just gave you that, just a little. Because I said, I'm with Westwood, so I can't not. But great things, great things for music, period."
To the dismay of many fans, there have been conflicting reports about the rumored Aaliyah project for a while. In March, producer Jeffrey "J. Dub" Walker said that the never released song "Steady Ground" would appear on Aaliyah's upcoming album. However, the R&B star's brother, Rashad Haughton, later denied that the project was in creation.
There must've been some progress over the months, as Drake is set to premiere his new track featuring Aaliyah at the OVO Festival in Toronto this Sunday. In the past, he's sampled the songstress' vocals on his single "Unforgettable." Only time will tell if he'll actually get to release a new Aaliyah album.

BET.com is your #1 source for Black celebrity news, photos, exclusive videos and all the latest in the world of hip hop and R&B music.
(Photos from left: WireImage, Twitter)