Sorority Investigated For Racism After Member Was Heard Saying 'Black People Get Away From Me'
Black students at the University of New Mexico also say this was not an isolated incident.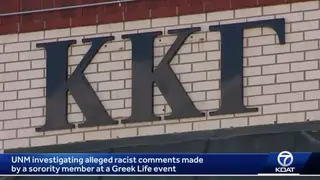 A sorority at the University of New Mexico is under investigation after a member of their organization allegedly made racist comments during a Greek life welcome event for new members.
KOAT reports students at the event heard the comments made by members of Kappa Kappa Gamma while a Black speaker was presenting at the event.
"The girls that were sitting behind us said that you were giving me anxiety right now in a mocking, joking manner towards her when she was speaking," Nick Morgan, Vice President of Black Brothers Cultivating Knowledge told KOAT.
After the initial mocking, Morgan said, the girls continued to make offensive comments.
"'Black people, get away from me,' and they repeated it more the once. 'Black people stop wearing grills,'" Morgan added.
While the comments may have begun at the welcome event, they did not end there.
"This situation, it is not an isolated situation," UNM Black Student Union Vice President Dannelle Kirven told KOAT.
NAACP UNM chapter president Nieajua Gonzalez confronted the member accused of making the comments and the student reportedly admitted to saying everything.
"I'm sorry, I said there is no way that you could have said that that was going to make it appropriate. Do you understand how offensive that is?" Gonzalez said.
KKG released a statement saying they are aware of the situation and are investigating the incident.
"KKG values diversity and inclusion among our membership, and we encourage our members to promote and demonstrate an understanding of these values, both on the college campus and in the world community," the statement read.
Students who were at that meeting say they are not satisfied with just an apology.
"I think that they need to put more emphasis on an unconscious bias training for their members. They need to educate their members on how to interact with people of color," said Kirven.
Members of the UNM BSA said they have a meeting with several university leaders on Monday to talk about what will happen next.
UNM's president, Garnett Stokes, sent KOAT this statement:
"I have recently engaged with members of the Black Student Alliance and African American Student Services, and take to heart their concerns about our campus climate, and opportunities for improvement. Creating and sustaining a welcoming and respectful environment at UNM is a shared responsibility, that must be infused across both academic and social dimensions of campus life."