[Watch] Nick Gordon Breaks His Silence About Bobbi Kristina's Death
He also drops a huge secret about their troubled relationship.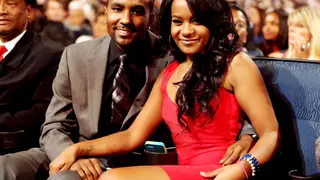 Nick Gordon is speaking out for the first time since the death of his girlfriend, Bobbi Kristina Brown, and shares some unbelievable details about the day she went unconscious as well as their life together. Gordon, who remains the target of a criminal investigation into the music scion's death as well as a civil suit from Bobbi Kristina's estate, tells Dr. Phil he's innocent of the allegations but does admit that the two of them were doing drugs "more and more" in the weeks leading up to the tragedy.
"I can't blame myself for another addict's addiction but I feel like I failed her. She didn't make it. I wish she got help," he tells Dr. Phil. "I wish she got my spot [in rehab]. I did not protect her the way that I was supposed to — even if it was from herself."
Here's what Nick says happened that fateful night, hours before Bobbi Kristina was awake for the last time: he admits that there was a fight because Bobbi thought he was cheating, and that when he came home with friends around 4 a.m. she was already pretty "messed up" on drugs. He says they made up and went upstairs "and lay on the bed for about 45 minutes and did what adults do." 
He says the next morning, he and his friend Max Lomas, who, reports say, was the one who found Bobbi Kristina, were overseeing a cable guy doing some installations when Lomas found her in the bathroom, submerged in the tub. "He knocked on the door and didn't hear a call from Krissy. He knocked on the bathroom and still didn't hear a call from Krissy and that's when he found her in the bathtub. Then he calls my name," Gordon says. "I knew instantly something was wrong. You know there's a tone; you can hear it in someone's voice. I ran to my room and then I saw my girl on the floor. It was so traumatizing. I dropped to my knees and kept giving her chest compressions and blowing into her mouth."
There was a moment of relief, he tells, when Bobbi Kristina spat up some water. "I thought she was going to come round but that never happened."
Among the other bombshell revelations that Nick, who was also present when Whitney Houston drowned in a bathtub at the Beverly Hilton hotel in 2012, reveals: that Bobbi Kristina had nearly drowned in a tub once before, and was saved by her mother. And, he and Bobbi were desperate to get clean and start a family. He even admits that Bobbi had two miscarriages during their time together.
The two-part interview airs this Thursday and Friday, April 28 and 29, on Dr. Phil. Check your local listings. Read more details from Nick's account of Bobbi Kristina's final days on the Daily Mail.
To get more details on the passing of Bobbi Kristina, watch the video below.