The Internet Is Clowning The Return of Shereé Whitfield's She by Shereé Clothing Line
Y'all ready for her "lifestyle joggers" or nah?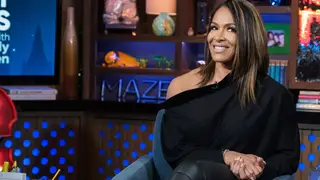 Wow! Andy Cohen sure knows how to put people on blast and get them together real quick. And that is exactly what happened last night on the RHOA reunion special when he focused his attention on now former housewife Shereé Whitfield.
Back in August of 2017, we shared our excitement for Shereé's She By Sheree T-shirt launch in Nordstrom after 10 years of trying to get her brand up and running. However, after last night's reunion special, we get the feeling that this might have been Shereé's first and only success with the line.
Here's the tea. Last night, Andy Cohen asked Shereé what's happening with her clothing line, She by Sheree, and the housewife clearly did not see that coming. Stuttering her way around the question, she could not find the appropriate words to describe the brand's progress. Going down slowly in every answer she gave, the only thing sis could grasp thoroughly was the long pony she rocked.
Apparently, She By Shereé is expanding into "lifestyle joggers," which will potentially launch Spring/Summer in September of 2018 ("potentially" because even Shereé isn't sure).
Obviously, our girl had to be making it up along the way after Andy spoke about her wearing sweat pants all season. Shady Andy! And well, um… what did we think? The internet hit it right on the head.
Welp, all we can do is wait until September 2018. Until then, be mindful that you can't check Shereé, but be sure to circle back for an update.