Michael Jackson's Nephew Jaafar To Star In King of Pop Biopic
The upcoming project titled 'Michael' will be directed by Antoine Fuqua.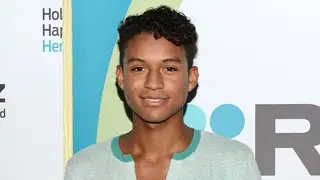 Michael Jackson's nephew Jaafar Jackson will play his uncle in the upcoming biopic Michael directed by Antoine Fuqua.
According to Lionsgate, the film will depict the complicated legacy of the King of Pop. It will explore all aspects of his life, "including his most iconic performances that led him to become the greatest entertainer of all time," the Variety notes.
Michael will be the first major film role for Jaafar, who is the second-youngest son to songwriter, producer and Jackson 5 member Jermaine Jackson, Michael Jackson's brother.
"Jaafar embodies my son. It's so wonderful to see him carry on the Jackson legacy of entertainers and performers," said the singer's mother, Katherine Jackson, in an official statement.
"It's incredibly exciting to watch Jaafar bring Michael to life," Fuqua added. "There was such a spiritual connection when I first met Jaafar, who has a natural ability to emulate Michael and such a great chemistry with the camera."
Jaafar also confirmed the news on his Twitter and said that he's "humbled and honored to bring my Uncle Michael's story to life."
Michael begins shooting this year.