'P-Valley' Season 2: Elarica Johnson Says Hailey and Andre Are "Soulmates"
In this BET.com exclusive chat, Parker Sawyers shares how Andre will figure out his "real goals" this season.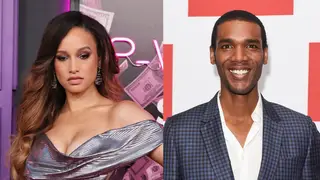 Your soulmate may just be at The Pynk.
The most highly-anticipated series P-Valley is back and this season definitely upped the ante with all the twists and turns the show is delivering. If you think you're going to guess what will happen next for season two, think again because it will keep you guessing.
BET.com chatted with the stars Elarica Johnson (Hailey Colton) and Parker Sawyers (Andre Watkins) who chatted about their characters forbidden love story, how their characters coping with the aftermath after ast season's wild finale, and how they view their characters as soulmates.
BET.com: How would you describe Hailey and Andre's relationship and how will the relationship evolve this season?
Elarica Johnson: I feel like these two are actually soulmates. To see how drawn together they are in season one and their want to be truthful and honest with each other — she wants to tell him everything. Moving forward, the relationship building which isn't in a great space because he's married — they defnitely come together and you see it in a different in season two. I say that because the position of power has changed, the conversations changed, and there's more conversations about The Pynk, their future, and their careers. You'll see a lovely arc between them.
Parker Awayers: I do think they are soulmate but it's unfortunate that they meet at this time. They are both stressed at this time with Hailey and Andre both running from something. On the surface, it could look like you guys are both in a mood — this is real. Also, because of the soulmate — whether it's physical, mental, or emotional, we're all three. They still connect. They can make each other laugh and it's special to see. In season two, they get a lot done together. There's a lot going on and they keep coming back to each other, which is really cool.
BET.com: It seems Hailey has a lot on her plate this season…how will the audience see her evolve into a businesswoman in season two?
Elarica Johnson: The growth is there. From the very beginning, the businesswoman has always been apart of Autumn. That's the Hailey part of her and we're finally getting a chance to see her in a space where she feels comfortable with the audience finally seeing why she's knows numbers so well and all the little moments we were picking up in season one. Plain and simple — she's a boss. She comes from this place where she's lost things and been involved in scary moments so like the other characters, she goes through it this season. There's a lot of digging in dark places but there's always a light that comes through. You're gonna see a big change in who Autumn Night is and more of Hailey Colton.
BET.com: Your character is at a career halt at this time and deals with something pretty painful in the first episode … what journey will we see your character go through in season two?
Parker Sawyers: You'll see [Andre] figure out his real goals and what he really wants to do. There's things we choose to do and we think it's a good idea. Then there's things we go along with. Andre is getting the confidence and belief in himself as well as the faith and support to chase his dream. For example, the energy of a politician who believes in their mission — the energy they have to get out everyday, they believe in something. I think he finds that sort of energy which is beautiful.
BET.com: How does it feel to know you're on one of the most highly anticipated and talked about show's out right now? Does it motivate you in anyway?
Elarica Johnson: I'm a huge fan of storytelling and that's why I do this job. To be on this show, put something new out there, and creating a platform for Black women, Black culture — it's huge. You can look at your career and hope for things — within that are all these little things you want to do. Being on P Valley is one of those little things that ended up being a huge thing and such an important process in my life. The show is a great story for people to watch and for the industry to watch and say, look at these women and Black culture. They can watch and say look at this space and the female directors in season one and season two. It's incredible.
BET.com: How would you describe season two in your own words?
Parker Sawyers: I got a good one. Phototropism [laughs]. I think that's when a plant is a bit askew because it grew towards the light source and that's what I see everybody doing. Even the camera angles are a bit askew like in the very beginning. But for the most part, the characters are moving towards their light. Everybody is own their own personal important journey.
BET.com: We've all been to the strip club before or atleast on set. To have the best night at the strip club, what are some essentials the strip club needs to have?
Elarica Johnson: Wings and money.
BET.com: Are you a lemon pepper type of gal or what?
Elarica Johnson:  We don't have lemon pepper back at home and it's so good. So yes, lemon pepper wet.
Parker Sawyers: I would say comfortable seats. Ya'll saw me in episode two the first season — I have a flat a** so I need a comfortable seat.
Ty Cole is a New York-based entertainment reporter and writer for BET.com who covers pop culture, music, and lifestyle. Follow his latest musings on Twitter @IamTyCole.