P-Valley' Season 2: Nicco Annan Says Uncle Clifford and Hailey's Relationship Will Be An "Interesting Ride"
In this BET.com exclusive chat, Brandee Evans also shares how fans will see the backstory of Mercedes this season.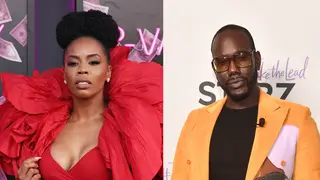 We are back in the valley where the girls get naked as fans of Katori Hall's P-Valley are getting ready for Season 2's premiere, which airs Friday, June 3, on STARZ.second
It's been a while since we've seen our favorite characters make it rain and clap, but BET.com was able to get some tea about what they have been up to as we chatted with Brandee Evans and Nicco Anann who play Mercedes and Uncle Clifford respectively.
The stars shared how audiences will be able to dig deeper into their characters' lives and how one particular relationship dynamic will serve as an interesting ride" as Season Two unfolds.
BET.com: What was the best part of shooting this season for the both of you?
Brandee Evans: Surviving it [laughs]. I love that I get to go into the backstory of Mercedes this season. Fans will be able to see where this woman comes from as some of ya'll thought she was just a mean girl. You get to understand why she's so hard. I'm excited that the audience gets to go down this journey with my character and many of the questions that these other players on the show have to get answered.
Nicco Annan: I was traumatized but excited that you get to see Uncle Clifford's wit not only in dialogue but her business mind as well. You'll be able to see how we can survive through the pandemic business-wise and create new ways of income while keeping the home alive for the family.
BET.com: Uncle Clifford is sharing power with Hailey as they are partners at The Pynk. hat can you tell us about Hailey and Uncle Clifford's teamwork or lack thereof this season and the challenges they go through?
Nicco Annan: Is this a real question or are you just fishing for some tea? [Laughs] I feel like Clifford and Hailey, Autumn Night, or whatever her name is [laughs], who is played by the lovely Elarica Johnson, has been doing the most. She saved the club in terms of putting her $250,000 up in the auction but we don't know if she has an ulterior motive as when sometimes somebody helps you. Clifford has been around the block enough to know when someone is not walking in their truth. Clifford is smart enough and savvy enough to hang in there that she might be pushed around. Life may hit you with a couple of loads here and again, but I think it's an interesting ride. I think the between Hailey, Clifford, and Mercedes, what happened at the end of Season One and on Lil' Murda Night was something we felt solidified a union. So they are able to coexist in that way.
BET.com: Now Mercedes and her mother are like oil and vinegar. Alongside the former's own struggles, she's a coach for a young girl's dance team. If you were to give any advice to Mercedes, what would you all tell her?
Brandee Evans: I would tell her you can make it and don't give up. And you say Mercedes and her mother are polar opposites … are they though?
BET.com: Maybe I'm biased because of Mercedes [laughs].
Brandee Evans: I love it [laughs].
BET.com: In the new season, Uncle Clifford has to contend with his feelings for Lil' Murda and how things ended after Lil' Murda Night. How will audiences see that relationship unravel? What do you hope they take away from it this season?
Nicco Annan: I hope that people take off their shackles this season and become freer with whomever they are while loving whomever they love. With this season and seeing that journey between these two characters specifically, I think people have welcomed them into their homes as they become more understanding now that things may look different than before — but it's still the same love. There was a lot that happened between these two in Season One and where they are going now takes a lot of growth. It's not something that can be healed by just words. There must be action behind it.
*This interview has been edited for length and clarity
Ty Cole is a New York-based entertainment reporter and writer for BET.com who covers pop culture, music, and lifestyle. Follow his latest musings on Twitter @IamTyCole.