Black Twitter Reacts To Elon Musk's Twitter Acquisition, Wondering Where's Everyone Going Next
The NAACP issued a statement warning the billionaire, while Black users respond – with tweets.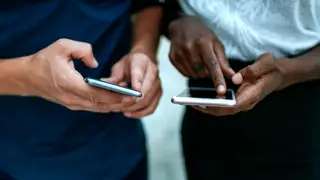 Tesla founder and CEO Elon Musk acquired the social media platform Twitter on Monday (April 25) for a little over $44 billion. Since his acquisition, Black Twitter is responding with the rest of the world to one of the largest corporate takeovers in two decades.
On Monday (April 25), the NAACP specified in a statement that democracy is to be protected and shielded against hate speech and pointed out that former president Donald Trump should not be allowed to return after he was banned for spreading misinformation about the 2020 election.
"Mr. Musk: free speech is wonderful, hate speech is unacceptable. Disinformation, misinformation, and hate speech have NO PLACE on Twitter," the statement reads. "Do not allow 45 to return to the platform. Do not allow Twitter to become a petri dish for hate speech, or falsehoods that subvert our democracy. Protecting our democracy is of utmost importance, especially as the midterm elections approach. Mr. Musk: lives are at risk, and so is American democracy."
But the reaction to the purchase is broad and everyone seems to be talking about it, speculating what it will mean for its 330 million monthly active users, and in the minds of some, the degree of free speech that has been afforded those who use social media.
Activist Shaun King's Twitter page seems to have disappeared following his tweets stating Musk's Twitter purchase is about "white power." According to Newsweek, King deleted the account.
"At its root, [Musk] wanting to purchase Twitter is not about left vs right," King had posted on the platform. "It's about white power," his since-deleted tweets said. "The man was raised in Apartheid by a white nationalist," King argued. "He's upset that Twitter won't allow white nationalists to target/harass people. That's his definition of free speech."
Black Twitter isn't the most excited for Musk's takeover. Born in South Africa, many are connecting his family with the white supremacist apartheid regime, which ended 30 years ago. Although his family was wealthy during that era, he has denied that any of his family's mining fortune came as a direct result of the policy.

That didn't stop some from making the connection, though. One user said "I got so many ways I'm going to bring up Elon Musk's family history with apartheid in relation to his eventual mismanagement of Black Twitter."
"Is Musk a racist? I need to know," another user raised the question in a tweet.
A user responded and said, "Historically, how many rich [white] men aren't??"
Some Twitter users, including rapper Donwill of hip hop group Tanya Morgan encouraged developing a "Black Twitter" app.




But lots of people who make up Black Twitter simply wondered where the party is going now, believing that their stay on the app is coming to a close.