Tense Times for Black Students at UCLA's Law School
Black students at the UCLA law school are complaining about a lack of diversity and racist incidents.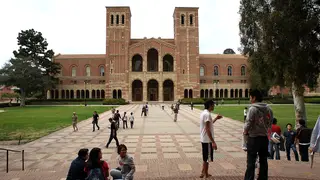 To hear Black students at the UCLA law school tell it, this is a time of great strain at the prestigious institution.
First, there was a video released within the last week where Black students at the law school described their feelings of isolation and of being marginalized. That was followed by a number of incidents in which Black students said material regarding African-American events were ripped off the walls.
In another incident, a Black student said she had been the recipient of a note, telling her that she and fellow African-American students were being too sensitive, a message that used the N-word.
"The atmosphere here is tense, very tense," said Ronald Robertson, a second-year student at the law school who produced the video that has sparked national attention, in an interview with BET.com. "There are efforts to alleviate the tension. But so far, there seems to be a lot of work to be done."
A dominant message in the video is that there are only 33 African-Americans among the 1,100 in the law school. And the video is part of a campaign to raise awareness of the lack of diversity at the school and the need to have it addressed, Robertson said.
"I am so tired of being on this campus every day and having to plead my humanity, essentially, to other students," one woman said, in the video. "I feel like an outsider constantly. I don't feel like at my own school I can solely focus on being a student."

Another woman in the video said: "It feels isolating. It feels horrible. It feels like there is a lot of pressure, a lot of weight. It feels like I don't belong. It feels unwelcoming and hostile."
Robertson, a board member of the school's chapter of the Black American Law Students Association, said the students have made several recommendations to the administration. They include more scholarships for minority students, developing diversity training and creating a position of dean of diversity.
"We recognize that racial issues exist across the campus, not just in the law school," said Rachel F. Moran, dean and distinguished professor of law at UCLA's School of Law, in a statement.
She added that the school's chancellor "issued a special announcement about the need to redouble our diversity efforts in the wake of Proposition 209, which prohibited affirmative action in admissions at any public college or university in California."

Robertson said that there are talks underway between student groups and the school's administration and that everyone hopes for the best. "But for the moment, the campus climate leaves a lot to be desired."

BET National News - Keep up to date with breaking news stories from around the nation, including headlines from the hip hop and entertainment world. Click here to subscribe to our newsletter. 
 (Photo: David McNew/Getty Images)