Quentin Tarantino Kind of Apologizes to Ava DuVernay
Director slammed Selma without ever seeing it.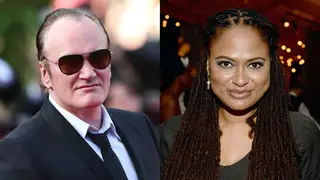 Quentin Tarantino is dialing back his criticism of Selma and director Ava DuVernay after saying that the civil rights film deserved an Emmy, not an Oscar. Tarantino took the dig at the film, which was nominated for Best Picture this year, in an interview with author Bret Easton Ellis for The New York Times. 
"I'm writing you to pass on that the quote from the NY Times piece about Selma is wrong. I never saw Selma," Tarantino wrote to Indiewire. "If you look at the article, it was Bret who was talking about Selma, not me. I did say the line 'it deserved a Emmy,' but when I said it, it was more like a question." The Django Unchained director then rambled on about '70s TV movies and claims he would be honored to be placed among those kinds of films, but never apologizes directly to DuVernay for the underhanded diss.
Though he backtracked on his comments about Ava, Tarantino is apparently unbothered by the criticism from some members of the Black community surrounding his 2012 slavery drama, Django Unchained. The film sparked controversy for its seeming exploitation and excessive use of the n-word.
In the same interview, Tarantino said he "couldn't have cared less" about what some Black critics had to say about his film. "If you've made money being a critic in Black culture in the last 20 years you have to deal with me," he told the Times. "You must have an opinion of me. You must deal with what I'm saying and deal with the consequences ... if you sift through the criticism, you'll see it's pretty evenly divided between pros and cons. But when the Black critics came out with savage think pieces about Django, I couldn't have cared less."
He continued, "If people don't like my movies, they don't like my movies, and if they don't get it, it doesn't matter." He also added that he doesn't understand why race is consistently brought up in relation to his work. "The bad taste that was left in my mouth had to do with this: It's been a long time since the subject of a writer's skin was mentioned as often as mine," he said. "You wouldn't think the color of a writer's skin should have any effect on the words themselves. In a lot of the more ugly pieces my motives were really brought to bear in the most negative way. It's like I'm some supervillain coming up with this stuff.''
Tarantino stopped by 106 & Park in 2012 to promote Django and talk about taking a stand against the criticism of the film. Watch the clip below:

BET.com is your No. 1 source for Black celebrity news, photos, exclusive videos and all the latest in the world of hip hop and R&B music. 
(Photos from Left: Vittorio Zunino Celotto/Getty Images, Andrew Toth/Getty Images for Rush Philanthropic Arts Foundation)