Marsai Martin Dazzled with Braided Up-Do at The Little Mermaid Premiere
The 18-year-old actress and entrepreneur looked exquisite with a soft natural look.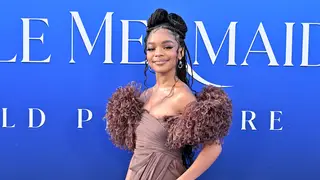 Everyone's favorite "Baby Sis" Marsai Martin is an award-winning actress and producer--and she is also a fan of a soft natural glow.
At the Hollywood premiere of The Little Mermaid, Martin styled her hair in an up-do that gave braided jellyfish vibes. According to Allure, her medium-sized goddess box braids flowed past her hips. The braids were installed by Atlanta-based braider Kesh Kesh, and hairstylist Alexander Armand finessed them into the unique style for the film premiere.
The front half of the braids was divided into two sections. Each section was then wrapped into a circular shape and pinned in place at the crown of her head--while a few soft tendrils curved around her face and her baby hair was slicked in soft loops.
The look was highlighted with makeup by Los Angeles-based makeup artist Diana Shin who painted a dramatic cat-eye and accented it with soft nude hues on her cheeks and lips.
Her brown Giambastita Valli gown was then perfectly paired with gold sandals.
Martin has previously shared her love of braided styles. In a February 2022 interview with Allure, the Black-ish star said she adores braided looks because they don't require styling. "You just wake up, take off your bonnet, and your hair is just perfect."