Opinion: There's A Good Reason Black People Shouldn't Chase After Twitter Blue
It might be for the best that you don't spend your bread on the Bird App's feature.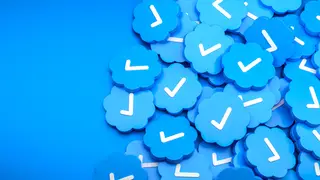 Fulfilling a promise he made not long after he acquired Twitter for an ungodly amount of money last October, CEO Elon Musk on Thursday finally removed the "legacy" verified accounts for thousands of Twitter users, forcing them to pay $8 a month for Twitter Blue if they wish to remain verified.
Verification was previously reserved to acknowledge that publicly recognized people were owners of the Twitter account – if you saw an account claiming to be Rihanna trying to sell you a timeshare, you knew it was fake.
Twitter Blue's alleged perks include longer tweets, longer videos, and bold and italicized text. But under the surface, it's just another in a substantive list of reasons why Black folks shouldn't even think about shelling out money for the Bird App.
Since Musk is apparently making everyone with fewer than 1 million followers pay for Twitter Blue, it's bad news for Black creatives who use Twitter as a genuine conduit to get exposure for their work or are more susceptible to be impersonated by a fake user since it's now much easier to confound real Twitter accounts with fake ones.
"…as someone who's dealt w harassment including impersonation on social media for over a decade, being verified helped to protect my work, my voice & my audience," wrote comedian Franchesca Ramsey in a locked tweet.
For example, while Kerry Washington and her "Scandal"-earned seven-plus-million followers keeps her blue check without paying, Halle Berry, with nearly 900,000 followers, lost hers and refuses to pay for verification.
I could, in theory, create the handle "@HalleBerry11," attach her name and photo to it, sign up for Twitter Blue and fool a lot of people with a tweet stating that she's breaking up with Van Hunt to finally fulfill her decades-spanning desire to run away to the Maldives with Dustin.
We saw this fakery executed to delicious effect in November when Big Phama company Eli Lilly saw a sharp stock drop after a fake Twitter Blue account with its name and logo announced that insulin would be free going forward.
We saw a not-so-fun example last weekend when Twitter accounts pretending to be Chicago Mayor Lori Lightfoot and the Chicago Department of Transportation tweeted about the permanent closure of Lake Shore Drive. As a Chicagoan who knows that LSD is one of the biggest thoroughfares in an already congested city, I wouldn't be surprised if those fake tweets led to a cardiac episode or three.
The problem, of course, is that Lightfoot's real account no longer has a verified check next to it, and many people didn't bother to investigate the veracity of the tweets before having meltdowns.
There's good reason why a lot of celebrities aren't exactly hard-pressed to pay the price of a Grande Starbucks drink once a month for verification (including LeBron James, who vowed that he would never pay the money despite having enough followers to keep the check): It has everything to do with Musk going out of his way to be a very unlikable human being.
There's the whole "opening up free speech" bit, which had Musk allowing avowed racists banned by previous leadership back on the network, and also had the by-product of N-words flowing like water immediately following his acquisition. Understandably, advertisers who previously shelled money for the app are hesitant to keep advertising on the social network.
"For many communities, his willingness to leverage success and personal financial resources to further an agenda under the guise of freedom of speech is perpetuating racism resulting [in] direct threats to their communities and a potential for brand safety compromise we should all be concerned about," wrote Tariq Hassan, McDonald's chief marketing and customer experience officer, in an email chain.
There's also Musk himself: His tweets are a smorgasbord of microaggressions and support for nakedly racist idiots like "Dilbert" creator Scott Adams, who went on a career-ending racist tear in February. Dude always seems like he's one press of the send button away from full-bore white supremacist but manages to toe the line just enough to not cross over.
His smug billionaire affectations are why many celebrities over that 1 million follower mark made it a point over the weekend to insist to their followers that they refused to drink the Musk Kool-Aid and pay for Twitter. Several under that 1 million mark made it a public point to not care, including comedian Robin Thede, who said she will continue to "tweet unbothered."
Truth is that the blue check mark has now been rendered essentially meaningless. We've already seen a mess of attention-starved users with 300 followers pollute Twitter with opinions that are no less pointless with a blue check next to them. Or, to put it even less democratically, what Doja Cat said:
I know how much we all love Black Twitter, and I know that there's no real analogue to it right now. But consider, at the very least, not actually funding the machinations of a man who doesn't appear to care much about folks who look like us. Don't play Musk's Twitter Blue game…the new Twitter probably won't make it worth it.
Dustin J. Seibert is a native Detroiter living in Chicago. He loves his own mama slightly more than he loves music and exercises every day only so his French fry intake doesn't catch up to him. Find him at wafflecolored.com.