St. Louis Mayor Quits Twitter After Elon Musk Mocks Ferguson's 2014 'Hands Up Don't Shoot' Protests
'This is the final straw for me,' Mayor Tishaura Jones says.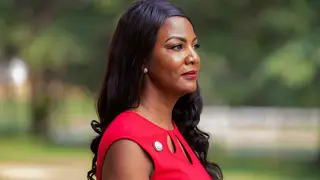 St. Louis Mayor Tishaura O. Jones announced on Thanksgiving Day that she's leaving Twitter over a tweet from the platform's new owner, Tesla CEO Elon Musk, that mocked the 2014 "Hands up don't shoot" protests in Ferguson, Mo.
"This is the final straw for me. I'm out. Follow me on Instagram @tishaura. Y'all can have this bird app," Jones, who had more than 33,000 followers, posted on her personal Twitter account.
The St. Louis Post-Dispatch reported that Jones has been active on Twitter for more than a decade, using the platform for campaigning, endorsements and sharing parenting stories.
But Musk, a self-proclaimed "free speech absolutist," appeared to have crossed a line for Jones when he discovered a batch of #StayWoke T-shirts at Twitter's San Francisco office and mocked the company's previous support for demonstrators who raised their arms in protest of police killings of unarmed Black men. The protests followed the fatal shooting of Michael Brown, 18, by former Ferguson police officer Darren Wilson.
Musk tweeted: "'Hands up don't shoot' was made up. The whole thing was a fiction," citing a report from President Barack Obama's Justice Department that Musk said exonerated Wilson.
CNN reported in 2015 that a DOJ investigation did not confirm witness accounts that Brown had his hands up when Wilson shot him. However, Musk's comments ignored the department's scathing report that found widespread racial bias in Ferguson's police department and courts, including routinely profiling African Americans and violating their constitutional rights.
Shortly after Musk closed his $44 billion deal to purchase Twitter in October, NBC News published a running list of celebs who announced plans to stop using the platform.
"Not hanging around for whatever Elon has planned. Bye," TV producer and writer Shonda Rhimes tweeted.
Meanwhile, Jones' mayoral twitter account will remain active, her office told the Post-Dispatch.