This Day in Black History: Oct. 26, 1911
Mahalia Jackson was born on Oct, 26, 1911.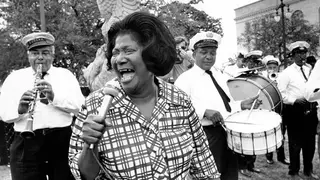 "You going to be famous in this world and walk with kings and queens," an aunt told 12-year-old Mahalia Jackson. Born on Oct. 26, 1911, in New Orleans, where she shared a shotgun house with 13 people, the future could only get better.
But before it did, Jackson's mother died when she was just four and she had to leave school in the fourth grade to help out at home. She had music though — the jazz bands that entertained the city and the gospel that healed souls, with some Bessie Smith in between. On Every Wednesday, Friday and four times on Sunday, when Jackson sang at Mt. Moriah Baptist Church, the sound wafted out into the street so that, one imagines, sinners also could enjoy her energetic contralto voice.

In the late 1920s, Jackson moved to Chicago, where she sang and performed with church choirs and began recording in the 1930s. Her first big hit was "Move Up a Little Higher" in 1947, which sold a million copies and led to radio and television appearances, a tour in Europe and gospel music show on CBS.

Jackson also lent her powerful voice to the civil rights movement. The "Queen of Gospel" sang at Selma, Alabama, the March on Washington and at the funeral of Dr. Martin Luther King Jr.
"She put her career and faith on the line, and both of them prevailed," Rev. Jesse Jackson Sr. told NPR. "And, of course, when she got through with the big meetings, she could cook as good as she could sing."

BET National News - Keep up to date with breaking news stories from around the nation, including headlines from the hip hop and entertainment world. Click here to subscribe to our newsletter.