Idris Elba Is In Love With Meghan Markle, Just Like The Rest Of Us
His comments about the future princess will make you swoon.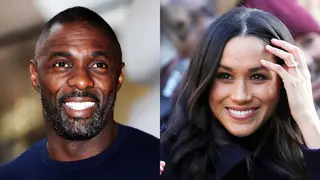 Idris Elba is ready for a Black princess in the royal family. 
The Mountain Between Us star recently sang the praises of Meghan Markle during a meeting with her future father-in-law, Prince Charles, at Buckingham Palace, telling him Meghan is a "beacon" for the rest of us.
Get more exciting Idris Elba news with BET Breaks, above.
According to Sky News, after introducing his own lady, Sabrina Dhowre, to the future leader of the British royal family, the award-winning actor, along with Prince Charles, spoke highly about Markle.
"Meghan Markle, as a person, regardless of her color, is a role model," Prince Charles said of his soon-to-be daughter-in-law. "As a strong woman marrying into our royal family, she's going to be a role model for any woman. The point is that of course our society is one of mixed heritage and it's nice to see Meghan within the royal family."
Echoing his sentiment, Elba added that the former Suits actress is sure to be a "beacon" and a source of inspiration for many.
"It's great," the actor said. "And of course she's going to be a beacon and of course she's going to be someone that people look towards."
This is an exciting time for both Markle and her fiancé, Prince Harry, as they are set to wed on May 19, 2018. We're guessing Mr. Elba could make the guest list after his high praise!