The Spirituals: Songs of Sorrow, Hope, and Freedom
Our next chapter in celebrating Black Music Month examines how enslaved Black people turned subjugation into triumph through music.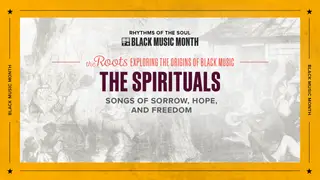 According to historical documents, 10.7 million Africans survived the Middle Passage during the Trans-Atlantic Slave Trade between 1525 and 1866. Many of those men, women and children would land in various parts of North America, the Caribbean and South America. From that number, over 400,000 made it to what is now referred to as The United States of America.
As Yeko Ladzekpo-Cole mentioned in our last Black Music Month feature on Traditional African Music, these individuals were stripped of their culture from religion and language to even art. This forced these individuals far from home to adapt and create new styles of sound that would evolve into new artistic expressions. Most of them revolved around fieldwork and their introduction to Christianity. When it came to instrumentation, many slaves made makeshift drums and banjos inspired by their homeland.
One of the first musical styles created stateside during that time was the idea of work songs called "arwhoolies." Featuring field hollers and usually performed solo, they were sung while picking crops like cotton and tobacco. Musically arwhoolies had winding melodies, loose rhythmic patterns and vocalization that some would call purposefully inarticulate.
Other styles of music and dance that developed around that time like the freeform religious Ring Shout rituals. According to The Jazz History Tree, three factors made up Ring Shout - dance, calls, cries and hollers; blue notes or pentatonic scale plus one note; and strong rhythmic aspects. Working under harsh conditions and subjugation over the next 400-plus years would eventually set the stage for the emergence of Blues and jazz music.
As African slaves began to conform to various Christian denominations that developed in the U.S. by force, this led to the early development of Negro Spirituals. Negro Spirituals constitute one of the largest and most significant forms of American folksong, according to The Library of Congress, thanks to classics like "Swing Low, Sweet Chariot," and "Deep Down in my Heart."
During a 2021 video feature for CPR Classics titled Journey to Freedom: The Spirituals Radio Project, the Director of The Spirituals Project at the Lamont School of Music, M. Roger Holland II,  theorized that spirituals were the convergence of three essential elements - African-American culture and idioms, the social condition of slavery, and the exposure to Christianity through the Bible and Protestant hymns.
"I believe that without all three being present and a part of this mix, this stew, we wouldn't have gotten the music of the spirituals because all of them contribute to this music that emerged from this enslaved community," said Holland II."
Though these songs spoke to the sorrow of being enslaved, others which could be referred to as Jubilee, voiced hope of freedom, spirituals were also considered some of the earliest forms of protest music. Songs like "I Got My Ticket" may have been a code for escape, while its historians have mentioned that Harriet Tubman used "Go down, Moses" as a way to identify herself to slaves looking to use the Underground Railroad.
As Blacks began to build their churches before and after slavery, Negro Spirituals would make way for traditional gospel music. This includes former slave Richard Allen who founded the African Methodist Episcopal Church in 1794. One of Allen's first hymnal books, A Collection of Spiritual Songs and Hymns, Selected From Various Authors, featured wandering refrains and choruses. Later on, the term "gospel music" was coined by Thomas Dorsey, considered the genre's father, in 1921 during the National Baptist Convention. One of Dorsey's signature songs is "Precious Lord," which has become a gospel standard today.