Review: Lauryn Hill's Still Got It, But Good Things Come With a Wait
L. Boogie was more than two hours late for Highline Ballroom show, but delivered.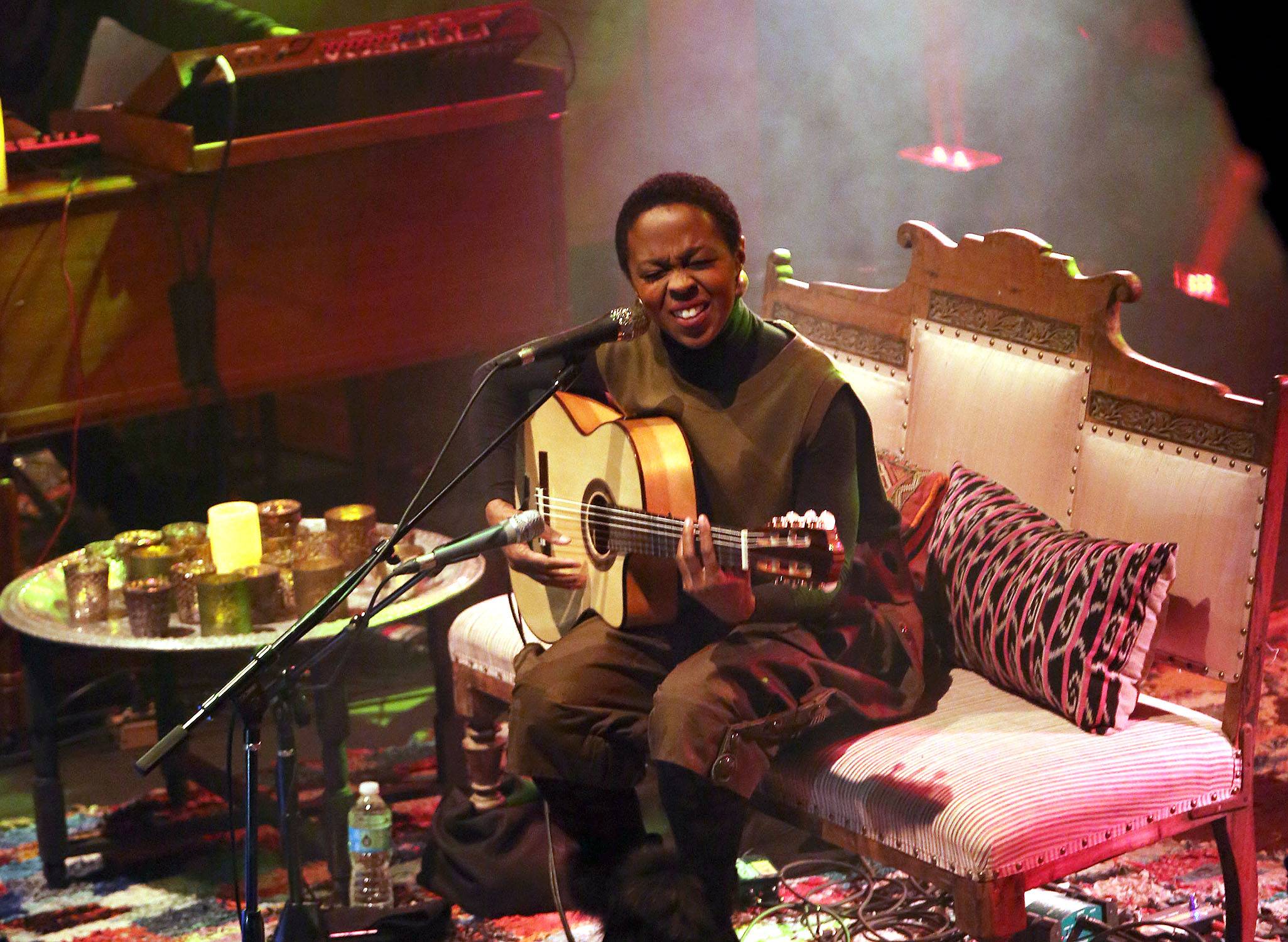 Lauryn Hill is the only artist I know who can keep her fans waiting over two hours in the bitter cold and still be showered with love when she hits the stage. This was the case Friday night at the Highline Ballroom in New York City. 
Lauryn brought her signature soul to the legendary venue for a series of acoustic shows in the city. Ms. Hill arrived with her guitar and a full band and delivered a beautiful set, as if you were sitting in her living room. Hill played a series of songs from her Grammy-nominated 2002 album MTV Unplugged No. 2.0. Including "Mr. Intentional," "Just Want You Around," "Oh Jerusalem" and "Adam Lives in Theory." While the songs did not showcase the vocals many loved in Miseducation of Lauryn Hill, she soared in the emotional "I Gotta Find Peace of Mind" and a stirring rendition of Sade's "Love Is Stronger Than Pride."
In classic Lauryn style, she directed the band and was constantly motioning to the sound engineer. Despite what appeared to be technical difficulties, L. Boogie and her crew sounded superb. Performing over 15 songs, the second half of the show went into high gear when she delivered the classics from the Fugees: "Ready or Not," "How Many Mics" and "Ooh La La La." Lauryn is one of the greatest MCs ever, male or female, and when the Jersey native rhymes, it's abundantly clear that even when she walks the line of folk or reggae, Ms. Hill is 100 percent hip hop.  
Unlike her last stop at the Highline, Lauryn barely said one sentence to the audience until she closed with "Doo-Wop (That Thing)," which brought the crowd to its feet. Hill apologized for sound issues and promised the crowd another show without the hiccups. However, for most of the audience, the show was perfect despite the setbacks.  
Lauryn Hill is an unconventional legend. With only one studio album, one live album and no signs of any new work on the horizon, Hill sets her own standards. Furthermore, she is not one to live in retrospect, which is why versions of "Ex-Factor" and "Zion" were remixed at Friday's show. Lauryn's art is about her journey and it's not for the demand of the audience, she is no jukebox. Ms. Hill will always be in the present, refusing to dwell in 1998. If you are lucky enough to see Ms. Hill live, you shouldn't miss the opportunity. She is performing again at the Highline tonight and at the Blue Note on February 25, the Cutting Room on March 14 and Madiba Harlem at My Image Studios on March 20.
In addition, on February 25 R&B powerhouse Luke James will rock the Highline Ballroom. Click here for more information.
BET.com is your #1 source for Black celebrity news, photos, exclusive videos and all the latest in the world of hip hop and R&B music.
(Photo: Johnny Nunez/Getty Images)