Big Sean Talks Diplo-Produced Single With Mike Posner
"Top of the World" is set to be the new single from Posner's upcoming sophomore album.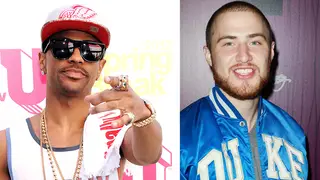 In addition to his own new music and collaborations with the G.O.O.D. music crew, Big Sean has a new radio single in the pipeline with his old friend Mike Posner. In a recent interview with Elitaste, Sean talked about the song, which will be called "Top of the World" and was produced by the indie hit-maker Diplo.
"I personally like the record because it's the realest s--t ever," he said. "We talking about coming up, we talking about how it was years ago before we had any record deals and we was in his mom's basement writing these records. Y'all don't understand, we was in a little busted a-- basement coming up with melodies for 'Cooler Than Me,' all the songs that we did before," he said.
Sean said the new song, which will be featured on Posner's upcoming sophomore album, Sky High, is about the moment when your dreams start to come true.
"[Back then it was] just us talking about where we was going to be and to see it all start happening. It's one of the most craziest things in life. When you in the pursuit of happiness and that s--t come, that s--t is like, unreal. So I feel like the record, 'Top of the World,' embodies that feeling. It's some fun s--t too, at the same time."
BET.com is your #1 source for Black celebrity news, photos, exclusive videos and all the latest in the world of hip hop and R&B music.
(Photos from left: Porton/PictureGroup, David Livingston/Getty Images)