'Love And Hip Hop' Star Apple Watts Still Unresponsive But Stable After Hospitalization Amid Major Car Crash
The reality star will undergo surgery on Friday, April 15, according to her sister Dominique Flournoy.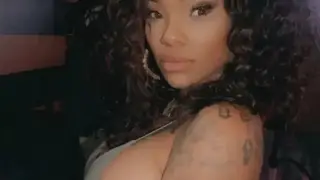 Love And Hip Hop: Hollywood star Apple Watts is still unresponsive but stable after being hospitalized after a car crash that occurred in late March according to an Instagram update by her sister Dominique Flournoy.
Flournoy headed to her social media on Tuesday (Apr. 12) to share that the reality star, who appeared in seasons five and six of the VH1 show, will undergo surgery on her right eye on Friday (Apr. 15) because it is not closing all the way.
"They will be putting a weight in the lid that will still allow her to open and close her eye," Flournoy wrote in an Instagram post. "Her nerves are bad on that side and if this isn't done she could have complications or even go blind because her eye isn't closing all the way."
A GoFundMe has been created to help Watts and the "funds collected will help with medical and rehabilitation costs as well as support for her children during her healing process" according to the official fundraiser link.
Watts was ejected from the vehicle and suffered a fractured skull, shattered arm and a broken spine, The Shade Room notes.
Nearly $5,000 has been donated to Watt's GoFundMe with a goal of $35,000.
---