'This Is Us' Child Star On Scary Police Encounters And Being Falsely Accused of Stealing
Lonnie Chavis says he knows, "My Blackness is a threat, and I am treated as such."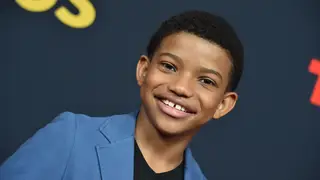 In an emotional first person essay, This Is Us actor, 12-year-old Lonnie Chavis, has detailed his experiences of the racism, intimidation and stress he has faced while in Hollywood. 
The anti-bullying advocate shared what started out as a letter to his mom about what it is like to grow in America as a young Black boy as he struggles to reflect on the senseless death of George Floyd. 
"My life matters, but does it?" he openly asks.  "America paints a very clear picture of how I should view myself. America shows me that my Blackness is a threat, and I am treated as such. I actually didn't learn about being Black and what that would mean for me until I was 7 years old."
Chavis then talks about being educated by his parents and having long conversations and watching moving screenings like Malcolm X and Amistad. Looking back, he remembers being treated unfairly while working on sets in Hollywood and the treatment did not stop there when it came to security or entrance checks at high-profile events. 
He then went on to reflect on a few racial incidents that shook him to his core, Chavis talked about being racially profiled at a restaurant in San Diego, where a young white woman accused him and his friends of trying to steal tips and his mother being pulled over and questioned by a police officer about her new car. 
But the one event that still weighs heavily is when he witnessed a confrontation with a police officer and his father on his family's front door. 
"I thought my parents were for sure going to die going up against the police," he writes. "By the grace of God, they are both still with me, and that racially motivated harassment against my father was dismissed. Can you imagine holding on to your three little brothers while thinking that you are all going to be orphans? I can."
Read the powerful essay here.