Opinion: Why Black People Should Be 'Meh' About The Coronation of King Charles III
Our obsession with the Royal Family doesn't align with how the monarchy has historically treated us.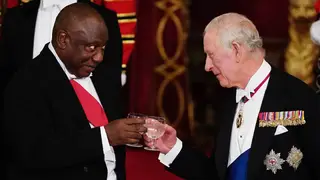 The coronation of King Charles III airs Saturday morning (May 6). Because of the time difference, Americans are expected to wake up much earlier than they need to on a Saturday to watch it, as they did for the 2018 wedding of Prince Harry and Meghan, Duchess of Sussex (née Markle).
I don't expect the coronation to do Harry-and-Meghan-wedding numbers – just under 30 million Americans tuned in for that. That's almost one in ten people on this side of the pond who saw fit to wake up on a weekend to watch the pomp and circumstance of another country's royalty.
I understand White America's fascination with the monarchy, considering we've all grown up inundated with images of tiara-rocking blonde princesses and stout, broad-chested kings receiving effusive fealty from subjects thrilled to see them rule (Thanks, Disney). The unfettered whiteness of western royalty sends copies of PEOPLE magazine and tabloids flying off the shelf, even when the royals aren't actually doing anything interesting.
But I don't get the fascination coming from Black folks. The Royal Family isn't really for "us."
Chris Rock reminded us in his latest Netflix special, Selective Outrage: The British monarchy essentially invented colonialism. As Britain has, at some point in history, occupied damn near everything with a human presence. There was once a saying, "the sun never sets on the British Empire," because of its global reach. So it stands to reason that the progenitors of White supremacy would have a tenuous relationship (at best) with Black and indigenous people.
But, considering the number of Black folks I see salivating over the goings on of this historically racist and murderous empire, my assumption is that many of us were playing hooky on that day in 11th grade when colonialism was discussed in class.
"Well yeah, Dustin, but that was hundreds of years ago. Princess Kate had no part in any of that," you say? Fine…let's just stick to the past seven decades.
It's no stretch to imagine that Queen Elizabeth II, who completed a record 70-year reign on the throne when she deprived us of her presence last September, was at the helm of some naked racism considering she ascended the throne the same year my mama was born.
Though the monarchy's power is now mostly symbolic – the Prime Minister and his cabinet run the kingdom – Elizabeth had influence over much of the country's mid-20th century international policies, including the Nigerian Civil War, in which Britain supported the Nigerian government's starvation to death of thousands of children in the 1960s.
She was relatively new on the throne during Kenya's Mau Mau Rebellion, which saw a guerilla army uprising against its British colonizers. A decade ago, the United Kingdom agreed to shell out about $20 million in reparations for its role in torturing and murdering thousands of Kenyans they considered "savages" during the uprising.
In 2021, The Guardian revealed that, as recently as the late 1960s, Elizabeth's courtiers banned ethnic minorities from holding clerical positions at Buckingham Palace. Her reign didn't just have negative effects on the Black diaspora – several ethnic groups, including the Irish, actually delighted in her death.
"Well, that was decades ago, Dustin…maybe Meghan got them together!" you say? Well, it's Markle who inadvertently yet single handedly underlined how racist the Crown remains, even in this big year.
In all fairness, Markle "invading" the Royal Family with her Blackness invited racism from even outside the Firm – the media did everything but lob the N-word in her direction. In the Harry and Meghan Netflix docuseries, Harry claims the family didn't "understand" that Markle needed protection from the racism she experienced.
It's a risible notion considering the in-house racism appears to be at the core of the reason Harry and Meghan abdicated their royal titles, moved away to the states and have insisted on telling us all about it over and over again ever since.
In a 2021 interview with Oprah, Markle alleged that someone in the Firm expressed concerns about the skin tone of their son Archie, who was born in 2019. Which, c'mon…skin tone? Have you seen Harry and Markle?
As much as I'd like to give Markle grace, there's something suspicious about the cluelessness she's put forth regarding the monarchy's historical racism. She played plum dumb about it in the Oprah interview, and we see in the Netflix documentary that her mother Doria Ragland told her that the attacks she endured from British media is solely about her race.
To which Markle, a fully grown woman, allegedly responded, "Mommy, I don't want to hear that."
Either Markle is not as obtuse as she's playing and she wasn't gonna let a little racism get in the way of securing a royal title, or working her way through Hollywood as the most white-passing Black woman since Jennifer Beals has left her woefully unaware of the realities of the "one-drop rule."
Even Harry has dabbled in some (not-so) casual racism: in 2005, he wore a Nazi uniform with a swastika armband to a dress party. He also caught heat in 2009 for being caught on tape casually using an ethnic slur toward one of his fellow South Asian cadets during his time at Sandhurst Royal Military Academy.
Harry admitted that he was once "bigoted" and that experiencing secondhand racism with Meghan opened his eyes. I believe this to a degree: it's a tall order to expect that the Royal Family would course-correct its bigotry even in the 21st century, and Harry has spent his entire life immersed in the very essence of white privilege.
With every controversy, the Royal Family speaks a good game about changing its ways, but what's the real motivation to socially improve an institution that essentially can't be canceled? The British monarchy is "too big to fail" at this juncture, and it's made clear that it really doesn't want Black people in its ranks even in 2023.
It's not my place to tell anyone what they should or should not appreciate. But perhaps Black folks should find it in themselves to not give a damn about these royals.
Because they sure don't give a damn about you.
Dustin J. Seibert is a native Detroiter living in Chicago. He loves his own mama slightly more than he loves music and exercises every day only so his French fry intake doesn't catch up to him. Find him at wafflecolored.com.