Michael Che Gets Dragged by a Thirsty Woman on a Dating App and He Claps Right Back
Well, this is embarrassing.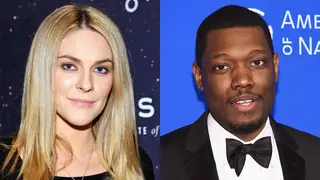 Dating is hard, especially if you're semi-famous. Saturday Night Live actor Michael Che found that out the hard way, when another quasi-celebrity put him on full blast for his alleged rude behavior on a dating app.
Leah McSweeney, founder of the clothing line Married to the Mob, called the comedian "so arrogant and so rude" on her podcast Improper Etiquette — but there's way more to the story, and Che set the record straight.
It all started when McSweeney put Che, whom she met on an elite dating app, on blast. "I met a comedian, I've dealt with a few comedians. They are the worst, I don't even know why I entertain this but I have to say … Michael Che is so arrogant and so rude and disrespectful that I cannot even believe that someone … you're like a D-list celebrity to me, whatever, that's why I don't even care that I'm saying his name. I'm not like blowing up Jay Z's spot," McSweeney explained on her podcast on Tuesday.
"Why are you on a dating app if you hate women? Literally, you've never met me and you're texting me like I'm a stupid b***h … texting me and being mad rude," she went on, "He kept just texting me, going, 'I'm fat. Does that turn you on?' And I'm like, 'You're fat? I think I've seen you and you're not fat, OK.'"
She continued, "You're trying to f–k with me? I don't get it. You're just a f–king dork wearing Air Force Ones [sneakers] at the end of the day. Like, cause you're sitting up there writing your jokes on a little card, trying to figure out what the f–k. His Netflix special [Michael Che Matters] is actually funny … arrogance is ignorance to me. You don't know me, you don't know nothing about me, you don't know we have mad friends in common and like, you're gonna treat me like some stupid b***h? Like, f**k you. I just can't deal."
Sounds pretty bad, right? Well, Michael Che pulled out the receipts from their brief "flirtation," which started in September 2016 and ended very recently, and they tell a very, very different story.
In a frankly embarrassing (for McSweeney) series of text messages exchanged with Che, Sweeney repeatedly initiates contact with the comedian but isn't successful in securing a date. The full string of texts can be seen at Page Six, but here's a summary of what went down:
"Hey, remember me," McSweeney writes on November 27, 2016, which begins a conversation about Che living in Manhattan's Hell Kitchen neighborhood. "Lots of food options at least," McSweeney writes.
"[I'm] fat," Che replies. "I'm laughing out loud. R u?" she asks.
On December 1, 2016, McSweeney texts Che, "What did u eat today?" but receives no reply. On December 19, she texts again, "What's up?"
McSweeney texts again on December 29, "U hate me cus I'm white. Our conversations r everything to me btw. We have a lot of friends in common and if anyone of them saw this I would b so ashamed."
Finally, on January 2, Che bluntly puts an end to the texting relationship.
"Do u ever want to meet up? Or r we just gonna text each other randomly until eternity? Well I did think it was odd u kept saying ur fat," McSweeney writes.
Che replies, "I [don't] wanna meet up. You text really strange declarations looking for a reaction, and I don't wanna know what's the real life equivalent of that."
Yikes — burn! But in all seriousness, it looks like Che was polite but firm and handled himself well, while McSweeney... well, we'll let you be the judge.
Speaking of awkward ends to relationships, get the scoop on the demise of Nicki Minaj and Meek Mill with Wendy Williams, above.